Aidy Bryant to Star in Hulu Series Shrill, a Body-Positive Comedy Adaptation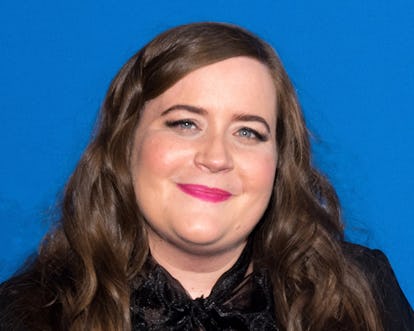 Composite. Mike Pont/Getty Images
Fresh of the Emmy nomination she deserved, Aidy Bryant is getting the starring role she deserves. According to The Hollywood Reporter, the Saturday Night Live star will be starring in a six-episode series called Shrill, heading to the streaming service sometime soon. The show is based on a memoir called Shrill: Notes From a Loud Woman by Lindy West, and will be executive produced by SNL producer Lorne Michaels and Hunger Games alum Elizabeth Banks. Obviously, it will be a comedy.
Bryant will star as Annie, who is described as "a fat young woman who wants to change her life — but not her body," The Hollywood Reporter reports. Annie is trying to make it in a career as a journalist, "while juggling bad boyfriends, sick parents and a perfectionist boss, while the world around her deems her not good enough because of her weight." However during the series, she gains confidence and the realization that she's "as good as anyone else," and decides to act on it, according to THR.
SNL fans need not to worry about Bryant's new gig — she'll still be a regular on the famed night variety show. "BIG NEWS! We are turning SHRILL by @thelindywest into a TV show for @hulu !! We are working hard to make the show I dreamed of seeing when I was fourteen. A fat woman with a full dynamic life on TV!!! I can't wait for you to see our talented cast @lollyadefope , @lukayovetich , @_dang_yall and the incredible @johncameronmitchell . More to come but this is a dream come true and I love you! Ps don't worry! I'm still returning to my beloved @nbcsnl" she wrote on Instagram on Wednesday afternoon.
Bryant seems to be the perfect pick for this role, considering Annie's story mimics parts of her own. "I was spending so much energy on something that really, no matter what I did, wasn't changing," Aidy previously told The Cut of her own body image in 2017. "And I truly got to a breaking point. I was like, 'How much longer can I do this? Can I do this for the rest of my life?'"
She continued, "I finally was like, 'What if I put all of that energy into just trying to like myself and focus on the things I actually want to do as opposed to this thing that's like a made-up concept?' And I'm not kidding, my entire life changed after I did that."