Aileen Mehle, Gossip's Infamous Suzy, Dies at 98
Aileen Mehle, a W fixture for years, once said on her own work: "I write under the assumption that you can catch every fly in the house if you mix a lot of honey with one drop of vinegar."
---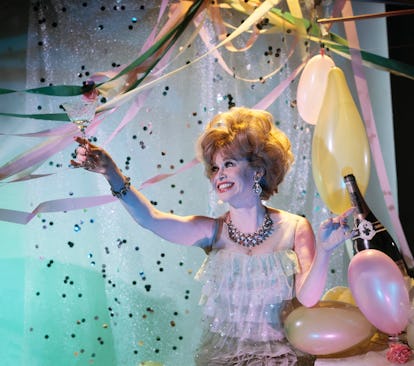 Condé Nast via Getty Images
"An editor once told me that I'd be a success only when I could walk into a room full of people who whisper, 'Here comes that bitch Suzy." the gossip columnist Aileen Mehle once said of her career.
A certain segment of the afterlife, a very exclusive one to be sure, must be whispering that refrain today. Though, we imagine, less with a whisper and more as a celebration.
Aileen Mehle, who once reigned as the grande dame of New York City's gossip columnists under the pen name of Suzy Knickerbocker, passed away today at the age of 98. In a career spanning 50 years, Mehle snappily chronicled the social ins and out of Manhattan's biggest power players in the page of more than a half-dozen outlets (most of which she would outlive), but found her final home here at W and our former sister paper WWD. Her time at the magazine last from 1991 until her retirement in 2005.
"Sometimes it seems that everything important—some of it life-changing—that ever happens to me happens at a party," she once quipped.
Of course, she made a career of reporting everything important that happened at any party in Manhattan that was worth attending, even if her fellow attendees wished she'd rather not. She dubbed Truman Capote a "tiny terror," snitched about Liz Taylor's wedding registry, and let the world know about the purported sexual prowess of Elizabeth Hurley's "Bombay Bonker" boyfriend. Though, for every quip, she still imbued the scene she covered with a sense of flattery and importance.
"I write under the assumption that you can catch every fly in the house if you mix a lot of honey with one drop of vinegar," she once wrote.
Her career actually got its start in a town where many Manhattan power players of her time went when there's ended: Miami. In one of her final pieces for W, Mehle, for once writing as herself, interviewed her "rambunctious, recalcitrant alter ego" Suzy about her origin.
"It was at cocktails in a beautiful garden in Miami Beach, very chatty and amusing with many friends, among them Dan Mahoney, the jovial publisher of the Miami Daily News," she wrote. "He was going on as usual about his paper. 'I wish,' he said, 'we had someone at the News who could write a society column like Gwen Harrison does at the Miami Herald.'"
"'Like Gwen Harrison,' I quietly shrieked. 'Anyone can write a column like that.' I myself, of course, had never written a column in my life."
On a lark, she dashed out three sample columns and was put almost immediately to work.
She used the name "Suzy" to keep her identity a secret (though the ruse didn't last for long), and spent years in South Florida chronicling the dueling social scenes of both Palm and Miami Beaches though eventually moved to D.C. for love and marriage and temporarily gave up her writing career. It was at a party there where she ran into another newspaper publisher, this one Charles McCabe of the New York Mirror. After some reluctance she finally moved to New York and spent the next four decades as the queen gossip.
Her column appeared The Mirror, The New York Journal-American, The Daily News, and The New York Post before finally ending up in W. The papers she wrote for came and went, many long since folded, but Mehle always found a new home, and at her peak the column was syndicated in dozens more across the country.
"I came, I saw, and I must have done something right because more than 40 years later I'm still here," she wrote of her career.