Five Minutes with Anna Kaiser
The fitness expert and founder of AKT In Motion shares her beauty tips, must-haves and blunders.
---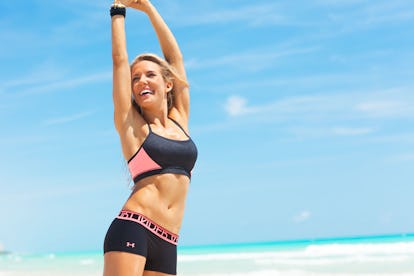 What's your 5-minute beauty routine? I have very sensitive skin (always have) so I am very specific about what I use. I wash my face with Clarins Tamarind Cleanser, tone with Sisley Rose Toner, apply a Vitamin C and Vitamin E oil from my dermatologist, and finish off with Sisley moisturizer and eye cream. I then blot on some Chanel powder, shape my brows with Laura Mercier brow gel, and apply a quick gloss before heading out the door (either Stila or Malin+Goetz).
If you had an extra ten minutes in your routine, how would you spend it? Style my hair! With my tight schedule and all the sweating I do, I rarely blow dry or style my hair, in an effort to keep it as healthy as possible. I LOVE fresh, clean golden locks, and would absolutely blow dry at least the front of my mane around my face if I had an 10 extra minutes. But, truth be told, I'd rather dance to an extra two or three songs instead.
What beauty items are in your purse? I have been traveling NON-STOP this past year, so I tend to always have a large tote with me (I never know where I'm going to end up!) I usually keep Simple makeup removing wipes, Sisley Rose Mist, City Lips gloss, Chanel Les Beiges Pressed Powder, Kai perfume oil or Elizabeth and James roll on scent, Chanel Extreme Shine Nail Laquer, and always a bottle of Essentia pH balanced water.
What's your worst beauty blunder? Oh god. I had the WORST perm in 8th grade. The stylist gave it to me without telling me how to take care of it. So I used to wet my hair in the morning and let it air dry. I looked like a wet dog. AND I had braces to boot. Surprisingly, I don't have ANY pictures saved from that year.
What's your beauty peeve? Definitely having to apply/reapply makeup every time I sweat. It takes way too much time. I am waiting for that makeup contraption from the Jetson's to launch—remember? The one you hold up to your face and instantly your makeup is done?
What are you currently obsessed with? The CityLips clear lip gloss/plumper! It magically turns your lips the perfect shade of pink and plumps them instantly. Modern magic at it's best.