Alan Cumming Is Diligently Duty Watching "Game of Thrones"
And much more from the culture diet of the actor and author, whose new photo memoir You Gotta Get Bigger Dreams is out now.
---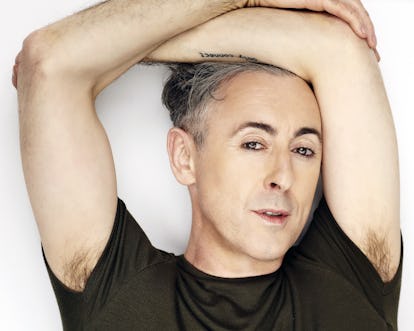 © Francis Hills
Alan Cumming's third book, You Gotta Get Bigger Dreams, out this month by Rizzoli, is a collection of the actor's most memorable moments with a camera by his side, like when he hit the road with his dog, or when he convinced Helen Mirren to buy a hot pink pair of Crocs. Find out about his more recent pursuits, including a late-night visit with a cloned sheep in his native Scotland, in his culture diet, here.
First thing you read in the morning: Probably my emails. I get my phone and look on Twitter for news and then I go to the New York Times app. That's my morning ritual. All digital.
Books on your bedside table right now: Right now I'm reading Whisky Galore by Compton Mackenzie. It's about a ship that was wrecked off the Western Isles of Scotland with all this whiskey on board, and so all the islanders ride out and steal all the whiskey. It's really funny, and I've just been to the Western Isles. I tend to read things indigenously, if you will. And I also have Arthur Laurents's autobiography, Original Story By Arthur Laurents: A Memoir of Broadway and Hollywood.
The TV shows keeping you up at night: I don't have a TV or cable, but I've got an Apple TV and Netflix, and I've started watching "The Americans." I'm loving that, though I've only gotten through a few episodes. And I'm really trying to watch "Game of Thrones." I feel like it's Harry Potter — if you haven't got have some knowledge of it, you're kind of like a social outcast, or you're living trapped like Kimmy Schmidt in a cellar. And I know I'm going to enjoy it, but right now it's kind of a duty watch because I've got so much to catch up on. I always end up watching it after a few drinks, when I come in late at night, and I end up kind of snoozing a bit toward the end and having to watch it all again. I had to watch the episode four times before I got through it. Now I've only got 100 more to go or something.
Last movie you saw in theaters: Tarzan. I quite liked it. I love Alex Skarsgård — he was my neighbor for a while, actually. And I love going to the cinema; I go for big blockbusters, for the effect, the grand experience. But I also like going to see old films, like there's that place in the East Village called Anthology that I absolutely love, though, again, I never have the time. But I get the little brochures from them. One day…
Last thing you saw at the theater: This [comedy] trio called Fascinating Aïda. I've known them for a long, long time, thirty years almost, when I used to do a stand-up thing in the late 80's. They sing these three-part harmony songs that are deceptively biting, and they sang a new one about Brexit that's called something like "So Sorry, Scotland."
Last museum exhibition you loved: I went to a late night thing at the National Museum of Scotland, where Dolly the Sheep is, the first cloned animal. She died, of course, but the sheep is actually stuffed and you can go and see her. I also went to the British National Portrait Gallery, because my portrait's there, and I love going and standing beside my portrait, because I feel weird. It's like when you're in a cab and a bus comes alongside you and your face is on it — it's the most mortifying thing in the world. But for some reason, I'm so proud of my portrait being in that gallery with all those amazing people, that I actually love going to see it and standing beside it because it's so freaky.
Favorite vegan restaurant: I love going to Peacefood on University Place. They have all these delicious things that you remind you of comfort food, and I always have this thing called an "unchicken" basket, though I've never actually had a chicken McNugget.
Favorite Instagrams to follow: Esther the Wonder Pig is absolutely brilliant. She's this pig owned by these two guys in Canada. They thought she was this sad little thing — she'd been kind of abused and her ears were sunburnt and someone had painted her nails — so they took her in and she grew and grew and grew and it turned out she wasn't a little pig, she was this massive pig. Her head is bigger than both their heads put together. She's just a giant. And she lives in their house with their dog. She just had a book out, and I got an Esther the Wonder Pig calendar for Christmas. It's just beautiful. I love her. I'm really obsessed with Esther.
And then there's another one called House of Penny. She's this little rescue dog that these people have adopted. She's this cute little Chihuahua, and the pictures have little funny comments, like, "I drooled all night," and things like that. And they donate a penny to rescue dogs for every like. It's really lovely.
Release you're most eagerly anticipating: My husband [Grant Shaffer], who's an illustrator, and I have written a kid's book about our dogs who died, called The Adventures of Honey and Leon. It's with Random House and comes out next year, and it's really lovely that they're living on in this book.
Last thing you do before you go to bed: Double check my alarm on my phone. I always get up and panic and look at it again to make sure it's a.m., not p.m.