Alana Hadid, Elder Sister of Bella and Gigi, Teams Up with Her Dad, Gets Into Accessories
Plus, New York Fashion Week: Men's gets political — and scientific.
---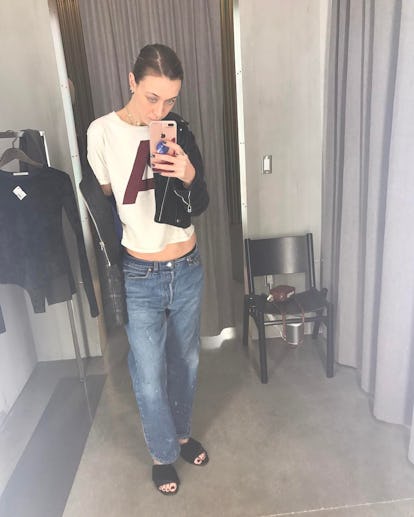 @lanzybear
Aldrin, Buzz Perhaps the [first astronaut to walk New York Fashion Week]http://www.harpersbazaar.com/fashion/fashion-week/news/a20314/bill-nye-buzz-aldrin-fashion-show/)? The NASA legend made his debut at Nick Graham Fall 2017 alongside another marquee science nerd — Bill Nye, a runway veteran himself.
Hadid, Alana The eldest Hadid might not be a model like her younger siblings, but that's not keeping her out of fashion. She's partnered with her dad Mohamed Hadid for a fun father-daughter project: an eyewear line — which they're fittingly calling "Hadid Eyewear."
Geller, Robert The German-American designer is the latest menswear guru to enter politics — both professionally, with his protest-themed Fall 2017 collection, and personally. Geller took his bow in a homemade shirt that read "Immigrant" across the front.
Harris, Naomie In Moonlight, for which Harris was nominated for her first Oscar last month, the actress plays the drug-addicted mother of a young black man growing up in the projects of Miami. Her role spans decades as her son, Chiron, comes of age, yet Harris had just a few days to shoot the part. Here, she discusses the challenges of making it all work, her first on-screen kiss, and her Michael Jackson reveries.
Riva, Emmanuelle The French New Wave actress died at age 89 in Paris Friday. In 1959, she starred in Alain Resnais's feature debut Hiroshima Mon Amour; nearly a half-century later, in Michael Haneke's Amour opposite Jean-Louis Trintignant, himself a vintage French icon — a role for which she became the oldest person nominated for Best Actress.
Shayk, Irina Loves the '80s, but when it comes to her personal style, she has a simple philosophy: Less is more. Interpret that how you will.
Yeezy Kanye's back — and, for Yeezy Season 5, he's taking on a more traditional format.
See W's most popular videos: