Alber Elbaz Loves Instagram, Hates the Beach
The former Lanvin creative director opens up at Parsons, while the rest of fashion decamps to Cuba.
---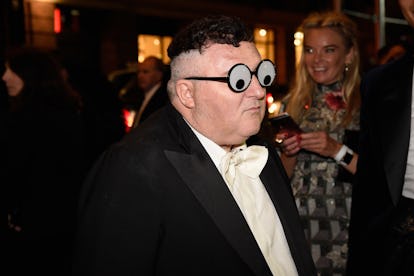 Cruise, Chanel Among the myriad public figures making the crossing to Cuba since President Obama loosened the embargo against the country: Karl Lagerfeld, who touched down in Havana to present Chanel's Cruise Collection. He flew in a few (read: all of his) friends, too, for a runway show-slash-dance party on the historic Paseo del Prado. Turns out, Karl's got some moves.
Elbaz, Alber The former creative director of Lanvin has been pretty quiet since he was ousted from the brand in October 2015. But he proffered a bit of sage counsel at his talk at Parsons Wednesday night, handing out Hershey's Kisses in between singing Instagram's praises.
Jackson, Janet At nearly 50, Janet Jackson has announced she's expecting her first child. And at the same time, she's released the video for her 2015 song "Dammn, Baby." Don't read too much into it.
Karina, Anna The one-time Godard muse and French New Wave leading lady returns to the spotlight with a remastered print of her classic Band of Outsiders (Band A Parte) — and she opens up about her relationship with the notoriously difficult director.
Kasich, John Though with less fanfare than Ted Cruz, the last obstacle to a Trump nomination has thrown in the towel. Food for thought: The Republican side went from too-many-to-count contestants to single presumptive nominee faster than the Dems have been able to decide between three pretty good options.
Yachty, Lil The 18-year-old Atlanta native formerly known as "Lil Boat," Yeezy Season 3 model, and rapper has made it big. And he still wants to make it bigger.
Zine Forget print editorials; zines are fashion's new favorite publication. But they're less about the D.I.Y. ethos of the zine itself and more about manufacturing that ethos on a grand scale. (Not to name names, Justin and Calvin.)
Watch W's most popular videos here:
Havana Nights: Chanel Does #CocoCuba