Alber Elbaz Receives the French Légion d'Honneur
Actresses Demi Moore and Kristin Scott Thomas, plus a who's who of fashion editors, buyers, and colleagues attended the ceremony in Paris.
---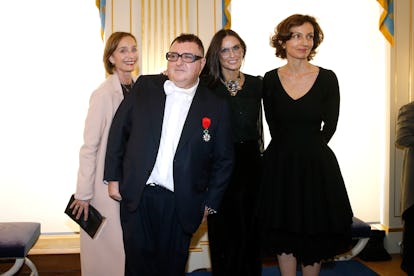 Photo by Bertrand Rindoff Petroff/Getty Images
"It's all very, very touching, very emotional," said former Lanvin designer Alber Elbaz – hand on his heart – stepping off the stage after being awarded Officier de la Légion d'Honneur at the Ministry of Culture and Communication in Paris on Monday afternoon.
He was being led to a balcony, where photographers snapped shots of the designer with actresses Demi Moore and Kristin Scott Thomas.
"He's just got a way with fabric and cut, just everything," said Thomas. "It's so feminine and yet – I just love his clothes. I can't talk about fashion, it's not my business. I just love his dresses. They make me feel fabulous. He's just the nicest person in the world. He's a wonderful man, truly a wonderful man."
"I cannot believe, what a fabulous front row," joked Elbaz when he took the microphone earlier, addressing a who's who of top editors and buyers, colleagues (Valentino's Pierpaolo Piccioli), friends and loved ones, later adding, "Here we are at fashion week, and I'm inviting you all to a show with no dresses…but don't you find it original?"
The award was presented by Audrey Azoulay, Minister of Culture and Communication, who took the crowd on a journey of Elbaz's life – his birth in Casablanca, Morocco, childhood in Israel, move to New York City and base in Paris, where he began working for Lanvin in 2001 until 2015, when he was suddenly let go.
"Les histoires d'amour finissent mal en général – love stories tend to end badly," said Azoulay to a room of laughs.
"One day we'll maybe be back together, but maybe in another place," said Elbaz of his tenure at Lanvin. "It's the people I miss, not the walls."
He thanked all those who have helped him realize his dreams. "Last but not least, I want to thank Alex," he said of life partner Alex Koo. 2016 was a difficult year for him, he shared. "It was also a difficult year for Paris…but today, in this beautiful room…I can tell you I'm still in love with fashion," he said before introducing his latest endeavour, a new fragrance he's created with Frédéric Malle.
The scent – Superstitious – is due to be released in early 2017. "Success is like a perfume, we can smell it but never drink it," said Elbaz.
"I love him," said Demi Moore following the ceremony. "I'm thrilled. It was well deserved. It was just beautiful, and you could feel the love and respect. The best way to sum it up is it feels like it's just the beginning."
Go behind the scenes with Irina Shayk, Joan Smalls, and Stella Maxwell as they model the best fall fashion: