Albert Oehlen: The Change Artist
Shifting from one style to the next and back again, the maverick painter Albert Oehlen is hard to pin down—which is just how he likes it.
---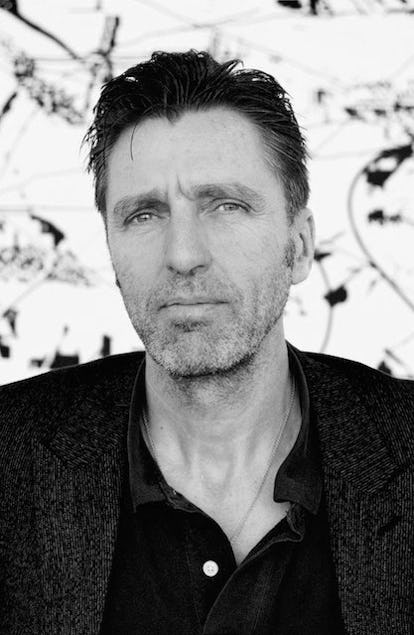 A person I didn't know very well told me, 'You should make some large paintings,'" says Albert Oehlen, describing the moment in the early 1980s when he decided to alter the scale of his work. "For some reason, he thought this would be a good idea, and I thought it would be an even better idea to follow the suggestion of a man I didn't know."
Oehlen's shy grin, not for the first or last time this afternoon, gives way to a prolonged chuckle. We are sitting by the window of the German artist's expansive studio in the Swiss village of Bühlen, about an hour's drive from Zurich, looking out on snow-laden rooftops and white hills dotted with frosted trees. Oehlen, 60, goes on to tell me about a more recent epiphany in his artistic development. "I had always used color—but not with my heart, my eye, or my aesthetic judgment. I just didn't care about color, and I was happy not to think about it. For about 20 years, I just put my paint on the palette and worked with what was there. Then came the moment when I thought, What would happen if I did care about color?" That particular paradigm shift led to a way of working that produced "about two years' worth of paintings." Though, he adds, laughing, "it is possible that many people didn't see the difference."
Such "strategies," as Oehlen describes the methods he has used to question, break, or ignore the rules of painting for more than 30 years, have moved his work from the raw figurative approach of his early days to a kind of messy abstraction in the '80s, and then, for a while, to an often willfully overloaded merging of the two. Along the way, he has worked within self-imposed, often absurd, parameters. He used only gray tones for his "Grey" paintings and limited himself to red, yellow, and blue for another series of what he calls "bad" paintings that included his infamous 1986 portrait of Adolf Hitler. He made "smear" paintings with his fingers and embraced "action" painting for a while but tried to do it very slowly. He created painted-over collages using images culled from supermarket advertisements and, in the mid-'90s, embraced digital manipulation in works he designates, with tongue firmly in cheek, "computer" paintings.
Some critics have dismissed Oehlen's approach as a constant trying-on and shedding of styles. Others, including Max Hetzler, the German gallerist who gave Oehlen his first solo show in 1981, consider him a trailblazer. "I don't see anyone else today taking the kind of risks that Albert does," Hetzler says. That view is shared by Massimiliano Gioni, the artistic director of the New Museum, in New York, where the first major U.S. retrospective of Oehlen's work will open in June. "Albert enjoys the dynamic of never delivering what is expected," Gioni says. "His approach is born of a desire not to be pinned down." Titled "Albert Oehlen: Home and Garden," the show will focus mainly on his abstract paintings. "They tried to trace a line through all of my work," says Oehlen, again laughing. "But I prevented that." While acknowledging that Oehlen may not be as well known as some of his contemporaries—Christopher Wool, for instance, or the late Martin Kippenberger—Gioni points out that the digital experimentation of some of his later work, in particular, has "had a tremendous impact on younger artists like Josh Smith, Urs Fischer, Wade Guyton. Albert's way of working is both timely and ahead of the game."
Oehlen's studio is tidy and uncluttered—the opposite, in fact, of many of his paintings. On the ground floor, a large wooden frame holds a row of recently finished canvases; upstairs, tubes of oil paint are arranged in a neat line. Two new uncharacteristically stark paintings, part of his ongoing "Tree" series, lean against the back wall. In their merging of broad vertical pink stripes and black lines, they seem almost Constructivist. I would never have guessed they were his. "That's good," he says, seeming quietly pleased.
Dressed in a scruffy brown sweater, black jeans, and sneakers, Oehlen no longer looks as dapper as he did in photographs of his younger, wilder self. His once jet black hair is graying and cut short, accentuating the paleness of his face, which has a naturally downcast expression that only disappears when he laughs. His friend the photographer Elfie Semotan, who has known him since the 1980s and was married to Kippenberger, attests to "his more serious and nearly melancholy" side, which, she says, "is certainly a part of his personality. He can be very lively and funny among friends but is quite modest and does not try to play a big role at social events, not even at his own birthday."
Oehlen gives the distinct impression of not taking himself, or the art world, too seriously, but he does approach painting with an utterly single-minded dedication. He is often alone in his studio for days on end, eschewing the luxury of even a single assistant. "I just don't need anyone," he says. "I need to spend time alone with the work." He lives with his wife, Esther Freund, and their three children in a nearby village. He loves walking in the mountains and, later today, will take a rock-climbing class at a local gym. When he needs the buzz of a city, he heads to Berlin. "It's good to know there are clubs nearby that play loud electronic music. Even if I never go to them anymore."
In the studio, a tall unit is filled with CDs. Oehlen shows me a box set devoted to the great American rock maverick and abstract painter Don Van Vliet, aka Captain Beefheart, who, alongside Frank Zappa, is an abiding influence—more so, he says, than any visual artist. Over the years, Oehlen has collaborated with various musicians, most notably the postpunk band Red Krayola. "I was a nominal member who occasionally suggested ideas," he says. In the '90s, he briefly ran his own independent label, Leiterwagen, putting out experimental electronica; and his artwork has adorned CDs by Gastr del Sol, Arthur Russell, and, recently, the charmingly named Swiss band Child Abuse. "They're friends of mine," he says, treating me to a blast of their brutalist noise. Later, he gives me a new seven-inch vinyl single called "Riot in Brain Cell No. 9," on which he scrapes at a violin while the free-jazz musician Mats Gustafsson lets loose on saxophone.
Oehlen cannot play an instrument, but the notion of play is at the heart of everything he does. His commitment is resolute, but, arguably more than any other contemporary artist, he views self-amusement as integral to his creative dynamic. His longtime friend and fellow artist Charline von Heyl comes close to capturing Oehlen's contradictory spirit when she tells me, "I cannot separate the man from the artist; his attitude and relentlessness have always set a near impossible standard. Albert's work is funny but serious, seductive but aloof, stupid but smart, slow but fast, satisfying but surprising, violent but beautiful."
Later, after lunch at a restaurant in Bühlen, he suddenly becomes animated. "A lot of people are looking for the intensity of my work or the struggle of the artist or some deeper meaning," he says. "I'm trying to get away from meaning. I don't mean anything; I just do something."
Oehlen came of age as an artist amid the edgy, early-'80s milieu of Berlin, Cologne, and Hamburg, grabbing public attention as part of a group of young German artists that included his friends Werner Büttner, Georg Herold, and Kippenberger, whose aim, like the artists in the Neue Wilde movement, was to shock and provoke. (Kippenberger once made a painting called With the Best Will in the World I Can't See a Swastika.) "We hung out, made things, entertained ourselves," Oehlen says of that heady time. "We never even thought of having a career. We were against bourgeois art."
In the ensuing years, it was the more extroverted Kippenberger who first gained the respect of the art world, albeit posthumously; he died of liver cancer at 44, in 1997. "We were good friends," Oehlen says quietly. "But there came a point when suddenly he had a lot of friends. He entertained them, and he sometimes annoyed them with his antics, and they called him 'our Kippy,' but I had the feeling that none of them really respected him as an artist." He falls silent for a few moments, then perks up. "I think I was the first one to have the thought, What if Martin is the one true artist, and being the annoying noisy shit is part of it? People were not ready for that idea then. It took them 20 years to accept it."
As young men, Oehlen and Kippenberger were entranced by the work of Joseph Beuys, arguably the most charismatic presence in postwar German art. Part of the attraction was that Beuys was born in Krefeld, northwest of Düsseldorf, where Oehlen grew up. "We instinctively got his humor, which was very local," Oehlen says. "People tend to make fun of themselves a lot there. With Beuys, it is the esoteric side that has since been elevated, even though a lot of it is bullshit. You can't take it seriously. But he was a genuine legend. When we were young, we would wait for the next big story about what he had done. "
For most of his late teens, Oehlen valued political activism over art, and for a few years he was, as he puts it, "a Maoist handing out pamphlets on the streets." His radicalism was a reflection of the times—"It was my only chance to have something extreme, and I didn't want to miss it"—and it faded when, in the late '70s, he began studying under Sigmar Polke, the great ideas man of contemporary German painting, at the University of Fine Arts, Hamburg. "Like Beuys, Polke was charismatic, but in a different way," he says. "He was constantly trying out new ideas through film, photography, or whatever. For a time, Polke was who I wanted to be."
Typically, though, Oehlen's decision to make large-scale paintings all those years ago was the result of what he calls "an undertone of rebellion" against Polke: "I was thinking, How can I go one stage further? How can I be even more free?" To a degree, that impulse has underpinned everything he has done since, transmuted into a relentless interrogation of not just the process but also the very idea of painting. "His work is more and more to do with the relationship between the artist and the canvas and the infinite possibilities that are still possible within that discourse," Gioni says.
Before I leave, Oehlen, who tends to circle back to earlier questions he thinks he hasn't answered fully, says he has a confession. It is, given the evidence of his work, an unsurprising one. "I put a lot of labor into making paintings that do not make sense to some and may appear ugly to others," he says. "But really, what is ugly? All I can tell you is that if I have to decide whether to make a beautiful painting or a new painting, I will choose new every time. That's what the job of painting is for me. I want to make something that has not been there before." In this he succeeds, time and again.
Photos: Albert Oehlen: The Change Artist
Oehlen, 2012. Photograph by Oliver Schultz-Berndt/Courtesy of Gagosian Gallery.
Albert Oehlen's More Fire and Ice, 2001. Courtesy of Luhring Augustine and Gagosian Gallery.
Rudolf Zwirner and Oehlen at the artist's opening at Rudolf Zwirner in Cologne, Germany, 1983. Photograph by Wilhelm Schurmann.
Untitled, 2009–2011. Photograph by Lothar Schnepf/Courtesy of Gagosian Gallery.
Selbstportrait Als Holländerin (Self-portrait as Dutch Woman), 1983. Courtesy of the artist and Galerie Max Hetzler, Berlin.
Sin, 2008. Photograph by Jorg von Bruchhausen/Courtesy of Gagosian Gallery.
The Green Door (1), 1989. Courtesy of the artist and Galerie Max Hetzler, Berlin.
Captain Jack, 1997. Courtesy of the artist and Galerie Max Hetzler, Berlin.
Untitled, 1992. Photograph by Lothar Schnepf/courtesy of the artist.