Belles Of The Ball
Social swans celebrate Alberta Ferretti's latest demi-couture line.
---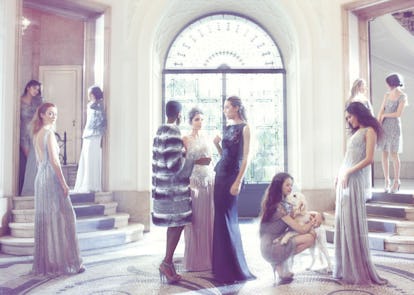 Alberta Ferretti has always been known for her ethereal, feminine, precious clothes, and the red carpet is no stranger to her name. But just as ­Armani and ­Versace discovered before her, prêt-à-porter can take a designer only so far. With her collection of "demi-couture"—"because I could not pretend to do serious couture," Ferretti said humbly before her show—she has upped the fabulousness ante, adding extra whipped cream to grown-up gowns by using elaborate beading, jewel appliqués, silvery lace, and plenty of fur. "Working one-on-one, you keep the feeling with the clients," she said, explaining that most detailing on the dresses is customizable and made by hand. "It's important to speak with the client to see what she wants."
To emphasize the uniqueness of the 20 looks in the collection, Ferretti invited an eclectic group of women to model them in Milan. There were style bloggers (Candice Lake, Hanneli Mustaparta, Oroma Elewa), models with famous ­parents (Amber Le Bon, Tali Lennox, Margaret ­Qualley), models without famous parents (­Audrey ­Marnay), socialites (Zani Gugelmann, Florence Brudenell-Bruce, Mary Charteris), and pop stars (Solange Knowles and Kanika Kapoor). Tall, taller, petite, curvy, dark, light: Eclecticism in casting was key, Ferretti said. "They all have big, strong personalities. Why would we want to change them?"
The love was lobbed back at the afterparty at Giacomo Bistrot, where Kapoor broke into an impromptu performance of a Sufi love song, Marnay led a conga line, and Anna Dello Russo got the table-dancing started. (Even ­Ferretti took a turn grooving on the banquette before they closed the place down.) "The first designer dress I ever wore to an event was one of ­Alberta's," Gugelmann said while lounging in a booth. "In her clothes, you feel like you're from another era."
All clothing and accessories by Alberta Ferretti Limited Edition.