Alec Baldwin Claims He Was Swindled By a Manhattan Art Dealer
Alec Baldwin thought he was buying a Ross Bleckner painting he had long admired. Instead he received another very similar work from the same series.
---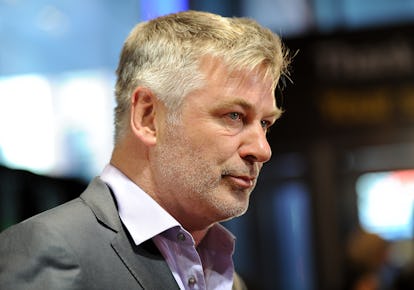 WireImage
You'd have to have a lot of nerve to try and swindle Alec Baldwin in a business deal. Sure, he may actually be more comfortable in real life on Broadway than in a boardroom, but Baldwin has portrayed some of pop culture's most ruthless businessmen and dealmakers. Imagine the gumption it would take to try and pull a fast one on the man who famously delivered the classic "Always Be Closing" monologue in "Glengarry Glen Rose." Imagine trying to cheat Jack Donaghy himself!
Apparently Manhattan art dealer queen Mary Boone wasn't intimidated. In fact, Baldwin tells The New York Times that Boone pulled "paint and switch" on him during a recent art transaction.
Baldwin had become infatuated with a painting by artist Ross Bleckner, and was told that Boone could deliver it to him. Baldwin now contends that the painting he received wasn't the original.
Boone however has something of a reputation for a hanger for closing deals that rivals some of Baldwin's onscreen characters. "I think I lost my way," she told W in 2008. "It was the Eighties. I got too involved with fame and fortune."
"A-I-D-A. Attention, Interest, Decision, Action," Baldwin famously snarled as his character "Blake," the ruthless salesman in "Glengarry." "Attention – Do I have your attention? Interest – Are you interested? I know you are, 'cause it's fuck or walk. You close or you hit the bricks. Decision – Have you made your decision for Christ? And Action. A-I-D-A. Get out there – you got the prospects coming in."
Rather than be intimidated by Baldwin's on-screen reputation, Boone might have taken inspiration from it.
Attention Alec Baldwin first became aware of '80s painter superstar Ross Bleckner's painting "Sea and Mirror" about 10 years ago when Boone's gallery sent Baldwin an invitation to an exhibition of Bleckner's work that prominently feature a photo of the work.
Interest Baldwin became infatuated with the work. He claims he carried around a picture of the painting in his shoulder bag alongside photos of his daughter and father. "There was a kind of beauty and simplicity" to the painting, Baldwin told the Times.
Decision In 2010, Baldwin decided he couldn't live without the work in his collection. Though, it had last sold at a Sothby's auction in 2007. Baldwin asked Boone if she could track down the current owners, and see if they'd be willing to sell the painting.
Action According to Baldwin's side of the tale, Boone told him that she had located the work, and that the owners would be willing to part with it for $175,000. Though the gallery would normally take a charge of 10 to 20 percent on top of the price for facilitation the transaction, Boone allegedly said she'd give Baldwin a deal and that the total price would only come to $191,000.
The real intrigue came after the deal closed and Baldwin had signed on the line which is dotted.
Baldwin noticed that the painting he received didn't quite resemble the one in the photograph he had carried around for years. The color and paint strokes seemed a bit off. Baldwin tells the times he even depicted something of a new painting smell. Baldwin even had his painting investigated by a Sotheby's expert. The expert confirmed that Baldwin's version wasn't the same as the one that had sold at auction in 2010. Meanwhile, Baldwin says that both artist and gallerists had told him that the painting was indeed the same, but had likely just been cleaned up by the artist.
As it turned out, the painting Baldwin received had come from the same series as the original. Bleckner had began the version in 1996, but completed it in 2010. However, the work was dated 1996.
Through a lawyer, Boone's gallery didn't dispute the fact that the paintings weren't the same, but rather claimed that Baldwin knew all along that he was getting another version of the work. "He's wrong that the painting is a copy; it's an original and very fine work of art by Ross Bleckner," read a statement Boone's lawyer released to the Times.
Boone's lawyer also claims that Baldwin has been offered a full refund, and that the gallerist had continued to try and convince the original painting's current mystery owners to sell the gallery.
Baldwin had explored lawsuits and legal action, but was told he didn't have a case.