Alexa Demie and Nathan Fielder: The Unlikely Pairing You Didn't Know You Needed
For The A24 Podcast, Alexa Demie and Nathan Fielder interviewed each other about acting, the merits of crying, John Cassavetes films, and of course, cats.
---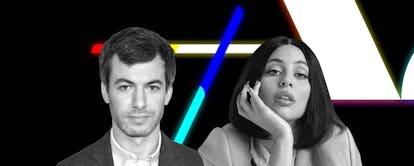 Courtesy of A24/Cultural Counsel
If you took a second to try and think of the strangest pairing you could conceive—the least likely couple of friends—you probably still wouldn't have come up with Alexa Demie and Nathan Fielder.
But A24, which many would say are the de facto arbiters of indie cinematic taste, did exactly that. The latest episode of the production company's podcast, which drops at random intervals, was released today. Past episodes of the A24 podcast have included conversations between filmmakers Greta Gerwig and Barry Jenkins, the Safdie Brothers with Paul Thomas Anderson, Ramy Youssef with Awkwafina, and Ethan Hawke with Alia Shawkat. But no one could have expected a collaboration between Demie and Fielder.
A24 placed Demie of HBO's award-winning team drama Euphoria and Fielder of his absurdist docu-reality series Nathan For You in a room together because apparently the two are actually very big fans of one another. "Nathan is not 100 percent human, he is genius," Demie said of recording the podcast with Fielder. "I also heard he was a huge fan and thinks I'm the most talented and emotionally compelling actress of our time so I had to sit down with him."
In the 55-minute long episode, the two engage in the epitome of a wide-ranging conversation, the topics including but not limited to: the merits of crying, whether or not they believe in a higher power, fairies, why Fielder should absolutely be cast in a dramatic role at some point in his career, and crawling around the floor in the living room as therapy. They also discuss Demie's burgeoning fashion career once upon a time ago, when she started a sunglasses line called Mainframe in high school.
Demie bought a box of wholesale sunglasses in Los Angeles, which she decorated with jewels and knickknacks and started selling at a store on Melrose, thanks to a friend who worked there. Eventually, Demie started selling big orders of the sunglasses in Asia, and some A-list celebrities wore them. "This huge artist over there, G-Dragon, he wore them, and they made a doll of him wearing them," she told Fielder. "And J.Lo and Nicki Minaj and all these people wore them so I was traveling a lot to Japan and Taiwan and all these places to show the glasses at trade shows and stuff like that. Then I started going into really designing them, but that came to a stop because I realized I wasn't getting paid at all to do any of this. I didn't know anything about business, I just enjoyed flying to Japan."
Eventually, Demie switched gears back to performing, and just as she was considering quitting auditioning for lead roles, she got called in for Euphoria. "The lead roles I would go out for would go to a blond-haired, blue-eyed girl," she said. "Even for Maddy I think some people saw her as that, they didn't really see her as me, so I had to go in and prove myself."
Halfway into the episode, you might find that Demie and Fielder have more in common than at first glance. Most notably, they are both John Cassavetes and Gena Rowlands stans—and love their cats. Who knew?
Related: New Faces: Alexa Demie, Euphoria's Fearless Breakout Star