Alexa Rodulfo Always Carries a Candle in Her Purse
Because you just never know.
---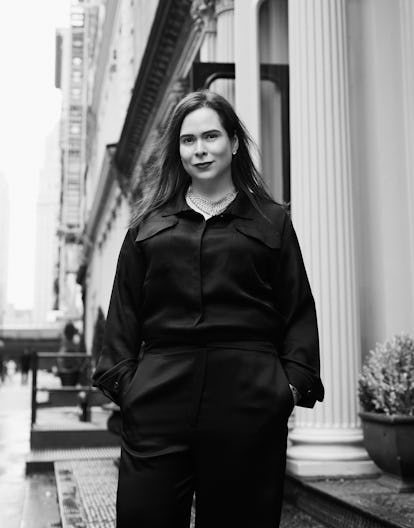 Alexa Rodulfo is a beauty dream trifecta: makeup artist and hairstylist and candle maker. No wonder she's the go-to among the social set. Though she's a believer in rotating products, there's one thing that's almost always in purse: a candle. As she says, you just never know when you might need one.
What's your first beauty memory? My mother was an impeccable woman—seeing her getting dolled up was one of my favorite things as a kid. I would sit on the floor in my pajamas at her feet with my Barbie doll and watch carefully everything she was doing – especially the way she curled her lashes. And I was equally attentive to my father's routine. I remember the first time I saw him shave. He gave me a kiss and I remember saying, "Ouch, it hurts!" And he said, "Let's do some magic." Then we went to the bathroom and he put white foam on his hand and then I watched as he carefully shaved. And his skin was so soft after. It really was like magic for me!
What was your biggest beauty blunder? I wanted to do a soft body wave on my hair and I ended up with an Afro. The hairstylist said, "You look great!" I started crying … I remember I had to iron my hair with a clothing iron (not a hair one!) for a few months after until it grew out.
What's your 5-minute beauty routine? Clarisonic on my face and neck, Thermal Spring Water from La Roche Posay. Mrs. [Carolina] Herrera recommended this for my skin, and I have been using it ever since.I don't dry the water, but just apply a thin layer of this cream I made with Argan oil, coconut oil, vitamin E. Then Elta MD tinted sunscreen SPF 50. The ingredients don't clog pores and they're gentle. I don't wear make up during the day. I only use Natura Bisse The Cure sheer cream with a tint of color. I fill my eyebrows with any product I am testing at the moment—it could be cream, pencil, gel or powder.Cream blush (sometimes I even use a lip color), long-lasting red lip color, like Sephora's 001) and I'm ready!
If you had an extra ten minutes in your routine, how would you spend it? I would probably do a hair mask, face mask or dry and flat iron my hair.
What beauty items are in your purse? Red lipstick, sunblock, mirror, hair band, perfume and sometimes one candle from my collection – you never know!
What's your beauty peeve? Finding out a product I love has been discontinued. Or when the product formulation has changed.
Speaking of, what's your most missed discontinued beauty product? I have a few products that I remember I freaked out over when I found out they were discontinued. Almost like the world would end. But then I learned not to get too attached and try and look for something similar. By doing this I allow myself to experiment with new brands and formulas.
Two of my favorites that were discontinued were Taupe eye shadow from MAC and a highlighter stick from Madina Milano. But after a few years they were available again.
Current obsession? The beauty market has wonderful products to make your skin glow and look healthy and flawless. I do believe is very important to take care of the inside as well. These are my current obsessions: -The PRP (Platelet-Rich Plasma) treatment I have been doing in Juarez, Mexico (my home town). I get them three times a year, and after a week, my skin has a healthy glow. I've had my hands, neck and face injected. The last time I had it done, the doctor added stem cells to the process. –Neo Cell Hyaluronic Acid (blueberry) Powerful aid in skin hydration -NeoCell Super Collagen: I use it every morning. It's great for your skin, hair, nails and joints -Organic Resveratol 500 Mg: 1 capsule daily -A313 Vitamin Pomade: I use it every night. It's a miracle cream. -Environ intensive hydrating oil capsules: I use before make up on special occasions. –Bee Yummy skin food (raw and organic): The best kept secret in the natural skin care world