Alexander Skarsgård Was Either Very Proud or Very Scared of His Brother Bill at the It Premiere
He was even scarier than the film, apparently.
---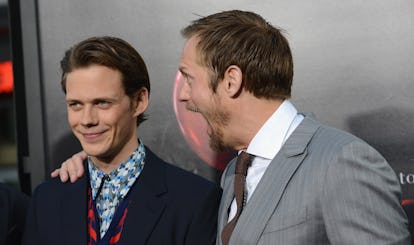 Albert L. Ortega/Getty Images
The biggest scare at the premiere of It didn't even happen inside the theater. Instead, it went down on the red carpet at Hollywood's TCL Chinese Theatre when Alexander Skarsgård arrived. The True Blood and Big Little Lies alumni drew from his own on-screen experience, managing to pull off a truly chilling prank. Skarsgård made a surprise appearance spooking the star of Andrés Muschietti's film adaptation of It, his younger brother Bill. Luckily for those who weren't able to see the hilarious family prank unfold, it was captured in photographs.
As Bill — also known for his work in Charlize Theron's recent thriller Atomic Blonde — posed for photos on the red carpet in support of his starring role as Pennywise the Dancing Clown, he was trailed by a menacing presence: his older brother. Alexander slowly snuck up on Bill before pouncing on his shoulder. Bill looks pretty unphased throughout the ordeal — likely, he's used to Alexander's antics like these. The two laughed it off and posed for pictures with their other brother Gustaf Skarsgård, whose acting credits include History Channel's Vikings. All, of course, are the sons of legendary Swedish actor Stellan Skarsgård.
Of course, as the star of It, Bill is plenty used to being scared. Last month, he opened up about playing the clown who's haunted thousands, telling Dazed, "I had people coming up to me all the time being like, 'Oh my God, I can't believe you're doing It! That movie just traumatized me… There's this sense of enjoyment that this entity has while he is a clown – he's getting off on it. I wanted to create something that is very unsettling in terms of its unpredictability."
One aspect of the film's unpredictability is that the director Muschietti reframed the script from a new perspective. "It is very close to the source material in one way but very different if you look at it as a literary piece of work," producer Roy Lee told Entertainment Weekly earlier this year. "We're taking it and making the movie from the point of view of the kids, and then making another movie from the point of view of the adults, that could potentially then be cut together like the novel. But it's gonna be a really fun way of making this movie." The fun starts this Friday when It hits theaters.
Related: Alexander Skarsgård Found Those Naked Big Little Lies Scenes To Be "Quite Liberating"
Alexander Skarsgard Had a Long Overdue Swedish Homecoming on His Favorite Birthday: