Upwardly Mobile
A show at Salon 94 presents Alexander Calder's jewelry in a new light.
---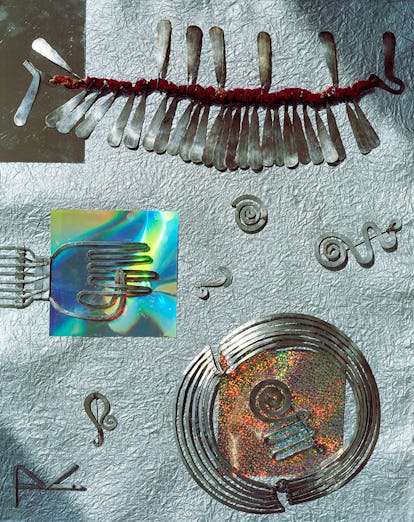 For years, the gallerist Jeanne Greenberg Rohatyn had a running joke with her friend Sandy Rower, the director of the Alexander Calder Foundation, about how badly her living room ceiling was calling out for one of his grandfather's iconic mobiles. But when the Greenberg finally did bring Calder's work into her Upper East Side home—for Show and Tell, the exhibition opening Wednesday at the Salon 94 outpost that resides inside it—she put her own stamp on it: She rounded up more than 40 pieces of Calder's hand-hammered metal jewelry and invited some of her favorite contemporary artists to have their way with it. The photographer David Benjamin Sherry integrated Calder's spiral brooches and hand-shaped combs into multicolored still lives; Mickalene Thomas, known for her paintings, shot the jewerly dripping from the necks and wrists of models in Calder-esque face paint. "I wanted to show how his jewelry lives off the body, as an object, then has a kind of second life when it's worn," explains Rohaytn, who partnered with Sotheby's on a catalog that also includes the 18 Calder pieces from its November 14 contemporary auction in New York. Meanwhile, nine other artists, including Mark Handforth and Huma Bhabha, have each created a sculptural jewelry display for the show based on the primitive-looking steel masks Calder made for an exhibition in 1940. Rohatyn admits that the premise is "almost anachronistic," yet feels it's ultimately appropriate for the subject at hand: "To me, dead artists are kept alive through living artists looking at their work and being inspired by it," she says. "This seemed like the perfect combination."
Show and Tell: Calder Jewelry and Mobiles is at Salon 94, 12 East 94th St., NY, from November 6 through December 20, 2013. **
Still lifes from photographer David Benjamin Sherry.
Alexander Calder's Brooch, 1983
Matthew Day Jackson's Calder-inspired sculpture.
Still lifes from photographer David Benjamin Sherry.
Huma Bhabha's Calder-inspired bust.
Images of guests who were styled by Michele Lamy, Rick Owens's wife and creative collaborator, wearing Calder jewelry. Lamy is pictured in the upper left, gallerist Jeanne Greenberg Rohatyn is bottom right.
One of Alexander Calder's mobiles hanging in Salon 94.
Still lifes from photographer David Benjamin Sherry.
Martin Boyce's Calder-inspired sculpture.
Hope Atherton's Calder-inspired sculpture.
Mark Handforth's Calder-inspired sculpture.