New Kid on the Block
Alexander Gilkes, the cofounder of the online auction house Paddle8, has looks, charm, fabulous friends, and talent to boot.
---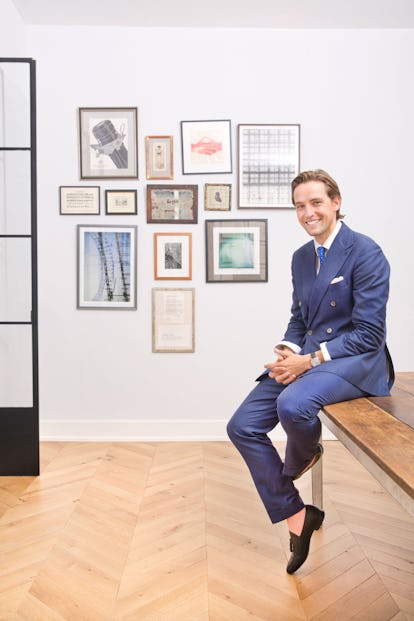 Most auctioneers spend years training for their first -major sale. Not so Alexander Gilkes, who just 12 months after arriving in New York to serve as the marketing director at Phillips de Pury & Company, suddenly found himself wielding the gavel for its 2009 Latin American auction at the insistence of his boss, Simon de Pury. "I was terrified," Gilkes recalls. But de Pury's hunch that his protégé, whom he had personally plucked from Krug, would be a natural proved spot-on. "I've seen hundreds of auctioneer starts," says the former Phillips chairman, himself one of the world's great auctioneers. "But I'd never seen anybody who was absolutely masterly from the first. There was not a single thing I thought he should do differently."
Any vestiges of terror had long since dissolved by the night, this past fall, when Gilkes conducted the live auction for the Lunchbox Fund, which provides meals to South African schoolkids. For Lunchbox's annual fete, at New York's Buddakan restaurant, the dapper 34-year-old Brit commanded a lively crowd that included Joaquin Phoenix, Chuck Close, Michael Stipe, Liv Tyler, and Maggie Gyllenhaal as he auctioned off works by Tara Donovan, Kiki Smith, and Close. "May I call you Chuck?" he asked in introducing Close, before intoning as if performing Shakespeare: "Dear bidders, to own a work by this man is an honor!"
Having realized at Phillips that the art world needed to adapt to the digital age, Gilkes, along with the entrepreneur Aditya Julka, founded the online auction site Paddle8 in 2011, with the goal of making the -tradition-bound world of auctions more accessible to a new generation. In the years since, Paddle8 has hosted more than 200 benefit auctions (generating $30 million in online bids), while at the same time expanding its own agenda of themed, curated fine art and design sales. As a virtual auction house, it sells mostly works priced under $100,000, so there's little overlap with the big-name brick-and-mortar houses and galleries, which "have made no secret of their focus on the top tier," Gilkes says. That makes it possible for Paddle8 to close the gap between the exploding global audience for contemporary art and the less costly quality works often overlooked by the market's highfliers. Not that those highfliers don't hope to profit from the company's business model: This past June, Paddle8 received $6 million in new-venture funding from a consortium of investors that includes the artist Damien Hirst; the White Cube gallerist Jay Jopling; the Mellon family; Mousse Partners, the private investment firm controlled by the family that owns Chanel; and the venture capital fund Founder Collective, an early backer of Uber and Buzzfeed.
The inspiration for Paddle8 came via the charity auctions that Gilkes is still frequently invited to conduct. He quickly saw that they could benefit from the additional bidders that an online platform would reach. Not only could Paddle8 increase the money raised by giving the global collecting community the chance to bid, but the company could also relieve nonprofit organizations of the burden of selling art on their own. For its services, Paddle8 charges nonprofits about 6 percent of the proceeds. And, perhaps more important to its bottom line, by partnering with museums, foundations, and arts groups, the company gains access to the artists and the patrons who support those institutions, as well as information about their collecting habits and works they might want to sell.
For a man banking on next-gen innovation, Gilkes comes across as decidedly old-world. Born in London, where his father is a prominent dermatologist, and educated at Eton, he takes notes in a monogrammed navy leather Aspinal of London journal; speaks French, Spanish, and Russian; and favors tweed jackets made by his London tailor. (His sartorial savoir faire landed him a spot on Vanity Fair's 2013 international best-dressed list.) A -family friend of the Middletons', he's also given to charming Britishisms meant to send up his image: "I parked my steed outside," he said on his way into Buddakan, holding up his bike helmet as he greeted the actress Mickey Sumner, whose mother, Trudie Styler, regularly invites Gilkes to host the annual auction for her Rainforest Foundation. "One year I was in the middle of auctioning off Tom Hanks doing your voicemail," Gilkes tells me, "when Tom Hanks stood up and said, 'If you double your offer, I'll throw in the voices of Woody and Forrest Gump, too.' Mickey's mother draws the most amazing crowd."
Lately, Gilkes has found himself in the midst of such amazing crowds on a regular basis. This year, in addition to the usual stops at Art Basel Miami Beach and Robert Wilson's summer gala for the Watermill Center, on Long Island, he wielded the gavel in November at the kickoff benefit for Performa, the New Yorkperformance art biennial. He was also a guest at Will and Kate's 2011 wedding, and in September he cohosted, with the artist Marina Abramovic, the inaugural "creative explorers" dinner at the East Pole, the buzzy new restaurant on Manhattan's Upper East Side owned by his close friends Phil Winser and Ben Towill, the duo behind the trendy Fat Radish. He also proved catnip to London's Daily Mail after he squired Pippa Middleton to New York's Soho House in 2012 and took Paddle8's most recent hire, Princess Eugenie of York, out to lunch during her first week on the job in October. Headlined chic princess eugenie lunches with handsome new boss as she embarks upon fabulous life in new york, the story was documented with paparazzi photos snapped outside Paddle8's rather unfabulous office above -Umberto's Clam House in Little Italy.
With his wife, Misha Nonoo, 27, a Bahraini-born, London-raised designer and 2013 CFDA/Vogue Fashion Fund finalist, Gilkes has also become a staple of party and style blogs. The couple met in 2003 while working at a luxury concierge company in London. "She thought I was German and gay, and I thought she was very precocious," jokes Gilkes, who converted to Judaism for Nonoo. Their 2012 wedding in Venice, Italy, was a three-day affair that brought together his brother, Charlie, an owner of some of London's chicest night spots; the Princesses Eugenie and Beatrice; and Lana Del Rey, who performed.
This past summer, after joining Jopling, the model Lily Cole, and some friends on holiday at Jopling's farmhouse in Sicily, -Gilkes and Nonoo bought the interior designer Nate Berkus's townhouse apartment in New York's Greenwich Village. Spread out over two floors, with a private roof deck and skylit bedrooms, the space is a reflection of their eclectic tastes. There's an 18th-century French birthing table–turned–bar with candles melted onto its glass top from parties past, an Andy Warhol screen print of Queen Elizabeth II, and a 19th-century oil portrait in the dining room." I feel like I'm back in England," the model Tali Lennox (daughter of Annie) remarked on arriving for the couple's first dinner party there in October. Also on the guest list that night were Sumner; Winser and his girlfriend, the model Dree Hemingway; the jewelry -designer Waris Ahluwalia; the artist José Parlá; and NBC chairman Ted Harbert. "Alexander is amazing at connecting people who can collaborate," Winser says, noting that Gilkes loves to dress up in costumes and put hats on his guests. "You'd be trying to have a serious conversation while wearing a snorkel and flippers and the other person is in a hat from Outer Mongolia. Alex breaks down formality, and it leads to great friendships." Adds Abramovic, "It's impossible to say no to him."
Now that Paddle8 has opened an office in London, Jopling, Hirst, de Pury, and Princess Eugenie are likely to drive more choice works its way. Eugenie, who studied art history, has already done a stint at Christie's and served on the exhibitions team at the Royal Collection. "I really wanted to be involved in a start-up," she tells me, before joining colleagues to vet the lineup for an auction they have nicknamed "the porn sale," with explicit works by Paul McCarthy and Jeff Koons. Hirst, meanwhile, signed on as an investor after meeting Gilkes last December at Art Basel Miami Beach, where Paddle8 partnered with Chanel and Sotheby's to help the Henry Street Settlement with its auction honoring the late artist Dash Snow. "We had a great chat," Gilkes says. "And my thought after was, If there's one artist who's been an extraordinary businessperson, really embraced modern channels, worked directly with the secondary market, taken major gambles, it is Damien Hirst."
Among his growing roster of Paddle8 advisers, Gilkes counts his former Krug boss Mark Cornell, who is the managing director of Sotheby's Europe. "He's very innovative," says Cornell, crediting Gilkes with making Krug a hip brand by inviting Jay Z to the vineyards of Champagne and selling Krug as a lifestyle, not just a drink. "He's come into an extremely established business with a view to showing everyone how a new model could work." Now, Cornell adds, Gilkes needs to promote himself more forcefully. "He needs to understand there's a brand that is rapidly emerging called Alexander Gilkes."
Brand Gilkes, meanwhile, spends most nights trolling the Internet for old stuff to buy for his new home. Over lunch one day near his office, Gilkes confesses that he was up late in search of a Regency pedestal table and a taxidermied albino peacock. To his mind, treasure hunting, albeit bolstered by new means, can help foster the very individuality that digital dependence threatens to obliterate. "Our generation has become somewhat stripped of identity by the homogenizing effect of technology," Gilkes says. "So, more than ever, people want to project their own individuality. What you collect is the ultimate impartation of who you are. It's the archive of your identity—it's what you leave behind."
Photos: New Kid on the Block
Paddle8 cofounder Alexander Gilkes at his home in New York. Portrait by Gus Powell.
Nonoo and Gilkes. Photo by Christina Paige.
Mickey Sumner, Dree Hemingway, and Katherine Keating, a former first daughter of Australia, on Gilkes's terrace. Photo by Christina Paige.
A dinner party at Gilkes and Nonoo's West Village home.
Gilkes auctioneering at a benefit for the Swiss Institute. Courtesy of Swiss Institute.
Gilkes with Princess Eugenie in New York, 2013. Courtesy of Newscom.