The Curious Alexander Sharp
The rising star talks about his Broadway debut.
---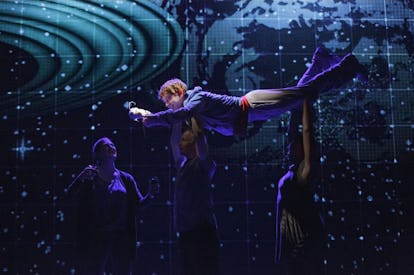 If making it on Broadway is akin to winning the lottery, Alexander Sharp is currently cashing in his Powerball ticket. The 25 year-old actor is making his professional and Broadway debut as the lead in the National Theatre production of The Curious Incident of the Dog in the Night-Time, which after a smash run in London this past summer (it won seven Olivier awards), has settled in at the Barrymore Theater where it opened last week. And this just a few months after Sharp graduated from Julliard.
The British actor stars in this Simon Stephens' adaptation of Mark Haddon's 2003 best-selling novel as Christopher, a 15-year-old autistic math savant. After he is accused of killing a dog, Christopher embarks on a mission to find the real murderer, an endeavor that takes on epic proportions and forces him to push past his social limitations and fears.
Christopher has a lot of trouble making emotional and social connections; how do you play this character and still make a connection with the audience? Well, I'm never looking the audience in the eyes and they're not trying to touch me and they're not in the story. So they're not present on stage and therefore being an unpredictable human who is freaking me out. They are a massive presence in the room, but I think of them as Christopher's brain microbes. I don't think of them as the enemy. They're part of me and they're here for Christopher's story, but they're not intimidating to me at all. Otherwise every time they laughed he'd start groaning or something.
How did you prepare for the role? I went to a couple of different schools and met some people on the spectrum and I had a friend whose brother is on the spectrum with whom I hung out a little bit. It was really helpful to meet them in so many different ways, but in terms of getting the physical behavior and language really accurate, it wasn't as helpful. Because famously they have trouble communicating, so what you're seeing is not representational of their internal dialogue. You see behaviors in reaction to things they can't articulate. So I realized what a physical responsibility and challenge I had as an actor to do that. The audience wouldn't be able to see exactly what I was feeling, but perhaps I could tell them in some other way. And then the second thing I realized was that everyone on the spectrum is different, so to observe them and then apply what I observed is sort of like working from the outside in. And becomes a bit like mimicking. So what I ended up finding more helpful in terms of physicality and behavior was reading autobiographies by people who are on the spectrum like The Reasons I Jump [by Naoki Higashida] and John Elder Robison's Look Me In the Eye.
Christopher is a math prodigy. How are you at math? Oh really, really shit.
Did you feel like you had to understand it, at least a little, to access Christopher, who finds such solace in things like prime numbers and equations? I watched some documentaries about people whose lives are like mathematicians and like almost everything, I think, you can find parallels to your own life. There's something about math that's very soothing to a certain type of person because it's like a set of rules that don't change. In a way it's similar to religion. It's his religion I think. It gives him something to believe in, something that's always there that he can rely on. I think we all have that in some shape or form. ____
Do you think you have anything in common with Christopher? I think he's a young man that has learned what you have to do to get what you want is hard and gonna be uncomfortable and it's to do with perseverance and doing things you really, really wish you didn't have to do and pushing through it anyways. That's a life lesson and a coming of age thing, isn't it? Especially when you're a teen you realize, well, life's gonna be quite fucking hard if I want to get what I want.
It is an incredibly physical play. You're on stage the whole time and there's even a dance element. What sort of training did you do for that? ____ There was a really intense physical boot camp with the two choreographers every day of rehearsal. Every morning for hours we would be physically working out and working on the movement sequences. But in terms of just physically being strong enough, I have to work out every single day otherwise I wouldn't be able to do the play.
Was that something you were doing before you got this part? Hell no. I used to drink a lot just because I'm English and that's just what we do. And I used to smoke.
Was it hard to quit smoking? I guess you had the ultimate motivation. I feel like I'm a monk training. There's something precious and important that I do every day and everything else in my life has to change to enable that. It's definitely a first world problem. I'm totally fine with giving up cigarettes for this part. It's the least I could do.
Photos: The Curious Alexander Sharp
Alexander Sharp in "The Curious Incident of the Dog in the Night-Time." Photo by Joan Marcus.
Helen Carey, Mercedes Herrero, Jocelyn Bioh, Alex Sharp, Richard Hollis, David Manis, and Ben Horner. Photo by Joan Marcus
Alex Sharp and Ian Barford. Photo by Joan Marcus
Mercedes Herrero, Alex Sharp, Richard Hollis, and Jocelyn Bioh. Photo by Joan Marcus