All About Alexander Wang
From cashmere cardies to a major CFDA win, Alexander Wang has come a long way in five years.
---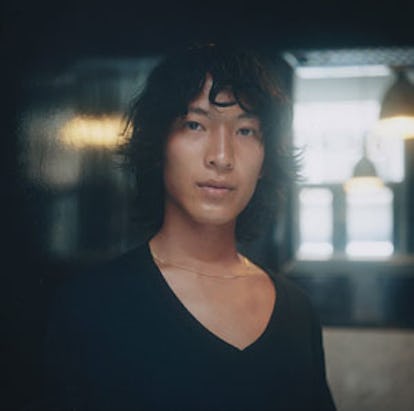 Alexander Wang remembers getting an e-mail from Diane von Furstenberg one evening this past January. "Can I call you right now?" the message read. It was 10 o'clock. He answered in the affirmative, naturally—who says no to DVF?—and a few minutes later, the phone rang in his apartment in New York's East Village. "She was just making sure I was okay," recalls Wang, fondly, of the nerve-racking moment. "She was like, 'How are you, dear? Do you feel well? How's your energy? Are you taking a vacation?'" That nighttime chat would be the first of many with the fashion icon, his business mentor via the CFDA/Vogue Fashion Fund.
Life hasn't exactly been normal for Wang lately, at least not since he catapulted into fashion's It arena. Back in 2005, when he launched his line, he wasn't getting personal calls from any designer, top tier or otherwise. He also wasn't the subject of much online panting—go ahead, Google him; he'll pop up after other famous Alexanders: McQueen, Graham Bell, Hamilton and "the Great"—and didn't have strangers approaching him for a quick photo op. If his name appeared in the press, it was often followed by the clarifying phrase "no relation to Vera." He was just an upstart among upstarts, pulling his neophyte cashmere samples around to buyer appointments in a roll-away suitcase. And in those days he was scouring eBay for tickets to the CFDA awards. "I would have given anything to even just watch them," Wang says.
Runway looks from spring and fall 2009.
This past June, Wang not only watched, he took home the CFDA Swarovski Award for emerging women's wear designer. Onstage to accept the award, having paired his Helmut Lang blazer from high school with new Comme des Garçons shorts that barely grazed his knees, an ear-to-ear grin and tousled bed-head, Wang, 25, looked every inch the youthful schoolboy. The look belied the fact that Wang heads a small—$20 million—but serious business, which has successfully spawned shoes, bags and a secondary collection called T.
"Alex is both a designer and a merchant—he's the perfect combination," says Sarah Easley of the New York shop Kirna Zabête. "Often designers are known for something they're fantastic at. Alex does every category well: dresses, evening, play clothes, work clothes, items, whole looks. Every category is polished and solid." And Wang's numbers speak for themselves. According to company figures, spring 2009 had an average sell-through of 60 percent, with his red-hot accessories accounting for 30 percent of his business. And for his spring 2009 footwear debut, the downtown store Opening Ceremony had a waiting list 900 names deep. "He is a star," von Furstenberg conveys by e-mail. "Alex is a very unique one."
From left: The Hanne boot; the studded Coco duffel bag.
Still in the throes of his meteoric rise, the San Francisco native can't quite pinpoint a seminal moment of "arrival." Ask him what he considers his pivotal collection, and it's always the last one that sailed down the runway. That he has just a handful under his belt only heightens their significance. "Each one brought us to a certain place," says Wang. "It wasn't one thing that did it all for us, you know?"
Still, there have been major moments. Wang debuted his first full range of ready-to-wear in spring 2007; before that he was known for his languid, tomboyish intarsia knits. Fall 2008, meanwhile, marked Wang's entrée into the big leagues. "That was a turning point," says Barneys New York's senior vice president and fashion director, Julie Gilhart, who has been a supporter of Wang since day one. "It was the most energetic show of that particular Fashion Week and showed his ability to merge cool, casual street style with sophistication." And indeed, that collection—a neogrunge extravaganza of torn denim, shredded hosiery and knit beanies, styled by model-cum-muse Erin Wasson—established just who the Alexander Wang girl was. "She's looser, a little thrown together," he noted at the time. "It's about how girls can feel sexy and dress up without looking like they went through this clone machine."
The designer says now that he could have stuck with the grunge shtick for a few more seasons and cashed in. "But I've seen so many designers fall into that trap," he explains. Instead, he shifted gears and has continued to do so—South Beach sexpot one season and clean, sharp tailoring the next. For the upcoming spring collection, he's working with megastylist Karl Templer of Calvin Klein runway fame, which suggests he's going for still more polish.
But the core threads are always there, whether they veer flashy, or casual and undone. Wang's forte lies in making one rethink the familiar, almost invariably infusing it with newfound cool. Pretty lace tops, for instance, come patterned after sweat stains, while his signature Brenda handbag—named for a certain 90210 babe—was inspired by an old toiletry bag. "I like taking things that happened in life and making them into a design element," he says, "and then making them into something beautiful."
Wang is nothing if not ambitious. He's pumping up his accessories business aggressively, with eyewear debuting for spring, and is expanding his T collection to include more than just cotton tank tops and T-shirt basics. The concept will still revolve around the "T-shirt culture of throwing something on and running out of the house," Wang explains. "We keep pushing the boundaries of ready-to-wear." It's here, within T, that Wang is introducing his men's wear collection. Also new: an e-commerce site, which at press time was set for an August launch. All of this growth, he notes, has come without any outside financial backing, aside from his family's initial monetary boost.
"The fun part is being able to evolve and challenge yourself," he says. "If you get too comfortable, it's not invigorating…. I've always remembered something Marc Jacobs said in an interview: As soon as people get used to what you're doing, you have to change direction." So far, Wang has managed to do just that while holding on to his signature street-chic MO. "Whether people get it one season or don't, it's always me, those same touches, feelings, nuances," he says.
"His sensibility hasn't changed," says Victoria Traina, who has been friends with Wang since high school (San Francisco's Drew School) and acted as his stylist in the early years. "When he started his own line, it made perfect sense to me. This is what he's meant to do."
By all accounts, Wang basically came out of the womb with catwalk dreams. "I can't remember a time when he wasn't into fashion," says his brother Dennis, the company's chief principal officer. (Dennis's wife, Aimie, is chief executive officer.) "Maybe that summer of 1993 when he was really into Spider-Man and X-Men, and I think even that short-term fascination was due to the colorful costumes." In fourth grade, for example, Wang created a papier-mâché shoe for art class. "I made a Versace slingback I had seen in a magazine," he recalls. For added authenticity, he nabbed a Versace tag from one of his mom's frocks and glued it onto the sole.
At age 15, he held his first fashion show—during Dennis's wedding reception at the Ritz-Carlton in San Francisco, complete with lighting and a runway. "It was a little risqué for a traditional wedding," remembers Traina. "There were, like, half-naked girls in high heels." Three years later, Wang would stage a similar catwalk presentation at his mother's 60th-birthday celebration in Shanghai. He even went so far as to enlist models from a local agency.
"We have a joke that Alex runs on batteries, because he's always working and thinking up different ideas," says Michael King, a pal from Parsons The New School for Design. "Sometimes I'll see him in the middle of dinner and he'll pause and start drawing with his finger."
Clearly, the guy is obsessed. "He's so not jaded in any way," says Easley. "When you say to him, I like this or that, it's like no one has ever given him a compliment before, he's so happy about it."
In fact, despite the ultracool, street-smart attitude of his clothes—a look sometimes associated with counterculture angst—happy lies at the heart of Wang's ethos, professional and otherwise. "This is fashion," he says. "People should be having fun."