Alexander Wang Loves Adidas; Raf Simons Loves Moonlight
Plus, Hood By Air cancels its Paris show, and Vera Wang reflects on Paris, her adoptive home.
---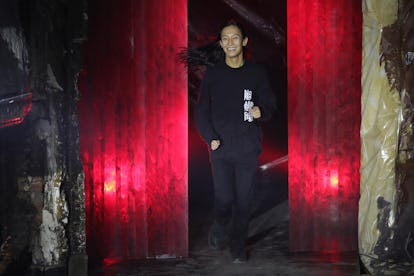 Antonio de Moraes Barros Filho/Getty Images
Air, Hood By Postponing plans to show in Paris. The label, helmed by Shayne Oliver, decamped from New York to Paris for this season's womenswear show, but an announcement emailed out Monday revealed that "due to unforeseen circumstances," the show was cancelled. (John Galliano will fill the vacant slot.) The one bright side: It seems there is a Hood By Air Fall 2017 collection, it just won't be on the runways this season.
Kane, Christopher, and Rocha, Simone Just two of the young generation of London designers who seem determined to make conservative lengths, old-fashioned florals, and buttoned-up accessories a thing for young people, as well as old timers.
Lopez, Antonio A new exhibition at the Museo Del Barrio in New York; homages on the runway at Kenzo and Louis Vuitton; and a new documentary, Antonio Lopez 1970: Sex Fashion & Disco — late fashion illustrator Antonio Lopez is more relevant than ever.
Simons, Raf Raf Simons, the new chief creative officer of Calvin Klein, loved Moonlight just as much as you.
Sozzani, Franca The late, legendary Vogue Italia editor was honored at a mass in Milan on Monday, capping off Milan Fashion Week in poignant fashion. Among the attendees were designers Pierpaolo Piccioli, Maria Grazia Chiuri, Silvia Venturini Fendi, Miuccia Prada, Donatella Versace, and Alberta Ferretti, models Jasmine Sanders and Naomi Campbell, and a host of other fashion insiders and executives.
Wang, Alexander On the occasion of his second collaboration with Adidas Originals, designer Alexander Wang discusses selling his wares from the back of a truck, working with Juergen Teller, and why breaking down gender norms remains paramount in his work.
Wang, Vera Practically French.
See W's most popular videos: