Five Models on the New Dramatic Cuts They Got for Alexander Wang
Hairstylist Guido Palau gave five lucky models some serious chops for Alexander Wang's Fall 2017 show in Harlem, but he couldn't get Bella Hadid to make the cut.
---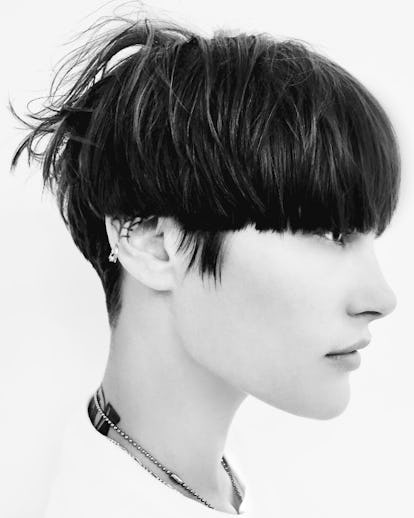 The Alexander Wang squad is in bleach rehab. "I think we OD'ed on color last season," Redken Global Creative Director, Guido Palau, joked backstage at Alexander Wang's Fall 2017 show on Saturday night in Harlem.
In lieu of cut and color this season, Palau instead took his shears to five girls' locks for a range of, "boyish, basic haircuts" that felt like they could have been done, "by your mother, your brother or your boyfriend."
And the responses were anything but basic. "It was nipple height," said model Catherine McNeil of her lost length—the most dramatic change of the crew. "I really like it," said McNeil, who had previously sported short hair during a brief stint away from modeling. "Guido is the best. And he doesn't make you look bad."
Meanwhile, model Irina Kravchenko hadn't had a cut like this since kindergarten. She wore her bowl cut with ease noting its low maintenance appeal, "Yesterday when I washed, I just put conditioner. And today, I didn't brush it!" Talk about liberating. "For me, a bigger problem is bleach," she added.
Sohyun Jung, meanwhile, said the look made her stand out in a personality-filled room. "I like short hair, it's easier," she said, adding it she was going to keep the length for a while.
"It's the idea of owning your own kind of look," explained Palau. "I mean Anna [Ewers] is Anna. She has her own look, a sexy look," one which didn't require a cut for the occasion. "And Cara [Taylor] is Cara. And she's got a bob," that Palau had cut last season, undoubtably contributing to her stellar season. "It gives them their own thing. All of the girls, they have their own layers, their own color, their own texture."
A certain runaway Wang star from fall 2016 certainly has Palau to thank for her overnight success. "I ran into Katie [Moore] on the street the other day, and she feels very up about herself," it's that transformative power of a Palau cut that seems to last beyond the life of the haircut. "It gives them a sort of confidence."
"Fashion has changed and the idea of beauty has changed," added Palau. "Haircuts are a part of fashion language." But it wasn't just the inclusive fashion climate that Wang and Palau wanted to celebrate, "It's so nice to have the luxury of doing a cut on a girl, and it just feels like a great moment for her. And it's great because the girls have faith in me, and in him."
"I mean Bella's still a pain in the neck," Palau joked.
"Shut up Guido," Hadid playfully shot back. "He's going to give me a bowl cut. And he said I could dye his hair pink…"
"She's going to cut mine, and I'm going to cut hers," he interjected.
We (and the Wang Squad) will have to wait until next season.
With "No After Party," an Alexander Wang Show Is Just One Big Giant Moshpit with Kylie Jenner and Brooklyn Beckham
Kendall Jenner at Alexander Wang Fall 2017

Photo by Asia Werbel
The lineup at Alexander Wang Fall 2017

Photo by Asia Werbel
The scene at Alexander Wang Fall 2017

Photo by Asia Werbel
The scene at Alexander Wang Fall 2017

Photo by Asia Werbel
The scene at Alexander Wang Fall 2017

Photo by Asia Werbel
The scene at Alexander Wang Fall 2017

Photo by Asia Werbel
The scene at Alexander Wang Fall 2017

Photo by Asia Werbel
The scene at Alexander Wang Fall 2017

Photo by Asia Werbel
The scene at Alexander Wang Fall 2017

Photo by Asia Werbel
The scene at Alexander Wang Fall 2017

Photo by Asia Werbel
The scene at Alexander Wang Fall 2017

Photo by Asia Werbel
The scene at Alexander Wang Fall 2017

Photo by Asia Werbel
The scene at Alexander Wang Fall 2017

Photo by Asia Werbel
The scene at Alexander Wang Fall 2017

Photo by Asia Werbel
The scene at Alexander Wang Fall 2017

Photo by Asia Werbel
The scene at Alexander Wang Fall 2017

Photo by Asia Werbel
The scene at Alexander Wang Fall 2017

Photo by Asia Werbel
The scene at Alexander Wang Fall 2017

Photo by Asia Werbel
The scene at Alexander Wang Fall 2017

Photo by Asia Werbel
The scene at Alexander Wang Fall 2017

Photo by Asia Werbel
The scene at Alexander Wang Fall 2017

Photo by Asia Werbel
The scene at Alexander Wang Fall 2017

Photo by Asia Werbel
The scene at Alexander Wang Fall 2017

Photo by Asia Werbel
Watch Going Home with Bella Hadid: