Is the Wang Squad Having Fun Yet? And Other Quandaries
… Including the Vice Presidential debate, the future of street style, and Rebecca Hall's new, challenging role.
---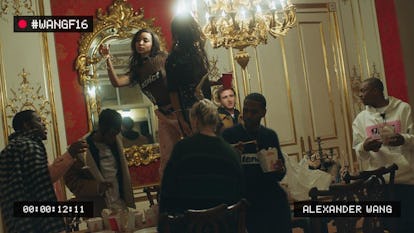 @alexanderwangny
Basquiat, Jean-Michel The artist's first large-scale U.K. retrospective opens at London's Barbican gallery in 2017.
Debate, Vice President This one was nothing like the first presidential debate. Here's what you might have missed in the face-off between Mike Pence and Tim Kaine.
Elbaz, Alber Awarded the French title of Officier de Légion d'Honneur Monday, the same day he unveiled a new perfume with Frédéric Malle. He's a busy guy, post-Lanvin.
Hall, Rebecca The English actress (best known for roles in The Gift, The Town, and on stage in both New York and London) takes on her most challenging role yet in Christine.
Newton, Helmut Posthumously joining the ranks of Taraji P. Henson, Rihanna, and Carine Roitfeld as the new muse of a capsule line of Mac Cosmetics.
Squad, Wang Are they having fun yet?
Stewart, Kristen Unfiltered, unapologetic, and really, really busy.
Style, Street According to the Washington Post's Robin Givhan, it's an art form that's losing its edge to the Demna Gvasalias of the fashion world.