Alexander Wang's Favorite Things
The designer's first fragrance for Balenciaga would make Cristóbal proud. Here are some other things Alexander Wang has a nose for.
---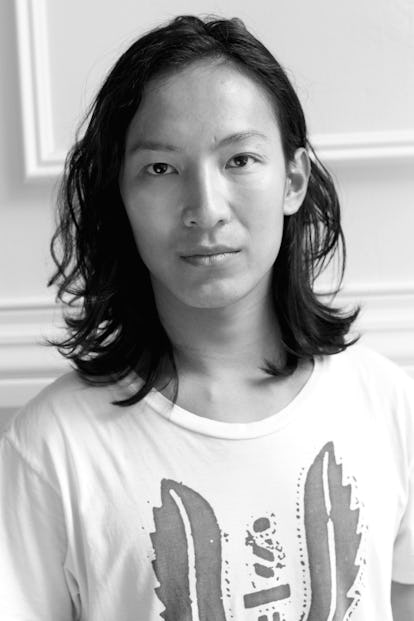 Daruma-Ya "This Japanese restaurant on Greenwich Street in New York serves soba upstairs and sushi below. The corn tempura comes with shichimi pepper and salty bits—it's incredible."
1stdibs.com "My friend Ryan Korban introduced me to the design world. Friends come over, and I just direct them to the TV so I can keep browsing this site! I love purist, minimal pieces by Karl Springer and Jean-Michel Frank."
Jeff Leatham bouquets "Fresh flowers are a must when I travel. Some hotels, like the George V in Paris, are more, uh, historic, so a nice bouquet makes the room feel alive. Jeff is the George V's artistic director, but he also oversees the floral arrangements for my store in New York."
Peels by Georgia Louise "You know how people say you have to suffer for fashion? I suffer for beauty. Unless a mask or exfoliation treatment is burning, it's not working. I try to bribe my facialist, Georgia Louise, to give me stronger glycolic peels. I once did three peels in one day— my skin can handle a lot. I'm hooked."
Iggy Azalea "I'm always on music blogs like Pitchfork. I love Iggy Azalea's latest album, The New Classic; I've been waiting a long time for it."
Oribe Apres Beach Wave and Shine Spray "Everyone thinks I perm my hair, which is the funniest thing, because I'm always trying to tame it. It would be one big 'fro if it wasn't for this spray. It makes hair a bit damp and a little piece-y without being crunchy."
B. Balenciaga "To create a fragrance that was timeless but also felt new, we combined edamame, which is an unusual ingredient, with lily of the valley; then we added masculine, woodsy notes. The bottle is cracked glass, which was a motif in my first Balenciaga show, and its shape was inspired by the tiles in Cristóbal's original salon. The cap, meanwhile, has a cutout archway that references the current Balenciaga atelier. So, it's one part classic, one part innovative-—and one part weird."
Frederic Malle Jurassic Flower Perfume Gun "You spritz the room, and you're like, 'Oh. My. God.'"
Photos: Alexander Wang's Favorite Things
Alexander Wang. Photo by CNP Montrose.
Jeff Leatham bouquets. Courtesy of Jeff Leatham, Studio Cabrelli, and Diana Bezanski.
Daruma-Ya, darumaya-nyc.com. Courtesy of Daruma-Ya.
Frederic Malle Jurassic Flower Perfume Gun, $160, fredericmalle.com. Courtesy of Frederic Malle.
Oribe Apres Beach Wave and Shine Spray, $39, oribe.com. Courtesy of Oribe.