Alexandre Vauthier and Alain Mikli Launch Couture Sunglasses, Just In Time for Model Soo Joo Park's Wedding
Models Soo Joo Park and Kate Moss are both fans.
---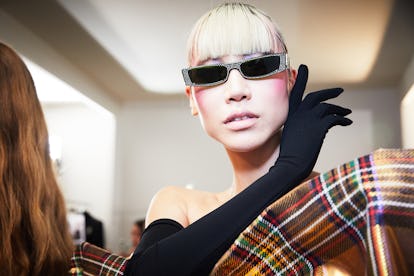 AMBRA VERNUCCIO
There was plenty of activity backstage at Alexandre Vauthier's fashion show yesterday in Paris: in addition to presenting the brand's couture collection at the Grand Palais, Vauthier officially announced and debuted a new sunglasses collaboration with innovative eyewear label Alain Mikli, and simultaneously dropped a campaign for the collection starring Kate Moss.
But Moss isn't the only supermodel fan of the new sunglasses, which are available in four styles. Backstage, Soo Joo Park was beaming while wearing her own pair of the Swarovski-studded retro shades. "My first impression of the glasses was, 'Wham, bam, thank you, ma'am'," she said, as makeup artists and hairstylists applied lilac shadow to her eyelids, and added futuristic faux bangs.
To compliment the frames at Vauthier's show, Park also wore sky-high boots and a corseted black mini dress with an oversized plaid bow. "It's a standout piece," she said. Off duty, however, the 31-year-old model and street style star plans to wear them for a special night out. "I think my personal style is pretty fluid, I like to experiment and have fun, so those sunglasses would definitely work into my look," she added. "I wear sunglasses at night when I want to be badass, or when I'm walking into a club trying to impress. It's definitely a 'creature of the night' kind of look."
Giampiero Tagliaferri, the creative director of Alain Mikli and Oliver Peoples, was equally delighted with the results of the collaboration. "Mikli has always been the couturier of eyewear, so our collaboration with Vauthier keeps up with the tradition," he said.
And while this is Vauthier's first foray into eyewear, it is familiar territory for Mikli, the storied eyewear brand that has been collaborating with designers like Jean-Paul Gaultier (for whom Vauthier previously worked) since the 1980s. So, it was a natural choice for Vauthier. "I'm a child of my generation," explained the fashion designer, just minutes before his haute couture show. "I respect Alain Mikli's DNA so much. It's edgy and rooted in the '80s. It's easy for me to work with these kinds of people."
The collection took a mere six months to produce — a pace they both attribute to their aesthetically similar tastes. At their first meeting, the designers exchanged nearly identical mood boards. Inspiration included Grace Jones, Tony Miramontes illustrations, and most prominently, Catherine Deneuve. "The image of Catherine wearing her hat and frames in The Hunger in the middle of the night is really where everything started," said Tagliaferri.
The speed at which the collection came together is good news for many, but especially Park, who is currently planning her wedding. The affair will likely be in upstate New York, and the bride revealed that will wear Chanel for the ceremony, and Vauthier for the after party. "We will invite our closest friends and party all night," she said.
It's safe to assume she'll be wearing sunglasses, as well.
Go Backstage At Paris Haute Couture, Where Fashion Fantasies Come to Life
Backstage at the Dior Fall 2018 Haute Couture show in Paris, France on Monday, January 22nd. Photo by Ambra Vernuccio for W Magazine.

AMBRA VERNUCCIO
Backstage at the Dior Fall 2018 Haute Couture show in Paris, France on Monday, January 22nd. Photo by Ambra Vernuccio for W Magazine.

AMBRA VERNUCCIO
Backstage at the Dior Fall 2018 Haute Couture show in Paris, France on Monday, January 22nd. Photo by Ambra Vernuccio for W Magazine.

AMBRA VERNUCCIO
Backstage at the Dior Fall 2018 Haute Couture show in Paris, France on Monday, January 22nd. Photo by Ambra Vernuccio for W Magazine.

AMBRA VERNUCCIO
Backstage at the Dior Fall 2018 Haute Couture show in Paris, France on Monday, January 22nd. Photo by Ambra Vernuccio for W Magazine.

AMBRA VERNUCCIO
Backstage at the Dior Fall 2018 Haute Couture show in Paris, France on Monday, January 22nd. Photo by Ambra Vernuccio for W Magazine.

AMBRA VERNUCCIO
Backstage at the Dior Fall 2018 Haute Couture show in Paris, France on Monday, January 22nd. Photo by Ambra Vernuccio for W Magazine.

AMBRA VERNUCCIO
Backstage at the Dior Fall 2018 Haute Couture show in Paris, France on Monday, January 22nd. Photo by Ambra Vernuccio for W Magazine.

AMBRA VERNUCCIO
Backstage at the Dior Fall 2018 Haute Couture show in Paris, France on Monday, January 22nd. Photo by Ambra Vernuccio for W Magazine.

AMBRA VERNUCCIO
Backstage at the Dior Fall 2018 Haute Couture show in Paris, France on Monday, January 22nd. Photo by Ambra Vernuccio for W Magazine.

AMBRA VERNUCCIO
Backstage at the Dior Fall 2018 Haute Couture show in Paris, France on Monday, January 22nd. Photo by Ambra Vernuccio for W Magazine.

AMBRA VERNUCCIO
Backstage at the Dior Fall 2018 Haute Couture show in Paris, France on Monday, January 22nd. Photo by Ambra Vernuccio for W Magazine.

AMBRA VERNUCCIO
Backstage at the Dior Fall 2018 Haute Couture show in Paris, France on Monday, January 22nd. Photo by Ambra Vernuccio for W Magazine.

AMBRA VERNUCCIO
Backstage at the Dior Fall 2018 Haute Couture show in Paris, France on Monday, January 22nd. Photo by Ambra Vernuccio for W Magazine.

AMBRA VERNUCCIO
Backstage at the Dior Fall 2018 Haute Couture show in Paris, France on Monday, January 22nd. Photo by Ambra Vernuccio for W Magazine.

AMBRA VERNUCCIO
Backstage at the Dior Fall 2018 Haute Couture show in Paris, France on Monday, January 22nd. Photo by Ambra Vernuccio for W Magazine.

AMBRA VERNUCCIO
Backstage at the Dior Fall 2018 Haute Couture show in Paris, France on Monday, January 22nd. Photo by Ambra Vernuccio for W Magazine.

AMBRA VERNUCCIO
Backstage at the Dior Fall 2018 Haute Couture show in Paris, France on Monday, January 22nd. Photo by Ambra Vernuccio for W Magazine.

AMBRA VERNUCCIO
On the runway at the Dior Fall 2018 Haute Couture show in Paris, France on Monday, January 22nd. Photo by Ambra Vernuccio for W Magazine.

AMBRA VERNUCCIO
Maria Grazia Chiuri and Emily Blunt at the Dior Fall 2018 Haute Couture show in Paris, France on Monday, January 22nd. Photo by Ambra Vernuccio for W Magazine.

AMBRA VERNUCCIO
Maria Grazia Chiuri and Willow Smith at the Dior Fall 2018 Haute Couture show in Paris, France on Monday, January 22nd. Photo by Ambra Vernuccio for W Magazine.

AMBRA VERNUCCIO
Backstage at the Giambattista Valli Fall 2018 Haute Couture show in Paris, France on Monday, January 22nd. Photo by Ambra Vernuccio for W Magazine.

AMBRA VERNUCCIO
Backstage at the Giambattista Valli Fall 2018 Haute Couture show in Paris, France on Monday, January 22nd. Photo by Ambra Vernuccio for W Magazine.

AMBRA VERNUCCIO
Backstage at the Giambattista Valli Fall 2018 Haute Couture show in Paris, France on Monday, January 22nd. Photo by Ambra Vernuccio for W Magazine.

AMBRA VERNUCCIO
Backstage at the Giambattista Valli Fall 2018 Haute Couture show in Paris, France on Monday, January 22nd. Photo by Ambra Vernuccio for W Magazine.

AMBRA VERNUCCIO
Backstage at the Giambattista Valli Fall 2018 Haute Couture show in Paris, France on Monday, January 22nd. Photo by Ambra Vernuccio for W Magazine.

AMBRA VERNUCCIO
Backstage at the Giambattista Valli Fall 2018 Haute Couture show in Paris, France on Monday, January 22nd. Photo by Ambra Vernuccio for W Magazine.

AMBRA VERNUCCIO
Backstage at the Giambattista Valli Fall 2018 Haute Couture show in Paris, France on Monday, January 22nd. Photo by Ambra Vernuccio for W Magazine.

AMBRA VERNUCCIO
Backstage at the Giambattista Valli Fall 2018 Haute Couture show in Paris, France on Monday, January 22nd. Photo by Ambra Vernuccio for W Magazine.

AMBRA VERNUCCIO
Backstage at the Giambattista Valli Fall 2018 Haute Couture show in Paris, France on Monday, January 22nd. Photo by Ambra Vernuccio for W Magazine.

AMBRA VERNUCCIO