Alexis Primous Is a Low Maintenance Workout Queen
The #WMagModelSearch winner shares her hair, makeup, and fitness secrets.
---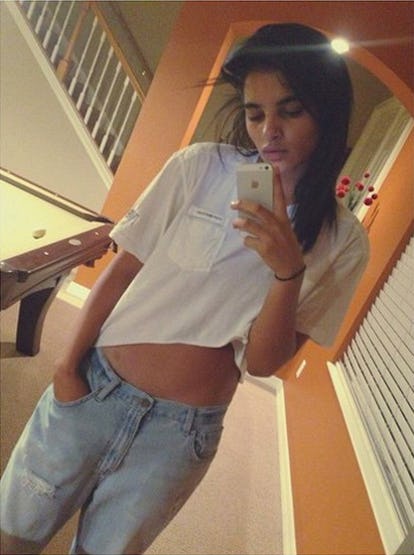 This time last year, Alexis Primous wasn't getting ready for fashion week, she was getting ready to return to college. Of course that was before she won the #WmagModelSearch, appeared in W's September issue, and her career took off. Here, the new model shares how her beauty routine has changed, her favorite products, and the secrets she's picked up on set.
Your look in three words: Expressive, androgynous, natural.
Five-minute routine: I typically shower, brush my teeth, and wash my face in less than five minutes. I then toss my hair around a bit, throw on sneakers, and head out for the gym.
Never leave the house without: Back-up phone charger, Powerbank! Any brand of peppermint chewing gum, heels, and Cherry Chapstick!
Exercise regime: As a new model (literally overnight!), working out five times a week has kept me sane amid the pace of it all! PNT FITNESS is the greatest and my trainer, Tara Faye Helwig, is the literal incarnation of Wonder Woman! She's motivated me throughout my intense training courses. Even the names are intense: "Insane Kick Boxing," "Sweat Shop," "Vicious Cycle," and "Body Sculpt," to name a few.
Cleanse or not: No cleanses (yet!), but I'm on the search for a good one.
Beauty essential: Off-duty, if I'm in the mood for wearing make-up I use a bit of Maybelline's medium-beige concealer and CoverGirl's clean normal skin foundation.
Skincare secret: Marianne Ionescu at Studio57 Spa is a goddess. Fresh out of the shower, I use Aveeno Stress Relief moisturizer.
Hair essentials: Whenever I straighten my hair, whether at home or at the salon, it stays straight for days, but the natural wave I get after a couple days is my favorite. I use Rodin by Recine Olio Lusso to keep it moisturized and luscious.
In-tub must-read: The Alchemist introduced me to a whole knew way of thinking when it comes to facing life's challenges.
Spa-cation at: I've never been to a spa! I'm so low-maintenance, it's not even funny. Someone, take me, please!
Fragrance of choice: Dolce & Gabbana's Light Blue makes me feel fresh and breezy.
Best advice from mom: Be special for yourself.
Best advice from the pros: On my first-ever fashion shoot, for W no less, one of the first things Edward Enninful said to me was, "Just express yourself." So now, so many weeks later [laughs!], just before walking on set, his words come to me like a gentle reminder. It's helped a lot. Thanks, Edward!
Beauty icons: Gia Carangi, Naomi Campbell, Shanina Shaik.
Christopher Kane dress, $2,850, Christopher Kane, London, 44.20.7493.3111. Rosie Assoulin earring, $350, modaoperandi.com.
Adam Selman dress, $595, openingceremony.us. Rosie Assoulin earring, $350, modaoperandi.com. Paula Mendoza Jewelry ring, $175, netaporter.com.
Opening Ceremony dress, $435, OpeningCeremony.us. Eres bottom, $105, net-a-porter.com. Rosie Assoulin earring, $350, modaoperandi.com. Paula Mendoza Jewelry necklace, $550, anthemwares.com.
Jonathan Simkhai top, $425, at jonathansimkhai.com. Jonathan Simkhai skirt, $385, at jonathansimkhai.com. Rosie Assoulin earring, $350, modaoperandi.com. Paula Mendoza Jewelry ring, $175, net-a-porter.com.
MM6 sweater, $595, select Maison Margiela stores, 646.781.7852. Proenza Schouler briefs, $350, Proenza Schouler, New York, 212.420.7300. Coach bag, $350, available at coach.com in September. Rosie Assoulin earring, $350, modaoperandi.com. Paula Mendoza Jewelry bracelet, $550, modaoperandi.com.
Hair by Diego Miranda at Cloutier Remix, makeup by Laura Stiassni. Manicure by Chi Chi. Model: Alexis Primous at IMG Models. Set Design by Lauren Nikrooz. Digital Technician: Matthew Thompson. Photography Assistants: Cindy Leaf. Fashion Assistant: Irene Ojo-Felix. Produced by Biel Parklee.