Meet the Woman Behind Alicia Keys' No Makeup Look and Glowing Complexion
How does the superstar maintain skin that's not afraid to bare it all? Ice, cucumbers, healthy eating and some really good oils.
---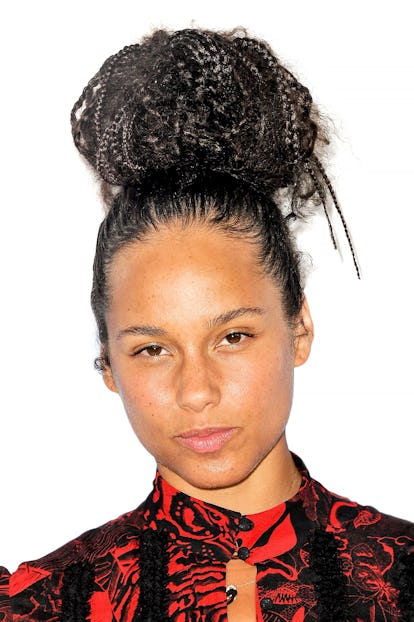 WireImage
For weeks, I'd been seething about Alicia Keys' skin, shaking my fist up at the Complexion Gods, bemoaning the unjust large-pored bumpy hand that my face had been dealt. It didn't help that AK's bare-faced mug has been everywhere lately—on multiple weeknights as one of the new judges on "The Voice," extolling the liberation from a mask of heavy makeup on Lena Dunham's Lenny Letter, where she summed up her feelings of foundation, mascara and lipstick shedding: "I don't want to cover up anymore."
Well, good for her. Good for her and her lucky genes, I bitched as I spread yet another layer of primer and foundation over my uneven, ruddy cheeks. All that, and she can sing.
And then I met Sharon McGlinchey, founder of MV Organics skin care. "Emma Watson is a client, as is Maggie Gyllenhaal," she explained when I asked about bold-faced named clients. "And Alicia Keys has been using it. I should connect you with Dotti."
Wait. So, Alicia Keys is human? Alicia Keys' skin needs help, too? Of course, it was Dotti, the one-named makeup artist widely known for her organic ethos and vegan sensibilities. I put down the foundation sponge and rang her right up.
"Alicia gets regular facials, does acupuncture and she eats healthy and exercises," says Dotti when I get her on the phone. "She knows you have to invest internally for your skin to look great externally. It's also about how you process your energy. She comes from a very strong place and she comes from a very kind place. That in itself is super important. But it's about the choices she's making and the products she's using. It's the work of a good team."
Throughout their six years working together, Dotti has continually tweaked Alicia's protocol depending on her skin's needs. "Even when she wore makeup, I would shift her [regimen] up. I would shift her look, I would shift her base, shift her skin care," she explains. "I shift everything because that keeps it moving. That's super important to me because I need to see where the skin is going, and to breathe into its direction."
And that direction is heading to the ice machine "Right now, we're doing a lot of ice work to tighten skin, bring the blood to the surface. To basically give it the pop that you need," she says. "I stick a jade roller in ice, so it's basically freezing when I roll it over her skin. I really, really work into all those areas where I want blood and water and energy brought to the surface. It brings her skin to life, it practically makes her skin say, 'Hi. I love you.'"
Tomorrow is cucumber day Dotti extols the magic of the cucumber. "On some days, I'll look at her skin and say, 'You need cucumber today,' so I'll grate a full cucumber, then place the pulp no higher than her brow bone and no lower than her under-eye bone, not going near sensitive parts of the eye. If we've got time, I'll put the pulp all over her face until it draws the heat out of the skin and bring the blood to the top. That's what most of the cooling agents do. Tomorrow is cucumber day."
Oils are important "People get freaked out about oils. They think if they've got oily skin they don't want oil," Dotti complains. "But yes you do! MV has always been a staple in my kit" Dotti always starts with MV 9 Oil Cleansing Tonic on Alicia, and uses its Pure Jojoba oil when she needs it. "It's so close to the natural sebum we produce in our skin. She loves their body oil, too."
Dotti relies on masks She'll also treat AK to a mask, including a special rubber-textured one from a facialist friend, as well as Eminence Clear Skin Probiotic Masque and SK-II Facial Treatment Mask.
But there is makeup on that face, right? Well, some–at least when she's performing or "Voice" judging. But, as Dotti says, "Compared to the world of makeup, there is minimal. She's already powerful to look at, with those amazing Cleopatra-shaped eyes, and now we get to see them!" While Alicia rides her makeup-free wave, Dotti is there to keep the natural look looking, well, good. She might fill her brows with individual lashes or enhance her freckles with an Anastasia Beverly Hills Brow Definer. She'll give her cheeks a warm glow with Vita Liberata Self Tanning Anti-Age Serum or curb shine with Mally Ever Colour Poreless Face Definer Mattifier. "She did a performance in London a few weeks back, and she came offstage with this huge smile," recalls Dotti. "She said, 'It's so amazing to not have makeup on and just sweat like a bomb! And her skin still looked so amazing."
Don't get too used to it, though. When asked if she misses giving Ms. K a full face of makeup, she replied, "Not really, but there will come a time when we'll paint it again," she says. "I was just speaking with her earlier and she said, 'There's going to be a time when I say, 'You know what? I want a red lip.'' This isn't really a big statement. She's just loving where she is."
From the recent spate of bare-faced runway shows, it sure seems she's on to something.