Major Keys
A decade after the release of her landmark album, Songs in A Minor, Alicia Keys is still her own best muse.
---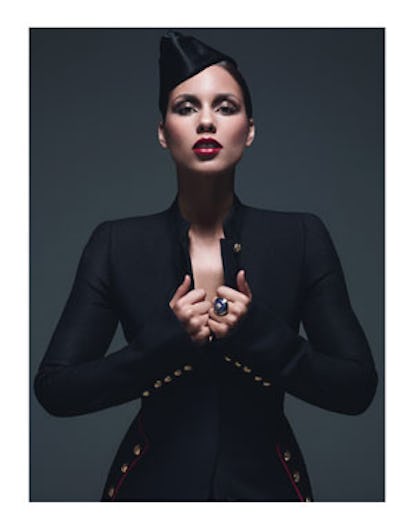 "I just wanted to be who I was, which was like so many other girls I knew," says Alicia Keys. "We grew up in the city, had a hard edge and obstacles to overcome, but we were still young and beautiful. I didn't want to be all dressed up, all made up—I wanted to be myself, which hadn't been done before."
When then 20-year-old Keys released her debut album, Songs in A Minor, in 2001, she had already been on and off two record labels. Even though such neo-soul artists as Lauryn Hill and D'Angelo had expanded the parameters of modern R&B at the turn of the new century, no one knew quite what to do with this cornrowed piano prodigy from New York's Hell's Kitchen who opened her record playing Beethoven's "Moonlight Sonata" over a rough hip-hop beat.
Powered by the gospel-flavored single "Fallin'," though, Songs in A Minor entered the charts at No. 1, sold 11 million copies, and won five Grammys. And while her peers struggled with the pressures that followed their breakthroughs, the range Keys displayed on her debut continued to expand throughout the decade in her work with everyone from Jack White to Jay-Z—and earned her a shout-out from Bob Dylan: "There's nothing about that girl I don't like," he told Rolling Stone in 2006. (He also name checked Keys in "Thunder on the Mountain" on the album he released that year, Modern Times.)
To commemorate Songs in A Minor's 10th anniversary, Keys has assembled a deluxe edition featuring early demos, alternate takes, and live recordings from the era, including a classical medley and a sultry cover of "Light My Fire." The package documents the five-year life of this landmark project, which covered most of the singer's adolescence.
Keys—recently married to producer Swizz Beatz and, as of October, mother to a son, Egypt—recalls the struggle it took to capture the sound in her head and the frustration she felt at being pushed, over and over, toward a more conventional style. "I was a young girl with very strong ideas but no experience," she says. "I just knew that everything else I was doing was wrong—that all the suggestions weren't what was in my mind, they weren't what it was meant to be."
Ultimately, it took the almost unprecedented step of allowing her to produce her own music for the streetwise elegance of Songs in A Minor to emerge. (Still one of the few female producers in the business, Keys has since helmed sessions for the likes of Whitney Houston and Jennifer Hudson.) As difficult as the delays and setbacks were, Keys maintains that it was all worth it to make the music of which she dreamed.
"How terrible would it have been if I had come out with some watered-down version of who I am?" she says. "People fell in love with the real me, and I still feel blessed that that was how the journey began."
Alexander McQueen's wool jacket. Ellen Christine hat, Versace ring.

Photographer: Mario Sorrenti Stylist: Alex White
Alexander McQueen's silk top.

Beauty Note: A blend of Surf the Ocean's silver and Summer Stash's bronze eye shadows from MAC Crushed Metallic Pigment duos make for high-shine copper lids.

Photographer: Mario Sorrenti Stylist: Alex White
Alexander McQueen's navy wool coat.

Beauty Note: Carol's Daughter Monoi Repairing Hair Mask will help curls stay hydrated. Hair by Didier Malige for Frédéric Fekkai; makeup by Aaron De Mey for Lancôme; manicure by Yuna Park at Streeters. Digital technician: Xanny Handfield; lighting technician: Lars Beaulieu. Photography assistants: Johnny Vicari and Javier Villegas. Fashion assistants: Eileen Hayes and Katie Casamassimo.

Photographer: Mario Sorrenti Stylist: Alex White