Alicia Keys Talks New Album, Donald Trump at Fundraising Benefit
"Orange is not the new black," said Alicia Keys from the stage of the Keep A Child Alive Black Ball, which she hosted on Wednesday night.
---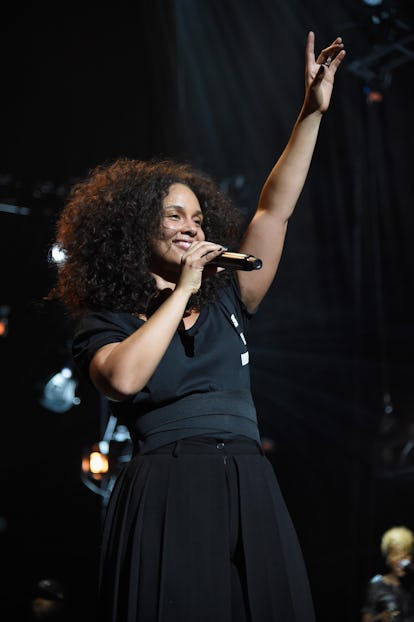 Photo by Kevin Mazur/Getty Images for Keep a Child Alive
Last night, Alicia Keys hosted Keep A Child Alive's Black Ball honoring her friend and mentor Clive Davis at New York's Hammerstein Ballroom. The philanthropic annual event (for which Keys is a co founder) aims to provide treatment for families affected by HIV and AIDS. The organization celebrated its 13th anniversary with a splashy 80s theme, bringing out acts like Patti Smith and Salt-N-Pepa for the occasion. Novelty posters of MTV shows, Jordache jeans, Back to the Future, and Bruce Springsteen lined the entrance of the venue, as well as works by Keith Haring. The cocktail reception area was decked out in drawings by artist Shantell Martin, while DJ Fulano provided the base-jumping soundtrack. Attendees included Keys' super producer Swizz Beatz, Oscar-winner Lupita Nyong'o, top chef Padma Lakshmi, and Jillian Hervey of Lion Babe.
Keys' forthcoming album, "Here," dropping November 4th, was on the forefront of her mind. "This album is the best music that I've ever made so far. It's the most raw, the most urgent, the most conversational, the most honest, that my music has ever been," she said. A bare-faced and beautiful Keys would later grace the stage with Chance the Rapper to perform his sanctified track "Blessings," returning later with A$AP Rocky to serenade the crowd with an acoustic version of their song "Blended Family (What You Do For Love)."
In between belting out her hits like "No One" and "Fallen," Keys – in a Public School "We Need Leaders" logo t-shirt – reminded guests what they were missing that night – the final presidential debate. She didn't shy away from vocalizing her feelings about the election season, especially Donald Trump, stating "Orange is not the new black." Cosigning that sentiment, legendary singer Patti Smith closed out the benefit, singing "People Have The Power" and "Because the Night" in duet with Keys.
Alicia Keys Hosts Keep a Child Alive Black Ball
Keep A Child Alive co-founder and singer Alicia Keys performs onstage during Keep A Child Alive's Black Ball 2016 at Hammerstein Ballroom on October 19, 2016 in New York City.

Photo by Kevin Mazur/Getty Images for Keep a Child Alive
ASAP Rocky performs onstage during Keep A Child Alive's Black Ball 2016 at Hammerstein Ballroom on October 19, 2016 in New York City.

Photo by Kevin Mazur/Getty Images for Keep a Child Alive
Patti Smith performs onstage during Keep A Child Alive's Black Ball 2016 at Hammerstein Ballroom on October 19, 2016 in New York City.

Photo by Kevin Mazur/Getty Images for Keep a Child Alive
Sandra 'Pepa' Denton, DJ Spinderella, and Cheryl 'Salt' James of Salt-N-Pepa perform onstage during Keep A Child Alive's Black Ball 2016 at Hammerstein Ballroom on October 19, 2016 in New York City.

Photo by Kevin Mazur/Getty Images for Keep a Child Alive
Keep A Child Alive co-founder and singer Alicia Keys and rapper ASAP Rocky perform onstage during Keep A Child Alive's Black Ball 2016 at Hammerstein Ballroom on October 19, 2016 in New York City.

Photo by Kevin Mazur/Getty Images for Keep a Child Alive
Chance the Rapper and Keep A Child Alive co-founder and singer Alicia Keys perform onstage during Keep A Child Alive's Black Ball 2016 at Hammerstein Ballroom on October 19, 2016 in New York City.

Photo by Kevin Mazur/Getty Images for Keep a Child Alive
Swizz Beatz and Mr. Brainwash attend Keep A Child Alive's Black Ball 2016 at Hammerstein Ballroom on October 19, 2016 in New York City.

Photo by Kevin Mazur/Getty Images for Keep a Child Alive
Actress Lupita Nyong'o attends Keep A Child Alive's Black Ball 2016 at Hammerstein Ballroom on October 19, 2016 in New York City.

Photo by Kevin Mazur/Getty Images for Keep a Child Alive
Director Joel Schumacher and author Padma Lakshmi attend Keep A Child Alive's Black Ball 2016 at Hammerstein Ballroom on October 19, 2016 in New York City.

Photo by Kevin Mazur/Getty Images for Keep a Child Alive
Model Shanina Shaik attends Keep A Child Alive's Black Ball 2016 at Hammerstein Ballroom on October 19, 2016 in New York City.

Photo by Kevin Mazur/Getty Images for Keep a Child Alive
Cheryl 'Salt' James of Salt-N-Pepa performs onstage during Keep A Child Alive's Black Ball 2016 at Hammerstein Ballroom on October 19, 2016 in New York City.

Photo by Kevin Mazur/Getty Images for Keep a Child Alive
Keep A Child Alive co-founder and singer Alicia Keys performs onstage during Keep A Child Alive's Black Ball 2016 at Hammerstein Ballroom on October 19, 2016 in New York City.

Photo by Kevin Mazur/Getty Images for Keep a Child Alive
Model Alek Wek attends Keep A Child Alive's Black Ball 2016 at Hammerstein Ballroom on October 19, 2016 in New York City.

Photo by Kevin Mazur/Getty Images for Keep a Child Alive
Watch: Gigi Hadid and Kendall Jenner Are Performance Artists