Alicia Silverstone Wore Cher's Iconic Clueless Plaid Suit for Lip Sync Battle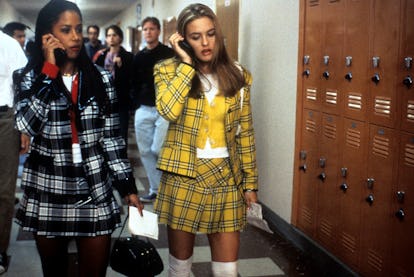 Paramount Pictures/Getty Images
It's been 22 years since Amy Heckerling gifted the world with Clueless, but you wouldn't be able to guess that at all from a recent photo of star Alicia Silverstone. Over two decades later, Cher's iconic yellow plaid suit still fits her like a glove. Silverstone went back to her archives to suit up for an upcoming episode of Lip Sync Battle, as host Chrissy Teigen revealed on her Twitter. Silverstone not only wore the yellow suit, she also wore white Mary Jane shoes with matching knee-highs, though noticeably shorter than the original thigh-grazing ones. And, she looks as flawless in the whole outfit as she did in the original, where she waltzes through the hallways of her high school in it alongside Dionne in a coordinated black and white plaid suit, after picking out the outfit in the opening scene of the film with help from her then-hi-tech outfit matching software.
"How am I supposed to sleep?" Teigen aptly tweeted along with a photo of Silverstone clad in Cher's outfit, herself and baby Luna. Teigen, who frequently bumps elbows with her celebrity peers whether on her show Lip Sync Battle or at the myriad of award shows where she's become a staple, also revealed that shade made a rare request in asking Silverstone for a photo. "I think I've asked for 2 photos in my entire life. @AliciaSilv and beyonce," she wrote, giving her fans yet another way to relate to the candid personality.
While Teigen's photo only showed a side shot of Alicia Silverstone dressed once again as Cher, TV executive Kac Man blessed fans with a closer look at it. Even with a black vest in place of the original yellow one, Silverstone still looks alarmingly like time has stood still since Clueless. "#lipsyncbattle beauties #aliciasilverstone and #menasuvari showing crowd how amazing #americanwoman is going to be," he wrote on Instagram in the caption of his photo that also depicted Mena Suvari dressed as a Queen of Hearts à la Alice in Wonderland.
There is no word yet on when the episode airs or if Silverstone performed in character as Cher but it couldn't come at a better time given that Halloween is creeping up. Consider your costume inspiration covered.
Photos of Good Dogs as Beetlejuice, Sean Spicer, and More at the Tompkins Square Halloween Dog Parade
Inside the 27th Annual Tompkins Square Halloween Dog Parade in Tompkins Square Park in New York City on Saturday, October 21st, 2017. Photo by Arturo Olmos for W Magazine.

Arturo Olmos
Inside the 27th Annual Tompkins Square Halloween Dog Parade in Tompkins Square Park in New York City on Saturday, October 21st, 2017. Photo by Arturo Olmos for W Magazine.

Arturo Olmos
Inside the 27th Annual Tompkins Square Halloween Dog Parade in Tompkins Square Park in New York City on Saturday, October 21st, 2017. Photo by Arturo Olmos for W Magazine.

Arturo Olmos
Inside the 27th Annual Tompkins Square Halloween Dog Parade in Tompkins Square Park in New York City on Saturday, October 21st, 2017. Photo by Arturo Olmos for W Magazine.

Arturo Olmos
Inside the 27th Annual Tompkins Square Halloween Dog Parade in Tompkins Square Park in New York City on Saturday, October 21st, 2017. Photo by Arturo Olmos for W Magazine.

Arturo Olmos
Inside the 27th Annual Tompkins Square Halloween Dog Parade in Tompkins Square Park in New York City on Saturday, October 21st, 2017. Photo by Arturo Olmos for W Magazine.

Arturo Olmos
Inside the 27th Annual Tompkins Square Halloween Dog Parade in Tompkins Square Park in New York City on Saturday, October 21st, 2017. Photo by Arturo Olmos for W Magazine.

Arturo Olmos
Inside the 27th Annual Tompkins Square Halloween Dog Parade in Tompkins Square Park in New York City on Saturday, October 21st, 2017. Photo by Arturo Olmos for W Magazine.

Arturo Olmos
Inside the 27th Annual Tompkins Square Halloween Dog Parade in Tompkins Square Park in New York City on Saturday, October 21st, 2017. Photo by Arturo Olmos for W Magazine.

Arturo Olmos
Inside the 27th Annual Tompkins Square Halloween Dog Parade in Tompkins Square Park in New York City on Saturday, October 21st, 2017. Photo by Arturo Olmos for W Magazine.

Arturo Olmos
Inside the 27th Annual Tompkins Square Halloween Dog Parade in Tompkins Square Park in New York City on Saturday, October 21st, 2017. Photo by Arturo Olmos for W Magazine.

Arturo Olmos
Inside the 27th Annual Tompkins Square Halloween Dog Parade in Tompkins Square Park in New York City on Saturday, October 21st, 2017. Photo by Arturo Olmos for W Magazine.

Arturo Olmos
Inside the 27th Annual Tompkins Square Halloween Dog Parade in Tompkins Square Park in New York City on Saturday, October 21st, 2017. Photo by Arturo Olmos for W Magazine.

Arturo Olmos
Inside the 27th Annual Tompkins Square Halloween Dog Parade in Tompkins Square Park in New York City on Saturday, October 21st, 2017. Photo by Arturo Olmos for W Magazine.

Arturo Olmos
Inside the 27th Annual Tompkins Square Halloween Dog Parade in Tompkins Square Park in New York City on Saturday, October 21st, 2017. Photo by Arturo Olmos for W Magazine.

Arturo Olmos
Inside the 27th Annual Tompkins Square Halloween Dog Parade in Tompkins Square Park in New York City on Saturday, October 21st, 2017. Photo by Arturo Olmos for W Magazine.

Arturo Olmos
Inside the 27th Annual Tompkins Square Halloween Dog Parade in Tompkins Square Park in New York City on Saturday, October 21st, 2017. Photo by Arturo Olmos for W Magazine.

Arturo Olmos
Inside the 27th Annual Tompkins Square Halloween Dog Parade in Tompkins Square Park in New York City on Saturday, October 21st, 2017. Photo by Arturo Olmos for W Magazine.

Arturo Olmos
Inside the 27th Annual Tompkins Square Halloween Dog Parade in Tompkins Square Park in New York City on Saturday, October 21st, 2017. Photo by Arturo Olmos for W Magazine.

Arturo Olmos
Inside the 27th Annual Tompkins Square Halloween Dog Parade in Tompkins Square Park in New York City on Saturday, October 21st, 2017. Photo by Arturo Olmos for W Magazine.

Arturo Olmos
Inside the 27th Annual Tompkins Square Halloween Dog Parade in Tompkins Square Park in New York City on Saturday, October 21st, 2017. Photo by Arturo Olmos for W Magazine.

Arturo Olmos
Inside the 27th Annual Tompkins Square Halloween Dog Parade in Tompkins Square Park in New York City on Saturday, October 21st, 2017. Photo by Arturo Olmos for W Magazine.

Arturo Olmos
Inside the 27th Annual Tompkins Square Halloween Dog Parade in Tompkins Square Park in New York City on Saturday, October 21st, 2017. Photo by Arturo Olmos for W Magazine.

Arturo Olmos
Inside the 27th Annual Tompkins Square Halloween Dog Parade in Tompkins Square Park in New York City on Saturday, October 21st, 2017. Photo by Arturo Olmos for W Magazine.

Arturo Olmos
Inside the 27th Annual Tompkins Square Halloween Dog Parade in Tompkins Square Park in New York City on Saturday, October 21st, 2017. Photo by Arturo Olmos for W Magazine.

Arturo Olmos
Inside the 27th Annual Tompkins Square Halloween Dog Parade in Tompkins Square Park in New York City on Saturday, October 21st, 2017. Photo by Arturo Olmos for W Magazine.

Arturo Olmos
Inside the 27th Annual Tompkins Square Halloween Dog Parade in Tompkins Square Park in New York City on Saturday, October 21st, 2017. Photo by Arturo Olmos for W Magazine.

Arturo Olmos
Inside the 27th Annual Tompkins Square Halloween Dog Parade in Tompkins Square Park in New York City on Saturday, October 21st, 2017. Photo by Arturo Olmos for W Magazine.

Arturo Olmos
Inside the 27th Annual Tompkins Square Halloween Dog Parade in Tompkins Square Park in New York City on Saturday, October 21st, 2017. Photo by Arturo Olmos for W Magazine.

Arturo Olmos
Inside the 27th Annual Tompkins Square Halloween Dog Parade in Tompkins Square Park in New York City on Saturday, October 21st, 2017. Photo by Arturo Olmos for W Magazine.

Arturo Olmos