In The New 'Tomb Raider' Trailer, Alicia Vikander's Lara Croft Doesn't Mess Around
She's more than ready to follow in Angelina's boot steps.
---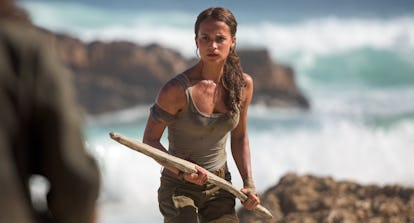 Graham Bartholomew
Alicia Vikander, who stars as Lara Croft in the upcoming remake of Tomb Raider, is about to join an illustrious crowd of women currently crushing it as lead characters in a genre of film typically dominated by men. Like Gal Gadot as Wonder Woman, Charlize Theron in Atomic Blonde, and Daisy Ridley as Rey in Star Wars: The Last Jedi, Vikander as Croft is yet another example of how powerful women are changing the face of heroes in action-packed movies.
Even judging just from the new Tomb Raider trailer, Vikander's Croft is a strong and complex character. In the film Croft, a woman who lost her father when she was very young, goes on a quest to learn about his last days on a mysterious island …that's also happens to be home to a fabled tomb. Getting to the island is struggle enough—but once she lands, Croft immediately learns that being there is even more treacherous than the journey. "Lara, there was more to my life than boardrooms and business deals," her father explains in a video message. He warns her about an organization known as Trinity that is looking to start a global genocide, and, of course, only she can stop it. "You must stop them Lara," he says. "Promise me."
The rest of the trailer shows off her true grit, cunning instincts, and determination as she goes on a mission she may never make it out of. Naturally, it's all set to an epic remix of the Destiny's Child classic *Survivor."
Check out the full trailer, below, and see Tomb Raider in theaters March 16.
Related Content:
Alicia Vikander's Wedding Ring Makes Its Red-Carpet Debut
The Untold Story Behind Wonder Woman Director Patty Jenkins' Rise to Fame
'Wonder Woman 2' Is Coming Even Sooner Than We Thought
Alicia Vikander Can Do No Wrong on the Red Carpet
Alicia Vikander in Adeam on Late Night with Seth Meyers

Lloyd Bishop/NBC/NBCU Photo Bank via Getty Images
Alicia Vikander in Preen by Thornton Bregazzi in New York, New York, July 2016.

GC Images
Alicia Vikander in Rosetta Getty heading to a taping of The Tonight Show Starring Jimmy Fallon in New York, New York, July 2016.

GC Images
Alicia Vikander in Alex Eagle at a photocall for Jason Bourne in Berlin, Germany, July 2016.

Photo by Getty Images.
Alicia Vikander in Louis Vuitton at the premiere of Jason Bourne in Seoul, South Korea, July 2016.

WireImage
Alicia Vikander in Louis Vuitton at the premiere of Jason Bourne in London, England, July 2016.

FilmMagic
Alicia Vikander in Louis Vuitton at the premiere of Jason Bourne in Paris, France, July 2016.

WireImage
Alicia Vikander in Proenza Schouler at a photocall for Jason Bourne in Madrid, Spain, July 2016.

Europa Press via Getty Images
Alicia Vikander in Louis Vuitton at the premiere of Jason Bourne in Las Vegas, Nevada, July 2016.

FilmMagic
Alicia Vikander in Céline at the press conference for Jason Bourne in Seoul, South Korea, July 2016.

Getty Images
Alicia Vikander in Rodarte at the premiere of Jason Bourne in Sydney, Australia, July 2016. Photo by Getty Images.

Getty Images
Alicia Vikander in Louis Vuitton at the Louis Vuitton Cruise 2017 presentation in Rio de Janeiro, Brazil, June 2016.

Getty Images
Alicia Vikander, in Louis Vuitton, with Nicolas Ghesquière at the Met Gala in New York, New York, May 2016.

WireImage
Alicia Vikander in Louis Vuitton at a dinner for the brand in Paris, France, March 2016.

GC Images
Alicia Vikander at the 89th Annual Academy Awards at Hollywood & Highland Center on February 26, 2017 in Hollywood, California.

Kevin Mazur/Getty Images
Alicia Vikander attends the "Tomb Raider" Mexico City Premiere at Oasis Coyoacan on March 10, 2018 in Mexico City, Mexico. (Photo by Victor Chavez/Getty Images)

Victor Chavez
Alicia Vikander poses during the 'Tomb Raider' photo call at Pergamon Museum on March 2, 2018 in Berlin, Germany. (Photo by Matthias Nareyek/Getty Images)

Matthias Nareyek
Alicia Vikander attends the European premiere of 'Tomb Raider' at Vue West End on March 6, 2018 in London, England. (Photo by Mike Marsland/Mike Marsland/WireImage)

Mike Marsland
Alicia Vikander attends the Los Angeles Premiere of 'Tomb Raider' at TCL Chinese Theatre IMAX on March 12, 2018 in Hollywood, California. (Photo by Axelle/Bauer-Griffin/FilmMagic)

Axelle/Bauer-Griffin