Meet Aline Dentler, the Model Hidden Under All Those Rhinestones at Gucci Fall 2017
The 18-year-old Berlin model, who made her runway debut under a shroud of rhinestones at Gucci, has a passion for French music and Victoria's Secret.
---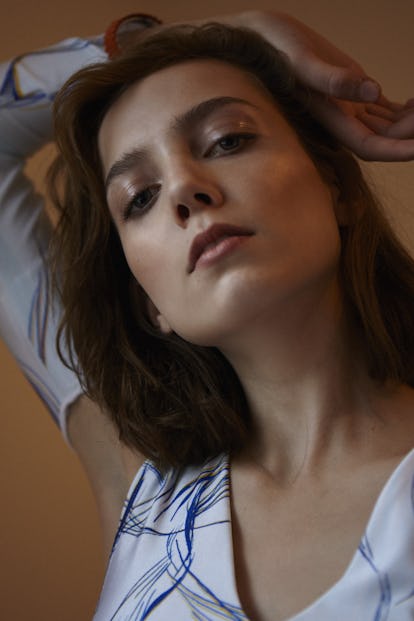 Photo by Andreas Schreiner, courtesy of IZAIO Management
Back in February, 18-year-old Aline Dentler landed every model's dream gig: She made her runway debut at Gucci's show during Milan Fashion Week, effectively earning Alessandro Michele's blessing for her suddenly burgeoning career. The only snag? Dentler ended up with one of Michele's most extreme looks for Fall 2017, meaning she was hidden away beneath a shroud of rhinestones, which rather unfortunately obscured her up-and-coming face. Still, Dentler, who's signed to IZAIO Management in Berlin, where she was born and raised, was somewhat glad for the cover—and isn't letting it get in the way of her dreams for another blockbuster runway, Victoria's Secret. She shares what it was like walking the show and what she wears when she's not covered in sparkles in her style notes, here.
How you first got scouted:
I got discovered at a youth convention in Berlin when I was 14 years old.
Thoughts on your look at Gucci:
I really liked my outfit because it's not a common Gucci look; it was so sparkly, and the hot pants and tank top looked amazing together. The fact that you couldn't see my face made my nerves fade away, so that even helped me a little.
Favorite non-modeling pursuits:
Going for walks in nature with the people I love because it makes your stress go away a little, and you feel really good after some fresh air and little talks. Besides that, I really love to sew and of course relax at home.
How you would describe your style:
Not really fancy—it's rather comfy and casual. Almost all of my clothing matches together like that. I don't have to spend that much time planning my outfits.
Go-to nighttime look:
Mascara and some winged liner, then just a dress or denim jeans and a cool shirt.
Style icons:
My sister and my mother.
Favorite recent discovery:
Sweets that have coconut in them.
Style pet peeve:
I tend to sometimes dress too girly or comfortable.
Last purchase:
A big and cozy blanket for my bed.
Currently lusting after:
Flowers, especially roses.
Something you always carry with you:
A full bottle of water.
Something you would never wear:
Real fur, because nowadays there are a lot of fake furs that look just as good.
Most prized possession in your closet:
My black Coach handbag.
Favorite accessory you own:
The heart necklace my mom gave me.
Music you're listening to right now:
At the moment, a lot of old French music and rap.
Book you're reading right now:
It's been a while since I read a book, but I really love doing crossword puzzles when I'm waiting at castings or other places.
Favorite Instagram accounts to follow:
@offtherailsmag and @9gag.
Dream show to walk:
Victoria's Secret. I think that's every girl's dream.
Gucci's Fall 2017 Collection Will Be the Only Good Thing Left After the Apocalypse
Photo by Jason Lloyd-Evans
Photo by Jason Lloyd-Evans
Photo by Jason Lloyd-Evans
Photo by Jason Lloyd-Evans
Photo by Jason Lloyd-Evans
Photo by Jason Lloyd-Evans
Photo by Jason Lloyd-Evans
Photo by Jason Lloyd-Evans
Photo by Jason Lloyd-Evans
Photo by Jason Lloyd-Evans
Photo by Jason Lloyd-Evans
Photo by Jason Lloyd-Evans
Photo by Jason Lloyd-Evans
Photo by Jason Lloyd-Evans
Photo by Jason Lloyd-Evans
Photo by Jason Lloyd-Evans
Photo by Jason Lloyd-Evans
Photo by Jason Lloyd-Evans
Photo by Jason Lloyd-Evans
Photo by Jason Lloyd-Evans
Photo by Jason Lloyd-Evans
Photo by Jason Lloyd-Evans
Photo by Jason Lloyd-Evans
Photo by Jason Lloyd-Evans
Photo by Jason Lloyd-Evans
Photo by Jason Lloyd-Evans
Photo by Jason Lloyd-Evans
Photo by Jason Lloyd-Evans
Photo by Jason Lloyd-Evans
Photo by Jason Lloyd-Evans
See W's most popular videos: