Alison Mosshart Goes Solo Artist
The musician-turned-artist talks about her debut exhibition.
---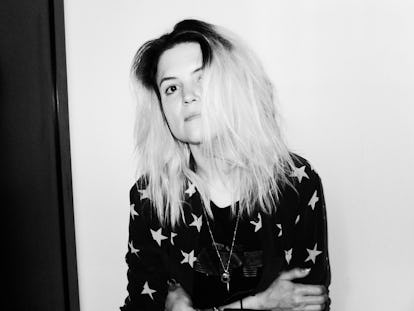 Tonight may mark the New York opening of Alison Mosshart's first solo art show, but the bleach blonde rocker has been making paintings, drawings, collages and tapestries for as long as she's been making music. "I come from that punk skateboarding background, so I've been doing this stuff forever," she says. "It's like my diary."
Given that the 36-year-old musician, who's best known as the frontwoman of both The Kills and The Dead Weather, has been quietly amassing a body of work since her teens, it's understandable that Fire Power, which opens this Thursday, June 18, at Joseph Gross Gallery in Chelsea, is comprised of a whopping 127 pieces. What is surprising is that they've all been made in the past three years. "It's really slash and burn," she says. "I'll paint eight pictures at once. I can't stand waiting for things to dry."
Most of the work is made on the road, in vans, airports, hotel rooms, and backstage. There's always a lot of downtime while touring. "You spend so much time waiting," Mosshart says. "There's only so much eating you can do." She fills her off hours by drawing or painting the many faces she encounters. "It's completely driven by emotion, the mood, and my surroundings," she says. Interestingly, the best hotel rooms aren't always better for working. "The shittier the room, the more you're like, 'It doesn't matter if I spill in here,'" she says. "If I'm at the Holiday Inn, I'll paint on the bed."
When she's not traveling, she makes larger works on canvas in a more formal studio space at her home in Nashville (she splits her time between there and London). "It's just a room covered in paint," she says. "I can push everything out of the way and do music in there, too." She's aware that there might be skeptics when a indie-label artist wants to be a gallery artist as well. But the politics of the art world don't phase her. Says Mosshart, "There are no rules, are there?"
"Fire Power" is on view through July 11that New York's Joseph Gross Gallery, 548 W. 28th Street, 2nd Floor.
Photos: Alison Mosshart Goes Solo Artist
Alison Mosshart. Photo by Matthew Mosshart.
Youth Tooth by Alison Mosshart. Courtesy of the artist.
Backstage Mexico City by Alison Mosshart. Courtesy of the artist.
Horoscope by Alison Mosshart. Courtesy of the artist.
Hungover Airport by Alison Mosshart. Courtesy of the artist.