Be My Guest
Even in the midst of award-show madness, the Broad Contemporary Art Museum's inaugural gala might just be the hottest ticket in Hollywood.
---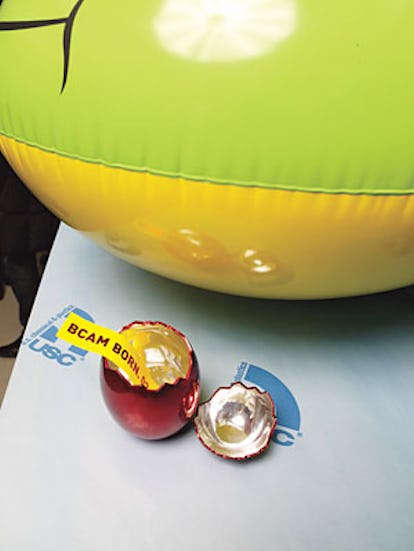 In certain circles, the prestige of a party can be gauged by the heft of its invitation: The honor of one's presence at a royal wedding, for instance, might be requested on a card thick enough to double as a tea tray.
The Los Angeles County Museum of Art has updated this notion for the opening of its Broad Contemporary Art Museum, a $156 million, 60,000-square-foot space partly paid for by billionaire art collector Eli Broad and designed by starchitect Renzo Piano. For the gala on February 9 (at the peak of Hollywood's award show–driven social season), LACMA is sending out 4.5-inch-high models of Jeff Koons's monumental sculpture Cracked Egg (Red) (1994–2006), which will be part of BCAM's inaugural show. The intended message—that this is a party not to be missed—seems to be hitting home. Disney chief Robert Iger and MGM head Harry Sloan are among the studio bigwigs who've snapped up tables, and RSVPs have been pouring in from New York, London and Europe when, generally, the only L.A. party that lures out-of-towners is the Vanity Fair Oscars bash.
Jeff Koons in his Chelsea studio
LACMA director Michael Govan explains that the Egg was chosen to represent LACMA's "rebirth," which is how he describes the ambitious renovation of the museum that will be kicked off by BCAM's opening and the simultaneous unveiling of a grand new entrance pavilion.
The idea for the invitation was hatched last July, when Govan sat down with LACMA trustees Jane Nathanson and Lynda Resnick. They wanted to use a single artwork to represent BCAM, and Govan suggested the Koons sculpture in Broad's collection. Resnick, who owned the Franklin Mint before launching Pom Wonderful, offered to pay for the Eggs to be made. When Govan phoned Koons, the artist's response was, "Go for it."
Invitees to the host of other BCAM opening events will also have a crack at the Egg, but those invitations will be printed on cards and postcards in a cascading hierarchy of prestige. The desktop version is a trophy for gala guests exclusively.
The party will be as over-the-top as the invitation, with Governor Arnold Schwarzenegger on hand to speak and a possible performance by Elton John. And then, of course, there's the chance to see about 200 choice works loaned by Broad, as well as a massive new Richard Serra that LACMA bought, with the help of Broad, for its soaring ground-floor gallery. "There's no other building like it in America," says Broad, noting that with the opening of BCAM, Los Angeles will have more museum space devoted to contemporary art than any other city in the world. Broad is ensuring that a galaxy of art stars will attend by flying in (some on his private jet) Jasper Johns, Robert Rauschenberg, Cindy Sherman, Damien Hirst, Ellsworth Kelly, Serra, Koons and others whose work figures prominently in his collection.
And though it's too early to speculate about specific celebrity guests, the prospect of a major cultural happening decorated with red-carpet eye candy has already created a stir. While the party is large to maximize fundraising potential—1,000 seats, with top tables going for $100,000—all but some 200 tickets were presold to museum board members before the invitations were even issued. According to Nathanson, "everyone is clamoring" for the last remaining slots. "I think it's going to be much hotter than the Oscars," she says. "The Oscars are every year, and some of the Oscar parties are big bores."