Chasing the Dream
Last year was the most successful in DreamWorks' history. It was also the most tumultuous, marred by tension with its parent company, Paramount. No doubt the little studio is on a big roll—but is it about to come to a crashing halt?
---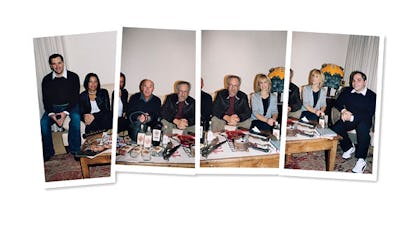 Ask the executives at DreamWorks what they like most about going to work every day and you'll likely get a lot of answers related to food.
"It's like when you go to college and put on the freshman 15," says Christine Birch, who started as the marketing head a year ago, about the two buffet tables that are stocked throughout the day in the tiled courtyard at the center of the adobe offices. "It's nuts."
Others will talk about the studio's cofounder Steven Spielberg.
Steven Spielberg (at left) and David Geffen on the DreamWorks lot
"He comes into my office to say hello and to talk about what he's read and talk about a movie that's in production and talk about a video game that he played over the weekend," says production head Adam Goodman, who started as an assistant with the company in 1996. "Which then means that I'm telling my friends, 'F—ing Steven Spielberg just came into my office!' That thrill isn't lost on any of us."
Others revel in both the food and their fearless leader. Chief operating officer Jeff Small, another recent hire, remembers one of his first days on the job: "I walked out to go to the chow line and there was Steven just making a sandwich. I thought it was the greatest thing ever."
Of course, employee satisfaction may also have something to do with the fact that 2007 was DreamWorks' most profitable year ever, during which this boutique studio gave its corporate behemoth counterparts a run for their money at the box office. It scored its biggest live-action box office gross ever with Transformers, which earned $702 million worldwide, and expects the toy-based movie to become a lucrative franchise, with a Transformers 2 already in the works. It had films with more modest aspirations far exceed expectations, including the Will Ferrell–Jon Heder ice-skating comedy Blades of Glory ($144 million worldwide) and the surveillance thriller Disturbia ($117 million), starring budding Spielberg protégé Shia LaBeouf. And it basked in critical success and Oscar buzz with the holiday releases of Sweeney Todd, the Johnny Depp–Tim Burton musical collaboration (which received four Golden Globe nominations), and Marc Forster's The Kite Runner (two Golden Globe nominations).
DreamWorks began as the creation of a trio: Spielberg, billionaire music mogul David Geffen and animation chief Jeffrey Katzenberg. Katzenberg now heads up DreamWorks Animation in Glendale, California, which was spun off as a publicly traded company three years ago. And Geffen does his pit bull–ish dealmaking from wherever he pleases, be it his Malibu beach house or his yacht. These days, it's Spielberg alone who still shows up at the office in the Valley every day.
For the past two years he's been joined there by Stacey Snider, who left her job as the chairman of Universal Pictures to become DreamWorks' CEO and cochairman, a title she shares with Geffen. (Spielberg simply uses "director" as his title.) On the day Snider announced her move, she told Variety, "I am the kind of person who turns things over in my heart and my mind until I find clarity." Faced with a future of sifting through budgets and sitting through corporate retreats in Boca with the heads of other G.E.–owned divisions that make things like airplane engines, microwave ovens and structured finance vehicles, she continued, "I was thinking, What is my next stage in life going to be? Do I want to be the chair of Universal for another four or five years, or do I want to do something different?"
Indeed, DreamWorks is a different species from other modern-day studios. It is, one might say, the antistudio— a paradise where creativity still counts. And yet that's hardly the full picture: In 2005 Paramount Pictures purchased DreamWorks for $1.6 billion. DreamWorks remains a "studio," but one with corporate overlords who set its annual budget, handle its marketing and distribution, and reserve the right to veto a project that costs more than $100 million ($140 million if Spielberg is directing). And ever since the purchase, stories suggesting that the DreamWorks leadership doesn't feel properly valued by their new owners have circulated through Hollywood's lunchtime grapevine. The tension will soon come to a head: Geffen's and Spielberg's employment agreements run out at the end of the year, and there has been massive speculation that they may try to make a new deal with a different studio (most insiders are betting on Universal).
Though Snider has made it well known that if Spielberg leaves she'll be right behind him, she declines to speculate about the future and insists that work continues unaffected at the studio, despite all the whispering. "It's like thunder and lightning but no rain," she says. "It's in the atmosphere, but we're not getting wet." Her only mission, she says, is to make DreamWorks "a little beacon that says, 'Yeah, you can still be excited about making movies.'"
The inner sanctum of power at every studio is its greenlight committee. This is the group of executives who will give the final verdict on whether or not a movie gets made. Usually these committees are headed up by the studio's chairman, who's joined by a chorus of execs from the number-crunching side of the business. The process is cumbersome, and the reasons why a movie shouldn't get made are numerous: The star isn't big in Asia; the story's not marketable; historical dramas do horribly on DVD….
But the greenlight committee at DreamWorks is different. It's clear that the creative team gets the biggest say. While no studio chief can survive in modern Hollywood on his or her gut alone, for Snider, the number crunchers are only part of the equation. "All right, I've got the data, historicals, the likelihood of performing to expectations on home video and internationally," she says, "but at some point you've got to say, I want to or I don't want to make this movie. For a movie person, crossing that divide is something that you want to do. You'd like not to find reasons to say no. You like to find reasons to say yes when you love something. We administer a high dosage of commitment to movies, with appropriate dosages of 'Let's make sure we create enough value for our parent company that we can keep doing it.'"
Snider also makes the process transparent and encourages everyone to contribute creatively. Says Birch, who joined DreamWorks after working at Sony—where, as at most studios, marketers get to weigh in only on finished scripts—"I see scripts whenever I want to. I don't have to wait until they're being made. I actually said to Stacey that it's so different here; I see all those moving parts in a way that I never could have at Sony."
Furthermore, the whole process is overseen by Spielberg. "I don't think that Steven has ever looked at a P&L"—a profit and loss statement—"since I've worked here," says Goodman. "It's just not what he does. He operates in a much more natural kind of way, but he certainly weighs in on every single movie and every script and every cut."
In this sense the DreamWorks method is much closer to that of the original United Artists, when superstars of the day like Charlie Chaplin and Mary Pickford linked up to start a studio that would be run by filmmakers. "You have this incredible resource in Steven Spielberg," says Ben Stiller, whose production company is based at DreamWorks and who is directing his next comedy, Tropic Thunder, for the studio. "He welcomes the call on any level—casting, looking at dailies or recommendations for a DP [director of photography]. He just loves making movies, and he will be as involved as you want him to be. It feels like a personal company. It's like you're dealing with filmmakers as opposed to a studio. That's the incredible secret ingredient of DreamWorks. For any filmmaker it's a dream come true."
DreamWorks is a hothouse flower that would never survive in the wild if not for Geffen's and Spielberg's vision and protection. And yet, that Paramount's resources have been instrumental to its recent success is undeniable. Though there is friction, it's difficult to imagine Spielberg getting a better deal at another studio. Starting from scratch again to build a company that could distribute its own films seems even more unlikely.
Despite the steady stream of gossip in the past year suggesting that DreamWorks is unhappy as a part of Paramount, DreamWorks executives are making trips across the hills for meetings at their parent company nearly every day. But there have been words, and injured egos. There was the press release that Paramount issued listing DreamWorks as merely on par with its other production units (Paramount Vantage and MTV films)—a designation that the DreamWorks team thought did not befit their actual status. There were the speeches Paramount chairman Brad Grey gave just before the premieres of Dreamgirls, a DreamWorks production, which allegedly irked DreamWorks execs, who thought he was taking credit. There were the comments Viacom CEO Philippe Dauman made at an investors' conference in which he characterized the possible departures of Spielberg and Geffen as "completely immaterial" to the company's bottom line. And then there was the Vanity Fair story in which Geffen tore into Viacom chairman Sumner Redstone, calling him a bully whom Geffen is "unafraid of" and saying of his decision to sell DreamWorks to Paramount, "It has turned out to be a poor choice."
Given the success of DreamWorks since its purchase by Paramount, the rift appears petty and ego-driven, and has left many in Hollywood befuddled. "Everybody involved should be rejoicing," says one studio head. An insider says of the tension, "Never has there been a more reported-on corporate clash that is about nothing substantial."
Others view the DreamWorks gripes as evidence that Spielberg has long been set on departing Paramount. "If your girlfriend has decided to leave," says an insider at a rival studio, "there's nothing you can do to make her happy." Grey is still attempting damage control. "DreamWorks has performed brilliantly," he says via e-mail. "They are great talents who have brought tremendous results for Paramount and Viacom."
Nevertheless, these flare-ups have made it seem more likely that Spielberg, Geffen and Snider will part ways with Paramount in a matter of months, and the uncertainty of the studio's future is worrisome to underlings who may not have escape hatches in their own employment agreements. If they are forced by Paramount to stay, it's not clear what entity they'd be working for, since Spielberg and Geffen can take the DreamWorks name with them when they leave.
Nor is it clear what a new Spielberg-Geffen company would be starting out with, materialwise. Paramount bought the studio lock, stock and barrel, which means that all the projects in development at DreamWorks—as well as the employees, aside from Snider—are technically Paramount property.
But along with the name, Spielberg and Geffen would also be taking a roster of talent relationships. Sam Mendes, director of the Oscar-winning American Beauty, says, "I don't know what DreamWorks would be without Steven and David and Stacey. My loyalty is to people, not a brand name. If they leave, I go with them or go somewhere else."
Still, it will be difficult to re-create paradise. Currently DreamWorks has the freedom to make about eight pictures a year. Most of the major studios already release upwards of 18 films per year, and finding room on their slates for additional DreamWorks fare could be difficult. Even if Spielberg and Geffen were able to raise money to, in essence, start DreamWorks all over again as its own independent entity, it might end up looking more like a production deal than an actual studio—without the ability to greenlight. Though there is another theory a few in the industry are whispering about: that Spielberg and Geffen will raise a large enough sum of cash to buy a chunk of Universal Studios and bring Snider with them.
For someone who says she's grateful to have left the corporate environment of Universal for the boutique feel of DreamWorks, Snider is surprisingly nostalgic. "The limitation when you're one piece of a big company is, can you affect change in a significant way? Are you a voice at the table? Because if you really, really care about the movies, you want to make sure that the financials of the movie business are as healthy as they can be," she says, sounding a bit like she's on a job interview. "I actually miss—and unexpectedly—the conversations about strategy and new business models. All of the things that I would've expected that I'd be unburdened by are actually the things I'm trying to find a voice for now."
Snider's ambitions aside, the most important factor in DreamWorks' future will be nothing other than what Spielberg wants. And, for now, he is keeping those intentions close to his vest. "DreamWorks is a company that has resisted being typecast," he says. "Our company has the ability to shape-shift over time."
Stacey Snider's hair by Kari Hill and makeup by Patrick Tumey