Alister Mackie and Matchesfashion Team Up For a Collection of Blouses for Men
The AnOther Man creative director, who previously styled and consulted at Fendi and Gucci, has collaborated with Matchesfashion on a line of blouses.
---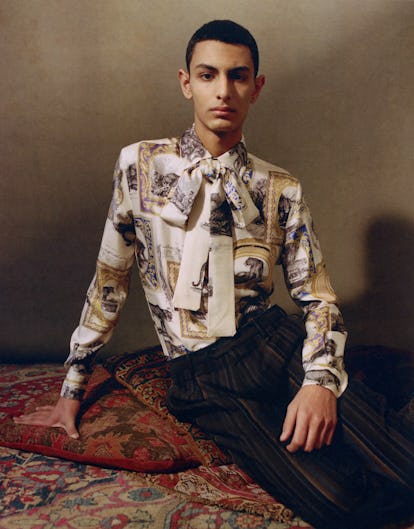 The creative director, stylist, and consultant Alister Mackie has built his career by lending his talents to other brands and companies. For 10 years, he consulted at Marc Jacobs; in addition to that, he was at Louis Vuitton during the Kim Jones era; he's worked at Gucci, Fendi, Alexander McQueen, (where he still styles and consults to this day), and AnOther Man, the publication he founded with the Dazed Media cofounder Jefferson Hack as creative director. But in 2018, Mackie embarked on an independent project called The Leopard, a magazine that examined queer life through interviews, commissioned illustrations, and shoots from photographers like Ryan McGinley. At that time, Mackie spoke openly about The Leopard being an endeavor close to his heart. Now, Mackie is following up his foray into his own creative undertakings with a collaboration alongside Matchesfashion called the Alister Mackie Project: a line of eight blouses that will be released on February 26 .
"I felt the time was right to work on some personal projects," Mackie says in reference to the collection, whose shirts feature various Baroque prints and pussy bows, and are made of heavyweight silk twill. "This set of shirts felt like a nice follow on from [The Leopard]."
Indeed, the motifs on the shirts—some with prints of butterflies, others with mushrooms, others still with leopards—do follow the aesthetic of the magazine. Mackie found these prints from the 18th and 19th centuries at a farmers' market in Islington, London. He cut the images out, photocopied them, and spliced them together onto material.
Although this is technically the first time Mackie has ever released his own designs, he's made shirts in the past for friends—including Primal Scream's Bobby Gillespie, whose son Wolf can be seen modeling the shirts in the lookbook.
The blouses start at €760, roughly $825, and will be available on matchesfashion.com on Wednesday, February 26.