All This Panic is Essential Teen Girl Cinema (And It's Completely Real)
An interview with the director and two stars of the new coming-of-age documentary All This Panic, which premiered at the Tribeca Film Festival last year.
---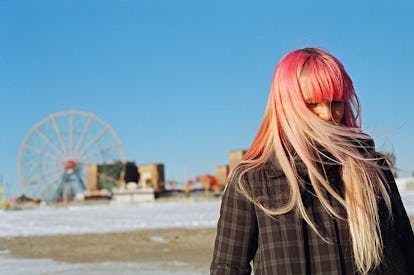 Tom Betterton
"I'm petrified of getting old," admits Ginger Leigh Ryan, her hair wrapped around a curling iron as she prepares for a house party, in an early scene of Jenny Gage's essential new documentary All This Panic. "I can't stand the idea that someday, someone will tell me, 'You look a bit old for that outfit,' or those kinds of comments. It terrifies me. I don't want to age. I think it's the scariest thing in the entire world."
The inevitability of that process, and the relentless pace with which those changes occur as a teenager, is in fact the subject of All This Panic. Over the course of three years, Gage and her husband Tom Betterton, the film's cinematographer, shot around 130 hours of footage following seven teenage girls, including Ginger, her little sister Dusty Rose, and her best friend, Lena M., as they navigate friends, relationships, family, drugs, and their burgeoning sexual identities while coming of age in New York City. Gage and Betterton, photographers by trade, neighbored the Ryan family in Brooklyn and approached Ginger and Dusty's parents about the project. They envisioned it alternately as internet shorts or a TV series before settling on a full-length documentary.
"I honestly never remember agreeing. I just remember one day a camera showed up at my house and I was like, 'Sure,'" Ginger said over the phone from California on a recent afternoon. She conferenced in Lena, from her dorm room at Sarah Lawrence, and Gage, who recently relocated to Los Angeles. After shooting wrapped, the young women in All This Panic started to disperse: Following a cross-country road trip whose overtures close All This Panic, Lena returned to Sarah Lawrence, where she studies politics and poetry, and started a relationship with Will, a boy with whom she'd had a cautiously flirtatious friendship in the film. They've been dating for a year and a half. Ginger moved to Vancouver with her girlfriend Mae; an aspiring actress in the film, Ginger is now in hair school.
It had been a year since the film premiered in competition at the Tribeca Film Festival; it debuted wide in theaters and on demand March 31. It met with largely favorable reviews during its festival debut last year, but upon its wide release the attention has grown exponentially. It might be because of the added exposure, but it might also be that All This Panic feels more urgent under a political administration that seeks to discredit and dismiss women's narratives.
The narratives of teenage girls, especially, receive little attention in film. Gage confronted challenges securing funding for All This Panic because "it's not considered an 'issue doc'—which I disagree with," she said. "Coming-of-age stories for young women, there just aren't a lot of them, and I think people undervalue them." All This Panic offers seven such stories, and it does so with a particularly delicate and empathetic eye. At moments, the girls bicker among themselves—in one scene, as Ginger attempts to apply Lena's makeup before a party, Lena bats her hand away and cries out, "No cat eye!" before turning her attention back to the camera. They fight with their parents—Ginger's relationship with her father is particularly fraught—yet elements of their stories that might often be the "issue" of another film, like coming out or struggles with mental health, are treated as just one dimension of a complex story.
In part, this is because All This Panic rarely alights on any subject for long; it flits from girl to girl and from moment to moment, accounting for the passage of time through the dramatic physical transformations the girls undergo. Ginger and Lena's hairstyles have a particularly dizzying array of incarnations and colors throughout the film: From scene to scene, they appear with bangs and without, ombre teal or vivid magenta streaked through their hair as they navigate the cultural implications ascribed to women's appearances.
"My hair for me has always been an outlet," Ginger said. She spends much of the film with long hair, which coded "typically pretty-girl," she said. Lena begins the film with a pixie cut, which peers would tell her "looks so lesbian," she explained. "For me, it was a confusing thing for a long time, too. I'm dating a wonderful boy right now … but also I do like girls and people of other genders, and I think it took me a long time to figure it out because people were commenting on my hair."
Quickly, the girls adapted to being filmed, and even grew to welcome Gage and Betterton's audience.
"It's rare when you're a teenage girl that there's an adult who's willing to listen to you without it involving some kind of invalidation," Ginger explained. The onscreen interviews helped them verbalize their experiences and emotions; Lena and Ginger found themselves considering how they might put a particular event into words even when the cameras weren't rolling. Gage suggested writer Ariel Levy's new memoir The Rules Do Not Apply as a literary parallel: "Do you ever talk to yourself? I do it all the time. We do it, I should say, because that's how it sounds in my head," Levy writes. "My competent self is doing the talking; my bewildered self is being addressed." And the girls begin to consider each other's perspectives more and more throughout the making of the film—from Ginger and Lena to Dusty to Olivia, they all discouraged even brief cattiness when questioned about their friends.
And yet the girls on camera bear little resemblance to Ginger and Lena now, perhaps because of the breakneck pace at which young women tend to evolve during late teenage years. ("I think that's good," Ginger said, laughing. "I don't think you should relate to your 16-year-old self when you're four years older.")
"Boys get so many good films," Ginger said later. "They get Stand By Me. They get so many adventures and personalities and different collections of people, and girls deserve that as well." She's also quick to note that All This Panic just follows one particular milieu, a group of largely private-school educated high schoolers. One of Gage's subjects, a young black woman named Sage and the only person of color among the core cast members, throws this into sharp relief. She transfers to a public school and, in one scene, describes the racial and socioeconomic diversity of her new class as stunning in comparison to the private school she came from. By the end of All This Panic, she's heading south to Howard University, the historically black college.
Lena echoed this: "It is very interesting to look at the representation, who gets coming-of-age stories," she said. "It is important to get coming-of-age stories for girls, but also in the future, a lot more representation for girls of color, for trans girls, for disabled girls—it's really important that people can see themselves represented on screen."
How Jillian Hervey's mom's silver sequined leotard helped her release her inner Lion Babe: