A Wicked Awesome New Concept Shop Is Elevating Boston's Shopping Scene
All Too Human has a monopoly on Proenza Schouler shoes and stocks great young designers like Jacquemus, and J.W. Anderson.
---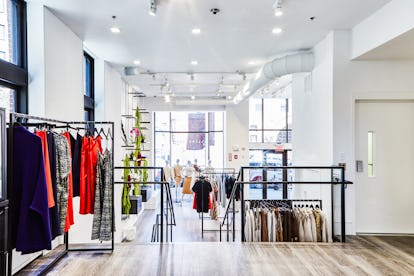 Simon Simard
Boston, Massachusetts, is not known as a destination for high fashion, but Jessica Knez and Joseph Morrissey are setting out to change that with their new concept shop All Too Human. "Boston is a world class city that deserves more world class fashion offerings," explains Knez. Those offerings include over 25 brands, several of which are exclusive to the boutique, and collaborations with of-the-moment artists like Daniel Arsham, who created an installation inspired by Boston Celtic jackets for the store's opening earlier this month. "I met Daniel through a mutual friend [Five Story owner] Claire Distenfeld," Knez explained, "Personally, I've always been a huge fan of Daniel's work and his larger projects through Snarkitecture. The Celtics jacket speaks directly to Boston–we're the best sports city in the US, and it's a beautiful piece of work that we are proud to carry at ATH."
Both Knez and Morrissey are Boston-proud, and it is so exciting for them to bring a strong fashion-forward and experimental viewpoint to their city. "We wanted to create a space that is conceptual, where we constantly challenge ourselves to be a creative space – where we integrate art and installations that both highlight the best of what Boston has to offer, while introducing Boston to international designers and artists that we feel strongly about," she said.
Tribes Fashion hungry Bostonians of all ages and genders. Some of them are discovering the brands stocked at All Too Human for the first time, while many students and international shoppers are actively seeking out the specific brands they already love, such as Delpozo, Dries Van Noten, Gosha Rubichinsky and Raf Simons.
Fans of the Store Professional athletes, ICA and MFA Curators, restaurant owners. "Unfortunately I can't name names, that's not the Boston way," laughs Knez.
The Mix Raf Simons, Gosha Rubchinskiy, Sacai, OAMC, Alyx, Dries Van Noten, Delpozo, Proenza Schouler, J.W. Anderson, Jacquemus, Dion Lee, Rosetta Getty, are all in stock. The store also rotates contemporary art and installations on a bimonthly basis.
Best Sellers All Too Human is the exclusive vendor of both Proenza Scholuer and Dries Van Noten shoes in Boston, but are also known for gorgeous knits and cardigans from designers like Delpozo, Sally LaPointe, Baja East, Proenza Schouler, J.W. Anderson and Orley.
Store Design ATH is located conveniently in Back Bay, just off Newbury Street, the city's main shopping location for high end designer shops. The store is spacious and boasts 3 floors and an outdoor patio. Knez and Morrissey frequently change up the layout to highlight new products and installations.
Prices Prices start at around $100 for Baja East slides and go up to $1,500 for designer pieces. There are plenty of items from young designers, though, in the $300 – $700 range.
Piece de Resistance It's all about the atmosphere. "We like the idea of selling incredible fashion in a relaxed, easygoing environment," explains Morrissey. "We definitely don't take ourselves too seriously. Clients often comment on the positive, happy vibe of the store. ATH is our home, and we want it to be yours too."
Location 236 Clarendon Street, Boston, Massachusetts
For those who prefer to shop from home Alltoohumanboston.com
Inside All Too Human, Boston's Chic New Concept Shop
Watch W's most popular videos here: