Allison Janney Was Barefoot When She Met Kate Middleton and Prince William
She also called Kate "honey."
---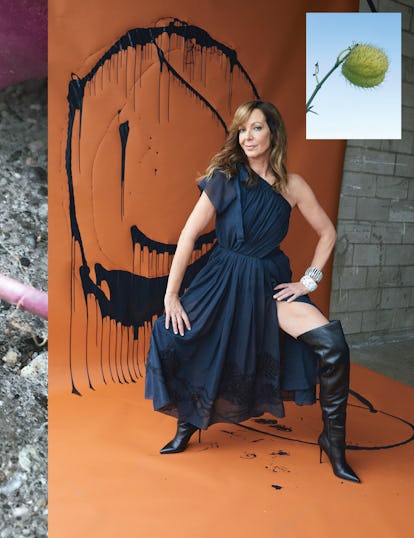 Photographs by Juergen Teller; Styled by Edward Enninful
Mere hours after taking home the BAFTA award for Best Actress in a Supporting Role on Sunday, Allison Janney had what may be an even more memorable experience. As she revealed during an appearance on The Late Late Show on Wednesday, the I, Tonya star met Kate Middleton and Prince William for the first time as they were all exiting London's Royal Albert Hall after the awards ceremony and, perhaps even more spectacularly, she treated the young royals like old friends.
The encounter took place outside, while Janney was standing in the middle of the street, barefoot due to painful heels — even though her mother was "very upset" with Janney's decision to go shoeless. "The awful thing is, I did meet Kate and William, and she was in her heels and pregnant, so I felt like a bit of a wimp that I was there in my bare feet," she said, adding, "She was in full-on heels and she was my height when I was in my bare feet. It was kind of extraordinary that she's that tall." Janney went on, "I told her that I was in bare feet, and I told her that she should take her shoes off 'cause she's pregnant, and it was an awkward moment. Because I did, I called her 'honey,' and that might've not been royal etiquette, probably."
However awkward — and however surprised the Duchess of Cambridge may have been to be addressed as "honey" by a stranger — the always-graceful royal couple kept their composure. "They were lovely, she was lovely. They loved I, Tonya and it was a pretty cool thing to meet them," she said, telling host James Corden that she "chose not to" quiz the pair to ensure that they had actually seen the Oscar-nominated film and weren't just saying that to be nice.
It wouldn't be surprising if Will and Kate really have seen and loved I, Tonya and the rest of this year's Best Picture noms. The duo have previously spoken about their love of Game of Thrones and other prestige TV, and after the BAFTAs, while chatting with Coco director Lee Unkrich, Kate reportedly spoke about Prince George and Princess Charlotte's own budding love of movies. "They are just getting into films now, George is four-and-a-half. Paddington is definitely up there, and so is Coco now," she said, according to the Daily Mail. "It's great, obviously, because of William's interest in film. It's great to have that father-son thing."
Related: Oscars Nominee Allison Janney Can No Longer Act Without That Bird From I, Tonya on Her Shoulder