Alma Allen Has Come a Long Way
See work from the artist's first L.A. solo show here.
---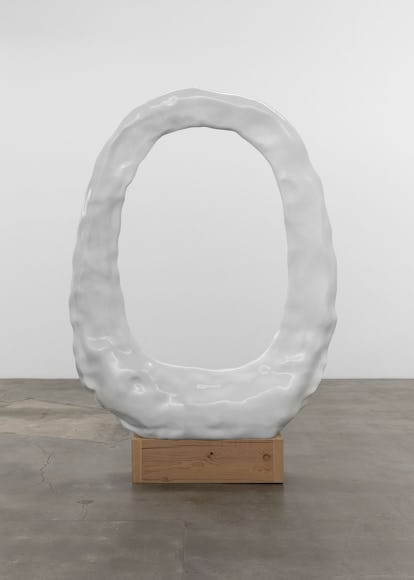 Alma Allen started small. The shy and somewhat reclusive self-taught artist sold his early talisman-like sculptures off of an ironing board pitched on the streets of SoHo in the '90s and the cast bronze bowls and table top objects he makes out of his studio in Joshua Tree, CA are widely coveted. This weekend, however, Allen's profile received a big boost when his first solo gallery show in Los Angeles opened at Blum & Poe. Fittingly, the work—elegant, amorphous pieces made of marble, travertine and Claro walnut—is major, with some of the sculptures weighing in at several tons. A compulsive chiseler, Allen was crippled in recent years by a severe case of carpel tunnel syndrome and to this day can only work for a couple hours at a time, so the large-scale work was fabricated with the assistance of a giant robot, originally designed for the automotive industry. Nevertheless, in every lump, bump and curve, the artist is decidedly present.
Alma Allen is on view at Blum & Poe through February 28, 2015.
Photos: Alma Allen Has Come a Long Way
Not Yet Titled, 2014 by Alma Allen Bronze 16 x 9 x 10 inches Courtesy of the artist and Blum & Poe
Not Yet Titled, 2014 by Alma Allen Yule marble, cedar pedestal 81 x 63 x 14 inches Pedestal Dimensions: 10 x 34 3/4 x 12 inches Courtesy of the artist and Blum & Poe
Not Yet Titled, 2014 by Alma Allen Claro walnut 35 x 32 x 52 inches Courtesy of the artist and Blum & Poe
Not Yet Titled, 2014 by Alma Allen Bronze, cedar pedestal 53 3/4 x 20 x 20 1/2 inches Pedestal Dimensions: 23 x 23 x 23 inches Courtesy of the artist and Blum & Poe
Not Yet Titled, 2014 by Alma Allen Red travertine 59 x 38 x 29 inches Courtesy of the artist and Blum & Poe
Not Yet Titled, 2014 by Alma Allen Claro walnut 25 3/4 x 36 1/2 x 28 inches Courtesy of the artist and Blum & Poe