Paradise In The Rough
In Alto Paraíso, Brazil, a hallucinogenic potion is the beverage of choice, and eco-chic pilgrims are descending in droves. Christopher Bagley chases the buzz.
---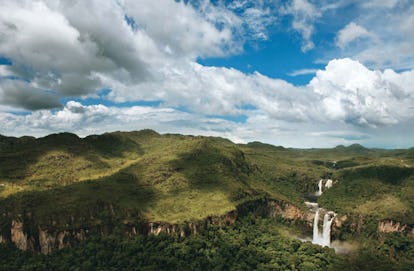 "Open your mind and your heart to hear the transcendental spirits," the voice says. "The spirits know everything you need to complete your mission here."
I'm in a log-cabin temple on a dirt road in central Brazil—one that's decorated with massive electric candelabra, mirrored columns, and brightly colored portraits of celestial deities. The speaker, a divine entity named Catarina of the Waterfalls, is not physically present in the room, but we're conversing through a medium, one of two dozen men and women channeling spirits while dressed in hooded capes and cropped vests adorned with crescent moons. It's all part of a nighttime ritual of Vale do Amanhecer, a Brazilian sect inspired by mystical beings, extraterrestrials, and Jesus Christ.
In most parts of the world, this ceremony would appeal only to confirmed cultists, but here in the small town of Alto Paraíso, it's one of the more conventional ways to spend a Wednesday evening. Alto Paraíso, a far-out wonderland in a lush and remote pocket of the state of Goiás, is a veritable mecca for spiritual seekers and neo-hippies; it's also Brazil's unlikeliest new hot spot. A fresh bunch of eco-pilgrims, many with unexpectedly glamorous pedigrees, are settling in to feel the good vibrations.
One recent arrival is Sean Gabriel Souza, the 27-year-old son of social fixtures Carlos Souza and Charlene Shorto de Ganay. You might expect that Souza, who as a child spent vacations on Valentino's yacht, would be more of a Saint-Tropez kind of guy. But a few years ago he came to Alto Paraíso for a quick visit and ended up spending five months, captivated equally by the waterfalls and the shamanic ceremonies. "It was magnetic," Souza says. Last year he and his friend Cristoforo Gaetani, a musician and scion of a prominent Italian aristocratic clan, bought land, where they plan to build a center for ecological land use and holistic therapy.
"We both wanted to live sustainable lives," Gaetani says over a bowl of acai at the scruffy café next to Alto Paraíso's bus station. "You know, to eat the food we plant, put our waste back into the soil, and harmonize with the cycles of nature." Gaetani is a handsome 26-year-old whose open manner and loose cotton clothing lend him the air of an off-duty yoga instructor. We hop into his pickup truck so he can show me his plant nursery—actually the overgrown backyard of a man who just sold him 1,000 seedlings for an agroforestry project. "Lots of people are coming here now," he says, "to focus on the simple, beautiful, idealistic stuff that should be normal, but isn't."
With a name like Alto Paraíso (High Paradise), this town has a lot to live up to, and its appeal is initially difficult to grasp. On the main street, the vibe is hippie-chic minus the chic: Stray dogs scratch themselves on muddy sidewalks in front of shops selling crystals and incense of the gypsy-fair variety. Unlike such better-known Brazilian boho retreats as Trancoso and Lençóis, Alto Paraíso is in the earliest stages of a boom, so it's still lacking in hip hotels, atmospheric cafés, and Osklen boutiques.
Yet there's a chilled-out wackiness that strikes a chord with a certain kind of traveler: At the first store I walk into, the sarong-clad Argentine owner invites me to a healing ritual, and during my first sit-down interview, I'm offered a joint. The main draw of this place, however, is the wildly beautiful and unspoiled surroundings. The town (population: 7,000) is in the world's most biologically rich savannah ecosystem, with scenery that simultaneously conjures the vast plains of Africa and the rippling mountains of Kauai. Scattered about are hundreds of waterfalls, many flowing into river pools that are warm enough to swim in and clean enough to drink from. The region's geology also comes with the requisite mystical component: Just beneath the soil is the world's largest crystal bed, allegedly so luminous that it's visible from outer space. "When the astronauts looked back at Earth, they saw sparkles here," says my guide at nearby Chapada dos Veadeiros National Park.
Some of the first outsiders to settle in the area were disciples of Osho (the Indian guru previously known as Bhagwan Shree Rajneesh), who established an off-the-grid commune in the early Nineties. Their remote village of huts, called Lua, is now a solar-powered retreat center, but much of the group is still around, living in larger but (mostly) ecologically correct homes closer to the town center. Over the years some São Paulo style-setters also trickled into the area, including restaurateur Paulo Maluhy, who owns the town's best vegetarian eatery, Oca Lila, and runs the ecological foundation Oca Brasil. Except for an Eames chair or two, his haute-rustic house was built and furnished with local materials. Does he ever cheat and water his massive green lawn? "Of course not," Maluhy says. "In the dry season it turns yellow. Okay, so enjoy yellow!"
Lately, Alto Paraíso has lured a wave of Europeans like Christof Rabanus, a German who moved here four years ago and now works as a Human Design System analyst (the discipline draws on astrology and the I Ching). He also organizes trance parties when there's a full moon. "Whatever your trip is, whatever crazy project you're dreaming of, you can find the freedom and space here to transform it into reality," Rabanus says. Every morning he brings his young son to Alto Paraíso's two-year-old alternative school, Vila Verde, "a place for people who don't want their kids learning stuff from, you know, some nuns."
One trait shared by almost everyone here, regardless of other predilections, is an affinity for ayahuasca, the acrid-tasting potion used to induce visions during tribal ceremonies. Legal in much of South America, where shamans hail its medicinal benefits, the drink has lately been turning up at secret sessions in Manhattan yoga studios and European retreat centers. (It's still policed as a recreational drug in the United States.) In Alto Paraíso there's a typically eclectic range of rituals surrounding its consumption, with some groups balancing out the beverage's less pleasant side effects (e.g., vomiting and diarrhea) with trippy music and singing. "Drinking ayahuasca is like turning on a light in the dark room that is your brain," says local shaman Yatra. "Suddenly you see everything that's in the corners." The Brazilian-born Yatra was a member of the Osho commune and lives part-time in the Netherlands. On her property here is a 150-person temple surrounded by acres of plantings, including the caapi vines used to make ayahuasca and papaya trees loaded with ripe fruit.
In Alto Paraíso it's easy to see why so many of South America's indigenous cultures consider nature and spirituality to be essentially the same thing. With some of the cleanest air and purest water on the continent, this is the kind of place that could make a tree hugger out of Joan Rivers. It's hard not to meditate while you're staring at a 390-foot waterfall that you have all to yourself, and it's hard not to want to save the planet while you're eating a perfectly ripe mango that you've just found next to a stream as a wild toucan watches you from the tree's upmost branch.
These attractions are what convinced Sahar Farmanfarmaian, a Swiss-educated descendant of Iran's Qajar dynasty, to abandon Manhattan and Goa for Alto Paraíso, where she now lives full-time with Gaetani. Although she still loves India, she says, "It's so dirty, I would never sit in nature, you know? I'm always like, Ick! Alto Paraíso is the place where I've felt closest to Mother Earth." Farmanfarmaian recently built a large villa near town, where she often hosts dinners for 40; her mother and aunt have also bought property in the area.
Still, despite the influx of fancy foreigners, Alto Paraíso is a long way from Bridgehampton: I got stuck behind a herd of cattle on my way to lunch at the horse farm of Marcia Barata, a onetime São Paulo socialite and handbag designer who lives alone with her snake, iguana, cats, pit bulls, and flock of rescued parrots. Barata comes to the door in a floor-length tie-dyed dress and shows me around while her houseboy prepares jumbo caipiroskas. "I was never like my friends in São Paulo," she says. "They were always like, 'You are a hippie!'" Barata bought her place five years ago from a Brazilian army colonel and his wife, who confided that aliens had implanted a microchip in her hand after landing their spaceship near the property.
By my third day in Alto Paraíso, I no longer find it unusual when someone is introduced to me at lunch as a shaman, or when a new acquaintance greets me with "namaste" instead of "hello." I also develop a tolerance for organic okra, first sampled at a house party where, before sitting down for lunch at 5:30 p.m., we watched a dreadlocked circus teacher named André juggle crystal balls.
As you'd guess, Alto Paraíso has its problems, some more serious than others. There is a surplus of ayurveda experts and Reiki practitioners attracted by the healing energies but still waiting for the therapist-client ratio to tilt in their favor. And there's the predictable overload of conspiracy theorists and unwashed rebels without a cause. "In a town like this you are always going to find people who are lost," says dancer-filmmaker-healer Kathi von Koerber, who lives here part-time with her partner, Colombian shaman Hernando Villa. "They don't know why they're there. They're just there." Brazil's crack problem has also made its way to the town, resulting in a spike in robberies.
But the newcomers continue to stream in, some to build safe havens in preparation for the 2012 apocalypse prophesied by the Mayans; others simply to join the back-to-the-land movement. "There are a lot of intelligent people realizing that the world is a mess and that things need to change," says von Koerber. In the coming months, zoologist Marianne Soisalo is opening Eco Nois, a large environmental center complete with exhibit space and a raw-food café, and Daniela Shook, a former model from São Paulo, is planning to add upscale accommodations at the town spa, Mandala.
You can tell a lot about a place by the words you pick up in the local language while visiting. After a week in Alto Paraíso—okay, two weeks; I extended my stay following the toucan incident—my Portuguese repertoire includes periquito (parakeet), miracao (head trip), desenvolvimento sustenável (sustainable development), and As respostas a suas perguntas ja estao dentro de voce (The answers to your questions are already within you). That last line was another pronouncement of Catarina of the Waterfalls. She said it like she really meant it.