Art Partners
How Amalia Dayan and Daniella Luxembourg became two of the art world's most influential—and chicest—power players.
---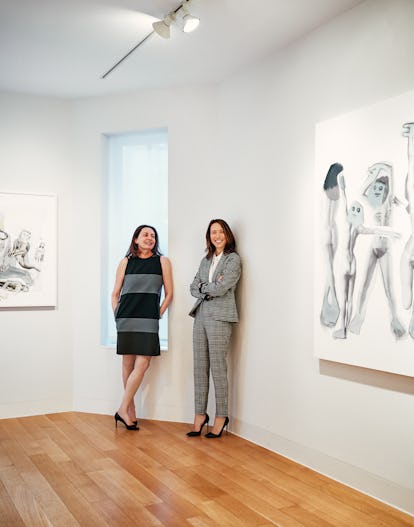 Photographer: Adrian Gaut Styled: Felicia Garcia-Rivera
If great collections are self-portraits of those who assembled them, thenthe works of art belonging to Amalia Dayan and Daniella Luxembourg might suggest a study in stark contrasts. Dayan lives in a David Adjaye–designed town house of poured black concrete that looks nothing like its stately neighbors on Manhattan's Upper East Side. Maurizio Cattelan's 2008 sculpture of Pinocchio, Daddy, Daddy, floats facedown in a reflecting pool outside the front door, while nine towering sculptures by Franz West fill the foyer leading to the upstairs living quarters. There, the art does not hold back: Richard Prince's cartoonish painting of Rastafarians with blacked-out eyes wielding guitars like machine guns hangs above a sculpture by Urs Fischer of a skeleton leaning on a pillar. "We are not afraid of tough," Dayan says of the bravura works she has acquired with her husband, Adam Lindemann. "It's about pushing the boundaries. Our collection is very image-based. You will rarely see an abstract work in this house." Mentioning a giant painting from Jeff Koons's "Made in Heaven" series, showing the artist in flagrante delicto with his ex-wife, Ilona Staller, the Italian porn star known as Cicciolina, Dayan—who has two young daughters—admits ruefully that "a few playdates did not come back."
Meanwhile, several blocks south, Luxembourg lives in a modernist gem originally designed for the gallerist Pierre Matisse (Henri's son) and his wife, Tana. Luxembourg had long admired the house and bought it in 2001 from the estate of Tana, who was a friend, along with its custom Giacometti tables, chairs, and lamps. Understated and serene, the rooms are appointed with elegant postwar abstract masterpieces by Lucio Fontana, Alberto Burri, and Marcel Duchamp.
Such differing obsessions lie at the heart of Luxembourg & Dayan, the gallery founded in 2009 by these two dynamic Israeli women. Built on its hybrid personality, the gallery has emerged as one of the art world's leading tastemakers. Luxembourg, 65, a former director at Sotheby's and a partner in Phillips, de Pury & Luxembourg, is known for her seasoned eye and focus; Dayan, the 43-year-old granddaughter of the famed Israeli military general Moshe Dayan and a former director of Deitch Projects and Gagosian, for her cutting-edge instincts. Rather than represent artists, the duo curates just a handful of shows a year in a town house–turned–gallery in Manhattan and in their Savile Row outpost in London, alternating innovative contemporary shows with ones intended to cast new light on overlooked postwar masters. They also do private dealing for blue chip clients.
In 2013, they mounted the first major Stateside shows in decades of the Pop artist Martial Raysse and the late new-realist sculptor César Baldaccini, both well known in their native France but not in America. "To bring César to the U.S. and make American collectors look at him is extraordinary," says the gallerist Dominique Lévy. "Amalia is very much in tune with what's happening." Upon seeing the collector Richard Perry admire César's eight-foot-tall iron sculpture of his thumb outside the gallery, Dayan talked him into buying a version measuring some 20 feet. "She absolutely convinced Richard it would work," his wife, the fashion designer Lisa Perry, told me 24 hours before César's iconic Pouce was to arrive at their Hamptons home on a flatbed truck. "She has that ability."
Luxembourg, for her part, brings a keen historical perspective, honed over 40 years in the art world. Her close friend Alber Elbaz, Lanvin's creative director, points to her "magic combination" of intuition and intelligence. Elbaz often designs with Luxembourg in mind ("I think, How would Daniella wear this?") and created a wedding dress for her daughter, Alma, now the director and co-owner of the London gallery, as well as one for Dayan when she wed Lindemann, in Jerusalem, in 2006. "Walking through exhibitions with Daniella is almost like the painter has become your friend," says Elbaz, who celebrated the César show by putting sculptures by the artist in Lanvin's Paris boutique windows during the French International Contemporary Art Fair. "She'll tell you about his wife, the jewelry he bought, and how all that is reflected in the work. But she doesn't explain so much that you stop dreaming."
The pair's influence is not limited to collectors. The artist Rob Pruitt was struck by their 2012 New York show of the Italian artist Domenico Gnoli, a cult figure who died young and whose eccentric canvases featuring realistic close-ups of old-fashioned shirt collars and braided coifs struck a chord. "I didn't know about Gnoli three years ago, and now I'm obsessed with him," says Pruitt, who that same year presented selections from his "Autograph Collection" series at the gallery's London satellite. "They are always pulling something out of the air that becomes my next favorite thing." Despite the current fervor for -hangar-size art venues, a number of buzzed-about artists are eager to exhibit their work in L&D's homey New York quarters, which are just 13 feet wide. In 2012, the Norwegian artist Bjarne Melgaard took over the gallery's rabbit warren of rooms to present radical new paintings, drawings, wallpaper, dolls, and multimedia installations, some made in collaboration with Proenza Schouler's Jack McCollough and Lazaro Hernandez and a special-effects designer. This past spring, rising star Alex Da Corte created a surreal haunted house with intricate installations in wallpapered spaces.
That the women have meshed their sensibilities so successfully owes a lot to their fierce friendship and Israeli roots. "Did we tell you how we met?" Dayan asked me one chilly morning in March. "Ours is a real love story." She was sitting on an Alvar Aalto armchair in Luxembourg's living room in New York, where Claes Oldenburg's vibrant orange vinyl Soft Light Switches (1964) hangs above the fireplace. (Luxembourg also has an apartment in London, in the super-exclusive Albany, and another in Tel Aviv, in a Bauhaus building she co-owns with the cosmetics heir Ronald Lauder, a client.) Stylish in her black cashmere Lanvin turtleneck and fitted leather pants, Luxembourg poured espresso and green tea into tiny cups on a silver tray. Dayan, who radiates an informal glamour and seldom wears any makeup, was in a long gray skirt and an understated top by Lanvin, and black Isabel Marant boots. Both of them were raised in Tel Aviv, where they met in 2000, after a family friend urged Dayan to seek Luxembourg's advice. Then a director at Deitch Projects, in New York, Dayan was weighing an offer to return to Israel to work for Sotheby's after being away for three years. Luxembourg had headed Sotheby's Israel office early in her career and had just been tapped by Bernard Arnault to run the LVMH-owned Phillips auction house with Simon de Pury. The afternoon Dayan showed up, Luxembourg was entertaining friends. To get some privacy, they escaped to Luxembourg's bedroom. "I told her, 'Forget about Jeffrey Deitch and Sotheby's,'" Luxembourg recalled. "Come work for me. And she did, as a contemporary-art specialist."
Spending time in their company, you sometimes lose track of who is speaking, so seamless is their give-and-take. As they talked about their history, they occasionally lapsed into Hebrew until agreeing upon the precise English translation. "You hear it very often: 'Don't ever work with friends.' And I completely disagree," Dayan said at one point. "With Daniella and me, it's all done with very few words. We know internally what we want, and we're both very focused." Their friends often liken their bond to that between mother and daughter, but Elbaz says that "sometimes Amalia is the mother and Daniella the daughter; sometimes they feel like sisters."
Like most Israelis, both served for two years in the army. Luxembourg was a shooting instructor; Dayan ran the office of a high-ranking general. But unlike Dayan, Luxembourg is a first-generation Israeli. Her parents met in a labor camp in Kazakhstan during World War II and, after marrying in Poland, arrived in Tel Aviv with their two kids in the 1950s. Luxembourg's father was an engineer and her mother a literature student. Luxembourg studied art history at the Hebrew University and trained at the Israel Museum before becoming the chief curator of a tiny museum in Jerusalem's Jewish quarter at age 24 and then the exhibitions curator at Tel Aviv's Museum of the Diaspora. She cofounded Sotheby's Israel in 1984 and went on to become the deputy chairman of Sotheby's Switzerland after moving to Geneva with her then-husband, Isaac, an architect, and their daughter, Alma. There she met the lively auctioneer Simon de Pury; together they left the auction house in 1997 to form a private dealership, specializing in Impressionist, modern, and contemporary art. Luxembourg sold "major things," she recalls: van Goghs, Manets, Kandinskys. "When she focuses on you," de Pury says of her sales savvy, "she makes you feel like the most important person in the world." Then, as now, she notes, there are only one or two dozen people who buy great art. "The age of collectors has dropped because young people have access to huge fortunes they have made themselves, which was not the case when I started selling art. But money has always bought art. I am totally nonjudgmental about new money and new buyers. Buying art is about taking part in the culture of the community you want to be in. And we were all newcomers once."
When LVMH acquired their company and merged it with Phillips, in 2000, Luxembourg became co-chief with de Pury. Bankrolled by Arnault, Phillips, de Pury & Luxembourg stormed the market, beating out their competitors to win the right to sell a number of coveted private collections, which included important works by Cézanne, van Gogh, and the German Expressionists. But in 2002, in the wake of September 11, the auction house was struggling, and LVMH significantly reduced its stake. Against her better judgment, Luxembourg did not talk de Pury out of installing his then-paramour, Louise Blouin, as CEO, a gamble that didn't pay off. Exhausted by the relentless pace, Luxembourg sold her share to de Pury in 2004 and returned to private dealing. "It's comforting to have a work of art for more than a split second," she told me. "That rapidity of the auction house feels like you're working in a pizza factory."
Her departure coincided with her separation from her husband. Living alone in London—"the most difficult time in my life," she said—she put together "Lonely Prophets," an exhibition about German artists victimized by the Nazis. Its focus was the members of the avant-garde who overnight became outcasts, among them Otto Dix and Max Beckmann. That abiding interest in making the past visible has defined Luxembourg's career: In 1989, she was named founding director of the Jewish Museum in Vienna and came up with the idea to excavate in the Jewish quarter to find the remains of a medieval synagogue. "I don't believe that Jewish museums are a cure for anti-Semitism," she said. "But if schoolchildren can see that Jews have been part of the city since the 16th century, you don't need to say more." A specialist in art restitution, she also directs Tel Aviv's Bauhaus museum, which sits on the ground floor of the building she owns with Lauder. (Fleeing the Nazis, many in the Bauhaus regrouped in Tel Aviv, a major center of the modernist movement.) For Luxembourg, Tel Aviv is a place where she goes to swim in the sea and read in her native language—in other words, a respite.
For Dayan, it is anything but. Growing up in one of the most famous families in Israel, she has always been in the public eye. Her late grandfather served as Israel's defense and foreign minister, and her grandmother, Ruth, now 98, is a legendary figure lauded for championing unity between Arabs and Jews. Her father, Assi Dayan, was a famous actor, director, and writer whose romances, trials, and drug problems were exhaustively chronicled in the press until his death, in 2014. On trips home, strangers regularly call out to her as she walks by. "One guy chased me down the street, yelling, 'Amalia! I have a Thomas Struth photograph. How much do you think it's worth?'" she recalled of a visit to care for her ailing mother, Aharona, who died in 2013. "There are no boundaries in Israel," Luxembourg concurred. As a result, perhaps, Dayan is known for her discretion. "You can trust her completely," Lévy says. "She's more secretive than the most secretive Israeli agent."
Dayan's parents divorced when she was 8. She often visited her father on movie sets and even appeared in a film with him when she was 13, playing the teen heartbreaker in a kibbutz. At home, daily life was uncertain. Dayan's mother suffered from depression, and Dayan recalls having to get herself and her younger brother, Avner, ready for school. "My daughter told me the other day that her fantasy is to be left alone and to walk to school on her own. And I thought to myself, That was my childhood, and it was not fun at all."
Dayan arrived in New York in 1997 as a graduate student of arts management, thrilled to be an unknown. While still at New York University, she became an intern and quickly a central player at the dealer and art adviser Jeffrey Deitch's -Deitch Projects, where she worked with Vanessa Beecroft and the artist duo Tim Noble and Sue Webster, among others. "She has remarkable instincts about art," Deitch says. "Of all the people I've worked with, she is the fastest at reading somebody's character and developing a real rapport." He points to his decision to put his Israeli employee in charge of managing the artist Ghada Amer, an Egyptian-born Muslim whose work explores female sexuality—a taboo subject in Amer's culture. Dayan not only shepherded Amer's simultaneous shows at the Tel Aviv Museum and at a gallery in the traditionally Arab East Jerusalem in 2000 but also gathered a diverse crowd for both opening dinners.
Recently, Dayan put down her own roots in Tel Aviv, in the ancient port of Jaffa, when she bought an apartment in a 17th-century building that she plans to stock with Pierre Paulin furniture from the '70s and Israeli art. She and -Lindemann, an investor and the son of the billionaire George Lindemann, also own art-filled homes in Montauk and Woodstock, where they turned a fixer-upper over to the British artist Richard Woods, who gave it a mock-Tudor makeover inside and out, lining the walls of the dining area with woodblock-printed green leaves and a bedroom with faux-stone wallpaper. The couple met during Dayan's stint at Phillips, when Lindemann came in to ask about a Warhol. She knew his brother and recalled thinking, Maybe he'll buy something. She taught him how to research and pushed him to look at seminal works by artists of their generation. Their collecting sensibilities are very much aligned, she said, "though he doesn't get as attached as I do. He likes the action around selling. There is a lot of ego. He's a true collector in that sense."
Like any parent of young children, Dayan is a multitasker, though she never seems in a rush. When I visited her one day in April, she was heading off to meet Richard Prince and preparing for a Passover Seder the next night. The guests, all close friends, included the former Sotheby's auctioneer Tobias Meyer and his partner, the art adviser Mark Fletcher; the movie PR maven Peggy -Siegal; Lévy and her partner, the producer Dorothy Berwin, and their kids. As we chatted, Lindemann was downstairs playing the piano for a couple who had dropped in unexpectedly to see the house. A Buddhist monk, an old friend of theirs, was asleep in the guest room. "Daniella calls this house 'the circus,'" Dayan confided. "Because you never know what's going to be happening."
The same might be said of their gallery. When she and Luxembourg set up shop, they had intended to keep it a low-key, by-appointment business. But when their second show, "Jeff Koons Made in Heaven, Paintings," generated headlines and visitors, they opted to open to the public and adopt a more adventurous approach to programming. Koons's provocative silk screens on canvas had not been presented in nearly 19 years. They had been critically panned when shown at the Sonnabend Gallery, in New York in 1991, and after Koons and Staller split up and she absconded with their infant son to Italy, Koons destroyed some of them. "It was a body of work that people were afraid of," Dayan said of their decision to bring it back. "I love that Koons's life became his art, and his art became his life. In art, almost everything is allowed—if it's good."
Amalia Dayan outside her home in New York, with Maurizio Cattelan's Daddy, Daddy, 2008.

Photographer: Adrian Gaut Styled: Felicia Garcia-Rivera
Daniella Luxembourg at home in New York.

Photographer: Adrian Gaut Styled: Felicia Garcia-Rivera
Luxembourg and Dayan in their New York gallery, with works by Richard Prince, 2015.

Photographer: Adrian Gaut Styled: Felicia Garcia-Rivera
Luxembourg and Simon de Pury, photographed by Helmut Newton in Monte Carlo, 1996. Courtesy of Helmut Newton.
A New Novel by Bjarne Melgaard," 2012–2013. Courtesy of Luxembourg & Dayan, New York.
A publicity photo of Anjelica Huston and Assi Dayan (Amalia's father) for John Huston's 1969 film A Walk With Love and Death. Courtesy of 20th Century Fox Film Corp.
Dayan with her husband, Adam Lindemann, 2012. Courtesy of Subject.
César Baldaccini's Hyon Crail, 1986, in Lanvin's Paris window, 2013. Courtesy of Lanvin.
"Alberto Burri," 2010. Courtesy of Luxembourg & Dayan, New York.
Jeff Koons's Ponies, 1991, part of his controversial series with then-wife Ilona Staller. Courtesy of Luxembourg & Dayan, New York.
Domenico Gnoli's Striped Shirt Lapel, 1969. Courtesy of Luxembourg & Dayan, New York.
Richard Prince's Untitled, 2013, which L&D showed in London in 2015. Courtesy of the artist and Luxembourg & Dayan, New York.
Up-and-comer Anna Betbeze's Sapor, 2014. Courtesy of Luxembourg & Dayan, New York.
Lanvin designer Alber Elbaz, with Luxembourg, 2013. Courtesy of Getty Images.
Dayan on her wedding day, Jerusalem, 2006. Courtesy of subject.
"Alex Da Corte: Die Hexe," 2015. Courtesy of Luxembourg & Dayan, New York.
"Martial Raysse," 2013. Courtesy of Luxembourg & Dayan, New York.