Amanda Brooks on pearl earrings, musehood, Rachel Zoe & more
Blessed with socialite status, a wardrobe to die for and a whippet-thin physique, Amanda Brooks is, as one W writer once put it, "a girl girls love to hate." But in her first book, I...
---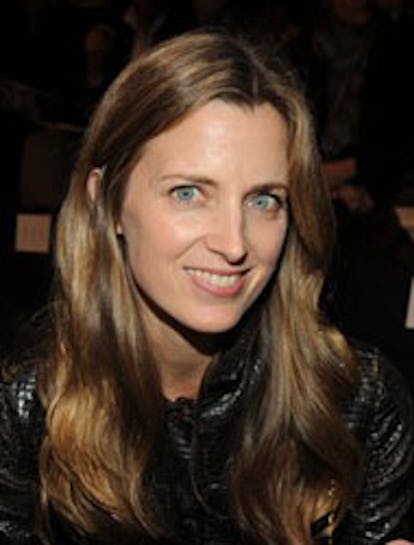 Whose idea was it to write a book? It was actually two people. Diane von Furstenberg [who wrote the book's foreward] invited me over for lunch and said that she thought it was time that I did my own thing, because I've always worked for other people and she wanted to see what kind of creativity I had inside of me. Another friend of mine just said, "I think you should write a book."
Did you know that you wanted it to be a how-to kind of thing? I wanted it to be very commercial. I wanted it to be a manual. I wanted it to be soft cover at a very accessible price point. I always knew that I wanted to sell it in Urban Outfitters and Anthropology and not just Barneys or Bergdorf's book department. I didn't want it to be a precious book—I have so many beautiful coffee table books and I can't say that I ever read.
You dissect six distinct styles—classic, bohemian, minimal, high fashion, street and eclectic—in the book. Are you in a particular fashion frame of mind right now? I think I am always in combination of all of them. In my twenties I was just so turned off by classic clothes—I didn't have a lot of respect for things that weren't of the moment. I was always really paranoid that I grew up very preppy and that my physical features are kind of that. For instance, I would never wear pearl earrings. But after I turned 30 I became more attracted to classic clothes again. I became more confident that just because I was wearing classic clothes didn't mean that I looked preppy.
Do you have a favorite designer right now? I really love Thakoon, I really love Proenza, I really, really love Phillip Lim. I've always been interested in young designers and watching them grow.
Are they on your fashion week agenda? And which other shows are you planning on? Definitely. I am going to my first Alexander Wang show and I am really excited about it. I love DVF. I am going to Michael Kors, and Rag & Bone.
Is there a current trend that you kind of wish would go away? I feel like the same proportions have been around for a while—in everyday life, not in fashion life. The loose baggy blouse with skinny jeans and ballet flats, I wear that all the time but I'm kind of ready for a new proportion.
You were a muse and creative director at Tuleh. What do you think about the term and title "muse"? People propose me to kind of work as muse for other people and it just hasn't ever really worked since [Tuleh] and I haven't ever really wanted to do it because it's so much about the relationship between two people. You can't tell someone you don't like something unless you really love them. It is very hard to criticize someone that you don't love. To inspire them they have to trust you, so it really is really trusting each other and loving each other as people—and you can't force that.
What do you think about celebrity stylists today and their influence? My gut says that you can't have real personal style if you have a stylist because it is someone else always telling you what to wear. But I also don't think that is true necessarily. Sofia Coppola absolutely has a fantastic sense of personal style. Same with Kirsten Dunst and Diane Kruger. I don't know if they work with personal stylists, but I can tell by the way that they dress that they have great style.
What about someone like Nicole Richie? I think Nicole Richie is a really good example of someone who hugely benefited from a celebrity stylist because clearly she didn't have style before she met Rachel Zoe. Now that she doesn't work with Rachel Zoe I don't know if she works with any stylist at all, but I think her style is more herself.
Now that you've written your first book, would you write another? I'm just seeing what happens, doing publicity and a book tour and seeing if another book comes out of it. Certainly the title lends itself to other books. It could be I Love Your Style: Men, I Love Your Style: Beauty, I Love Your Style: Home… [#image: /photos/585395b1e3d613c03e1ec0da]||||||
Photos: Steve Eichner.