Amanda Norgaard's Guide to Copenhagen
The model reveals her favorite places—just in time for fashion week.
---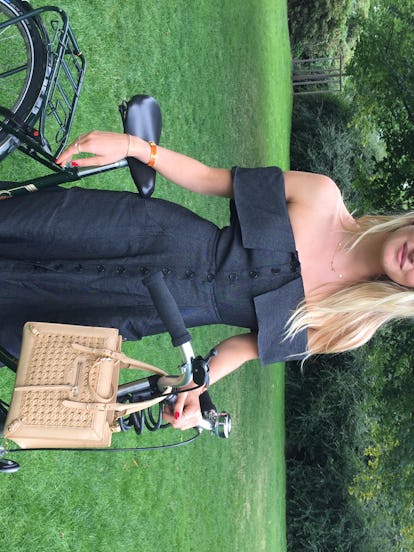 As a model, Amanda Norgaard travels the world for runway shows, photo shoots, and fun. But there's only one city that's home to her favorite bars, restaurants, and stores: Copenhagen. Just in time for Copenhagen Fashion Week, which starts today, the Danish model reveals her guide to the city.
Favorite post-runway hangout: Anywhere outside. During Copenhagen Fashion Week the city turns into one big street festival where fun is around every corner and it seems like everyone you know is out on the street. It's the best!
Favorite clothing stores: I'm in love with the Danish Brand Ganni who is always on point with trends yet still has its own quirkiness and personal touch. Store Regnegade 12, 1110 København
Lot#29 is always a safe choice. They have a great selection of high-end fashion and always have fun accessories from new, up-and-coming designers. Gothersgade 29, 1123 København
Favorite home décor store: Posterland has the biggest selection of posters. I haven't found anything like it in New York, so when I'm in Copenhagen I can spend hours in there searching for wall candy. It's such a fun and easy way to decorate. Gothersgade 45, 1123 København K
Favorite summer bar: The ultimate summer hangout is Cava Bar, an outdoor bar at the Torvehallerne farmers market. It's very simple with just a half a dozen benches but it works so perfectly. Cava bar and a handful of my best friends—that's the perfect recipe for summer happiness. Frederiksborggade 21, 1360 København K
Favorite Museum/Art Gallery When you step into Ny Carlsberg Glyptotek you enter a different time. The museum is especially known for its beautiful Winter Garden, which is decorated with classical Greek sculptures and frequently Instagrammed. I always find inspiration there! Dantes Plads 7, 1556 København
Favorite place for a date: You can never go wrong with Restaurant Pluto. There is always a fun vibe and the food is outstanding. Their concept is that you pick 3-4 smaller dishes, which I find perfect for a date (and convenient—if you don't like your dish you have other options to go with!) Borgergade 16, 1300 København K
If it's a warm summer night, go get take away from LêLê Street Kitchen which is the best Vietnamese food in Copenhagen and then go to Fælledparken, a beautiful park 5 minutes away from the restaurant! Doesn't get better than that! Østerbrogade 56, 2100 København Ø
Favorite fine dining restaurant: Geist make the most amazing food. Very new Nordic cooking but actual food—I prefer my dinner to be beautiful, yet real and approachable, not just some fancy sea foam. Kongens Nytorv 8, 1050 København
Favorite hole in the wall restaurant: Beau Marché is a cute tiny restaurant with a few things on the menu. It started out as an antique store and still is today. You'll eat the best chèvre chaud in a beautiful store surround by old antiques. Thumbs up. Ny Østergade 32, 1164 København K
Favorite after hours spot: Café Victor is in the very heart of Copenhagen and is always great fun! Even though I'm not much of a clubber, the club "Sunday" is probably where you want to go for a late dance or just pure amusement. Ny Østergade 8, 1101 København K
Copenhagen Fashion Week Fall 2015
Copenhagen Fashion Week Fall 2015 Street Style
Copenhagen Fashion Week Fall 2015 Street Style
Copenhagen Fashion Week Fall 2015 Street Style
Copenhagen Fashion Week Fall 2015 Street Style
Copenhagen Fashion Week Fall 2015 Street Style
Copenhagen Fashion Week Fall 2015 Street Style
Copenhagen Fashion Week Fall 2015 Street Style
Copenhagen Fashion Week Fall 2015 Street Style
Copenhagen Fashion Week Fall 2015 Street Style
Copenhagen Fashion Week Fall 2015 Street Style
Copenhagen Fashion Week Fall 2015 Street Style
Copenhagen Fashion Week Fall 2015 Street Style
Copenhagen Fashion Week Fall 2015 Street Style
Copenhagen Fashion Week Fall 2015 Street Style
Copenhagen Fashion Week Fall 2015 Street Style
Copenhagen Fashion Week Fall 2015 Street Style
Copenhagen Fashion Week Fall 2015 Street Style
Copenhagen Fashion Week Fall 2015 Street Style
Copenhagen Fashion Week Fall 2015 Street Style
Copenhagen Fashion Week Fall 2015 Street Style
Copenhagen Fashion Week Fall 2015 Street Style
Copenhagen Fashion Week Fall 2015 Street Style