Amanda Seyfried: Go West, Go Wild
The actress has a lot of irons in the fire—all of them hot.
---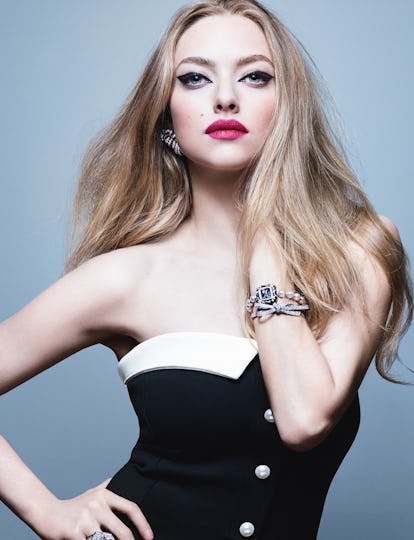 "I am most scared of being bored," Amanda Seyfried said. She was calling from her home in Los Angeles in mid-February, having just returned from her first vacation in years. "I was at a resort!" she continued. "And I thought, I should be loving this—but I wasn't getting anything done, and that terrified me. When I feel like I'm not accomplishing something, I feel like I failed the day. I guess I missed work." The only reason Seyfried was on vacation at all was because a scheduled movie project had been canceled abruptly. From the age of 15, when she first appeared on the soap opera As the World Turns, to this May, when she'll play the ex-girlfriend of a sheep farmer in Seth MacFarlane's period comedy A Million Ways to Die in the West, Seyfried, 28, has worked pretty much nonstop. Although the actress, with her blonde hair and wide blue eyes, looks like a beautiful doll, she has always resisted being cast as arm candy or the typical ingenue. She may have pin-up looks, but Seyfried is direct and quirky, and her career choices have been eclectic—from the broadly romantic (Dear John, 2010) to the musical (Mamma Mia!, 2008) to the bold and independent (last year's Lovelace, in which she was stunningly vulnerable as the emotionally battered Deep Throat star Linda Lovelace). Seyfried is not afraid of a challenge, whether it is singing live (in 2012's Oscar winner Les Misérables) or doing a steamy sex scene, as in 2009's Jennifer's Body, where she and Megan Fox had a memorable make-out session. "We kissed really well together," Seyfried once told me about the latter. "We have similar kissing styles! If I watch the scene, it's actually really sexy…We got it done for the masses, and, sadly, the masses didn't show up." (The film did not fare terribly well at the box office.)
Because she mixes things up creatively—going from a comedy like her first film, 2004's Mean Girls, to HBO's Mormon drama, Big Love, to Noah Baumbach's new movie, While We're Young, which does not yet have a release date—Seyfried is a little mysterious. By design, she is a chameleon, able to fit into different worlds, rather than a "movie star," playing one character over and over. "In Noah's film, I play a hipster girl who lives in Brooklyn," Seyfried told me during our phone call. "And, of course, I am not part of that world. It was fun to try to be that girl. In real life, I'm not sure anyone sees me as hip."
Growing up in Allentown, Pennsylvania, Seyfried lived a kind of double life: During high school, she was cast in All My Children, a role for which she had to commute to Manhattan. Simultaneously, she managed to attend classes and go to four proms ("I was addicted to the whole ballroom thing"). "I met my first boyfriend on a soap opera," she told me. "We kissed for the first time on the show. It was like a fairy tale. When you're young, it's hard not to get together with your costar. It's not always the greatest idea, but the experience of making a television show or a movie is so intimate and romantic. And I love acting like I'm in love! Sex scenes are great. A lot of my costars have been sexy guys my age who are really respectful and cool. So, why not? I'm not going to pretend it's not fun."
Seyfried revealed all of that the last time I interviewed her, three years ago. She had just finished the sci-fi thriller In Time, opposite Justin Timberlake. She is currently dating the comedic actor Justin Long and is more reluctant to discuss her personal life. "It may be that I'm older, and it may be that social media is everywhere now," she explained. "I don't think I was really famous until last year—and I felt like no one paid much attention to what I was doing. That was good. But Les Mis was an international hit, and that changed things. Before, I was a little more anonymous." It is striking to think that four years ago Seyfried and Miley Cyrus presented the Oscar for Best Original Song at the Academy Awards, and no one seems to remember that. "I have all these odd chapters," Seyfried said. "I do recall that both Miley and I were very nervous. And I also recall being backstage afterward, which was wonderful. At that point, the attention is no longer on you, and you suddenly feel like a princess. The magic of Hollywood hits me at odd, unexpected moments."
This year, Seyfried wasn't planning on attending the Academy Awards. She'd be in Pittsburgh working on Fathers and Daughters—a kind of coming-of-age family drama—accompanied by her Australian shepherd, Finn, who travels with her nearly everywhere she goes. She stars opposite Aaron Paul, her love interest from Big Love. "Everything major in my life began on Big Love," Seyfried said. "I was a teenager when I booked that part, and acting was definitely not the most important thing to me then. I was undecided about my career: I could have been a waitress in Allentown for the rest of my life! But Big Love cemented my feelings for acting." She paused. "I even adopted Finn during that show. I'd always had cats, and suddenly, there was this puppy on set." Finn is now famous: He has appeared with Seyfried on Late Show With David Letterman, is a constant presence on her Instagram feed, and has his own Twitter account. "When I landed in Korea recently, there were people holding up pictures of Finn," Seyfried said, sounding surprised. "In the past year, people just learned how to pronounce my last name correctly (Sigh-fred), but they all know everything about my dog."
As if on cue, Finn barked in the background. "Acting kind of bit me in the butt," Seyfried continued, after cooing to her dog. "On Big Love, I realized that I didn't want to lose this thing that I had stumbled into. Now, I'm at the mercy of my calling. I was lucky back then and a little naive. Now I'm addicted. Addicted and scared but never bored. I get to be other people all the time, and there is nothing dull about that."
Amanda Seyfried: Young, Bold, and Beautiful
Chanel swimsuit; Chanel Fine Jewelry earrings, watch, bracelet, and ring.
Michael Kors bikini; Tiffany & Co. bracelet; Lucchese boots (throughout).

Stylist: Edward Enninful Photographer: Craig McDean
Stylist: Edward Enninful Photographer: Craig McDean
Stylist: Edward Enninful Photographer: Craig McDean
Dolce & Gabbana bikini; Vicki Turbeville cuff.

Stylist: Edward Enninful Photographer: Craig McDean
Chanel bikini; Chanel Fine Jewelry bracelet.

Stylist: Edward Enninful Photographer: Craig McDean
Prada jacket and top; Eres swimsuit bottoms; Van Cleef & Arpels bracelet; Cartier ring.

Stylist: Edward Enninful Photographer: Craig McDean
Michael Kors bikini; Tiffany & Co. bracelet; Lucchese boots (throughout).

Photographer: Craig McDean Stylist: Edward Enninful