Can a Vlogger Grow Up to Become a High-Fashion Model?
At the age of 10, Amanda Steele became a YouTube star for her beauty tutorials. Now, at 17-years-old, she's signed by IMG Models and is ready for the fashion world take her seriously.
---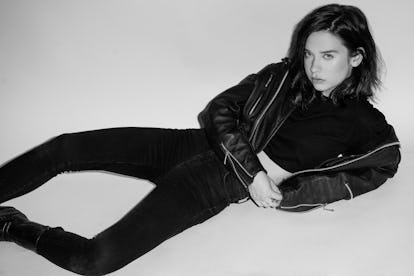 Nick Suarez
The Amanda Steele that millions on the Internet fell in love with back in 2010 is @MakeupbyMandy24, the bubbly 10-year-old YouTube vlogger with braces. The Amanda Steele of today is a 17-year-old mini Kendall Jenner who loves Saint Laurent and uses words like "analytics."
"When I started going online, it was because I didn't really fit in other places," Steele says during a visit to New York earlier this summer. "At the time, I'd rather go online and talk to people who liked the same things as me, than talk to people at my school. My mom was really concerned about me. But I realized that what I do and am passionate about actually matters. It made me more confident and able to deal with people tearing you down. It forced me to know who I am and be comfortable with myself."
When Steele first made a YouTube account six years ago, the terms "vlogger" and "influencer" did not yet exist. She was simply a middle-schooler obsessed with fashion, and one day typed something like, "How to sew" into the search bar. She quickly found herself in a tutorial K-hole, which eventually lead her to the world of beauty-related videos. She started experimenting with her own makeup and hair and @MakeupbyMandy24 was born.
Since then, Steele has amassed almost 2.9 million subscribes on YouTube, 2.7 million followers on Instagram, and 843,000 on Twitter, all of whom want to see every second of her life. Steele says the first thing she bought with her own money was a mini Céline bag; now she wants a house to call her own. In a way, she's Kardashian-ed herself by monetizing her day-to-day existence. It's her full-time job, and she's finishing high school through online courses. This allows her to do partnerships, like she's done with CoverGirl, Adidas and Quay sunglasses. "Everything I do now is a post," she says.
And although Steele still considers herself a vlogger, she wants the Internet to know that she's not the same girl who squealed about concealer from the privacy of her Orange County bedroom. In February of this year, she was signed to IMG models.
"I'm not leaving things behind; I'm just evolving," Steele explains. "I think that digital stars are going to go into more traditional roles. It makes sense for them to express themselves in the ways that they like and find their true passion."
Since Steele's vlogging career began with an interest in fashion, she sees modeling as a natural next chapter. In addition to already being comfortable in front of a camera, she also thinks her Instagram selfies and outfit posts are valuable training. And as someone who grew up on YouTube, Instagram has become a platform for Steele to introduce newer, perhaps older followers to the young woman she's become: The girl who wears Saint Laurent, Chrome Hearts, Aalto and Off-White; who's almost always in a chokers, jeans, and oversized shades.
"I love Kendall Jenner's style because it's so chic and put together but also feminine," says Steele. "She's a very powerful woman, and that's what I want to put out there with myself."
Steele's online fame has gained her front row access at fashion shows around the world, and she hopes to develop relationships with designers in order to one day make it onto the runway. But for now, she's sticking to editorial and has some top-secret shoots in the works. She'll always make time to document her life, however. Even if people claim YouTube to be a dying trend.
"YouTube is never going to go away because it's such a great way to put yourself out there," she says. "But I do understand when people say it's not cool anymore because everyone can do it. I just think it's a great stepping stone. It's a way to reach bigger goals."
For young YouTube stars like Steele, their adult lives on the Internet are uncharted waters. Fame on YouTube can vanish just as quickly as it came, so the options are moving on and attempting a semi-normal existence, or leaning further into the spotlight, as Steele has chosen to do.
"What I'm doing is something no one's done before," says Steele. She sits up perfectly straight, legs crossed and hands folded on her lap. The white light inside One World Trade Center makes her piercing blue eyes seem powered by electricity. "I was in the first wave of YouTubers to come up. Now we're like, 'Okay, what's next?' Who knows, maybe this generation of YouTubers will be the next A-list celebrities. It changes so fast that I can't even tell what's happening. I was literally just making videos in my bedroom."
Amanada Steele Is Signed With IMG
Watch W's most popular videos here: