Amandla Stenberg on New Film As You Are and Taking on Projects with Impact
Five years after "The Hunger Games," the actress returns to the big screen alongside "Stranger Things" star Charlie Heaton in "As You Are."
---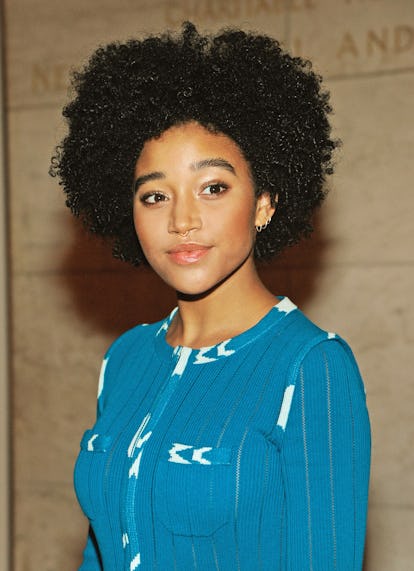 Rabbani and Solimene Photography
It's been five years since Amandla Stenberg captivated The Hunger Games fans in her tragic turn as Rue, the ill-fated District 11 tribute who becomes something of a surrogate little sister to Jennifer Lawrence's Katniss Everdeen during the 74th annual Hunger Games.
In the period since, Stenberg has appeared in two television shows (Sleepy Hollow and Mr. Robinson), voiced a film character (Rio 2) become a front-row fixture at Marc Jacobs and a campaign star for Stella McCartney, started an Instagram-based art collective, and written a comic book. Also, she graduated high school.
But it's been five years since Stenberg herself appeared on the big screen: "I've spent the past couple of years just trying to finish high school, trying to be a teenager and have a pretty normal experience before completely being a working adult," Stenberg told me recently. So, seeking a normal high school experience, Amandla Stenberg, actress and activist, decided to play a normal teen on screen.
Directed by 24-year-old first-time feature director Miles Joris-Peyrafitte, As You Are, which premiered Friday in New York, debuted in competition at the 2016 Sundance Film Festival, where it won the Special Jury Prize. In the film, Stenberg plays Sarah, a book-smart young woman who strikes up an unlikely friendship with her grade's two resident stoners Jack, played by The Americans alum Owen Campbell, and Mark, played by Stranger Things star Charlie Heaton. The main narrative of the film, which tracks the three teenagers over the course of a fraught year, is interrupted by menacing police-interrogation-room tapes in which each of the main characters attempts to reconstruct that year. By process of elimination alone, those tapes make it clear that one of the three is not going to make it that far. It's set in 1994, complete with a poignant moment when Campbell's Jack learned of his idol Kurt Cobain's death on the radio, endlessly nostalgic for that grunge moment, and entirely non-judgmental of its struggling young heroes as they navigate high school, Nirvana, a penchant for weed, and their own burgeoning sexuality.
Stenberg, now 18, filmed As You Are when she was 16 and was still in the midst of high school herself. "I was very much playing myself, and I think during that time period I was much more of a nervous high schooler," she said, "experiencing that weird isolation and finding real friends in high school—and finally finding those friends who end up becoming your survival friends."
Stenberg, a Los Angeles native, happened to be in New York for a quickie, 10-day trip that involved taking in New York Fashion Week and promoting her new film—and making some time for a few important cultural activities along the way. The night after we spoke, she was at Brooklyn venue Baby's All Right, where DIY indie rocker Vagabon was playing her record release show; co-star Charlie Heaton hovered by the door as Stenberg wove through the packed bar.
Amandla Stenberg Is a Role Model – For Her Activism and Personal Style
Lanvin bag, $2,445, Lanvin, New York, 646.439.0380.
Tim Hout, Styled by John Olson.
Calvin Klein Collection choker, price upon request, calvinklein.com.
Tim Hout, Styled by John Olson.
Kit and Ace polo shirt, $228, kitandace.com.
Tim Hout, Styled by John Olson.
Bally boots, $1,195, bally.com.
Tim Hout, Styled by John Olson.
Alexander Wang skirt, price upon request, alexanderwang.com.
Tim Hout, Styled by John Olson.
Coach 1941 jacket, $795, coach.com.
Tim Hout, Styled by John Olson.
As You Are is the first project of a packed year ahead for Stenberg, who will appear in the teen coming-of-age romance Everything Everything, the drama Where Hands Touch, about an interracial couple in Nazi Germany, and The Darkest Minds, a dystopian science-fiction thriller. She'll also begin production on The Hate U Give, a film that explores the Black Lives Matter movement and instances of police brutality, based on Angie Thomas's debut novel of the same name.
Stenberg has also already ventured into devising her own projects—it was with the viral success "Don't Cash Crop My Cornrows," which she made as part of a school project, that she rose to prominence as an outspoken activist as well as an actress—but directing has "always been the plan," she said. She was originally slated to attend film school at New York University in September; she deferred one year, and then two, and has yet to decide if she'll matriculate come fall 2018. The actress has a full slate ahead, but once her projects start to wind down at the end of the year, she said she plans to focus on developing her own series from the ground up.
"I want to make sure my projects have an impact. I want to make sure they're able to either infiltrate into a viewer or affect it, but at least challenging people, whether or not that's consciously or subconsciously," Stenberg said. "Whether or not I'm able to work on something that very clearly brings up certain kind of intersections of identity and explores something that's really kind of intricate, or whether I'm able to be a part of a project that's going to be distributed very widely and receive a lot of exposure but it's still powerful just because it has a black girl as the lead, whereas that traditionally would be given to white women."
As You Are features two prominent roles for women—Stenberg's Sarah, and Mary Stuart Masterson as Jack's mother, who enters into a relationship with Mark's father that quickly turns abusive. So, in an early Skype meeting with Joris-Peyrafitte, Stenberg asked him if he'd considered how women are portrayed in his film. Joris-Peyrafitte laughed: "I never thought I was going to be asked that question," Stenberg recalled the director telling her, "but that definitely proves to me that you're the right one." From there, they developed the role further—including an improv scene in which Sarah, stumbling upon a porn VHS with the two boys, defends her right to watch it with them.
"We got to explore gender dynamics but also have these little feminist tidbits here and there," Stenberg explained, adding that she tries to seek out roles that will challenge audiences while also being fulfilling for the actress herself.
"I'm always thinking about the impact of my films and I'm always thinking about what projects I work on, but I also have to think about what's going to make me happy," she added. "I'm 18 and sometimes it's just cool to be able to mess around a little bit."
See Amandla Stenberg's Transformation from Adorable Child Star to Teenage Activist and Burgeoning Style Icon
November 2011: For a very early red carpet appearance at the Nickelodeon TeenNick HALO Awards, Amandla Stenberg looked darling in a pink satin and lace one-shoulder dress. She completed this look with minimal accessories and low black peep-toe heels.

Photo by Jesse Grant/WireImage
November 2011: The pre-teen actress looked angelic on the red carpet of BAFTA Britannia Awards wearing a white midi cocktail dress with gold scrappy sandals. The dress featured a sweetheart neckline and mid-length tulle skirt out of a fairytale.

Photo by Frazer Harrison/Getty Images For BAFTA Los Angeles
March 2012: Channeling the Little Mermaid at the premiere of "The Hunger Games" in Los Angeles, Stenberg wore an ombre mint green Collette Dinnigan sequined dress. She paired her dress with metallic scrappy sandals and a box clutch.

Photo by Alberto E. Rodriguez/Getty Images
November 2012: At the 2012 premiere of "The Twilight Saga; Breaking Dawn Part 2" in LA, the starlet posed on the red carpet in a nostalgic 90's look. She opted for a multicolored H&M tea dress and clear jelly sandals.

Photo by Albert L. Ortega/Getty Images
February 2013: Stenberg attended the 44th NAACP Image Awards wearing a beautiful frothy ivory frock, accessorized with gold glitter sandals and a headband.

Photo by Jason LaVeris/FilmMagic
March 2013: The starlet went young and fresh for her look at the 2013 Kid's Choice Awards. She opted for a vivid teal mini dress with a full skirt and sleek black peep-toe sandals.

Photo by Frazer Harrison/Getty Images
February 2014: In 2014, Stenberg debuted a bold style that she would soon come to favor while at the Costume Designers Guild Awards. She wore an oversized turtleneck, tailored black trousers, cool Mary Jane pumps and dark metallic lipstick.

Photo by Jeffrey Mayer/WireImage
April 2014: Not giving up on her sweetheart style just yet, the star opted for a modern princess-like look at the Jimmy Choo 2014 launch of CHOO.08. She wears a tulle skirt, with a black satin crop top and yellow ankle-strap sandals for a pop of color.

Photo by Donato Sardella/Getty Images for Jimmy Choo
May 2015: At the Women in Film 2015 Crystal + Lucy Awards, Stenberg paired her new grey braided locks with a dark metallic grey frock. Keeping the focus on her new 'do and dress she went for a barely there understated tan suede sandal.

Photo by Jon Kopaloff/FilmMagic
November 2015: Donning a futurist shiny blue Phelan dress with cutouts, the starlet looked chic and fearless as she posed on the red carpet of the "Hunger Games: Mockingjay Part 2" premiere. She kept the shine coming as she paired metallic silver Christian Louboutin pumps with this look.

Photo by Jeffrey Mayer/WireImage
January 2106: Never shying from color, Stenberg paired a bright red lip and blue suede platforms with her fitted rose pink Stella McCartney polo top and maxi skirt at the designers Fall 2016 presentation .

Photo by Steve Granitz/WireImage
January 2016: Channeling a vampy school girl, the actress paired a charcoal wool duster coat with a graphic t-shirt and plaid skirt for Glamour's 2016 Women Rewriting Hollywood lunch. She completed her outfit with a pair of chunky olive combat boots and a deep burgundy lip.

Photo by Jason Merritt/Getty Images for Glamour
February 2016: The actress-turned-activist (and burgeoning style icon) arrived to the Marc Jacobs Fall 2016 show in full look from the designer: A red silk blouse, face-print pencil skirt and cool multicolored cross trainers. Her hair and makeup gave Princess Leia-went-to-the-disco vibes.

Photo by Jamie McCarthy/Getty Images for Marc Jacobs
April 2016: Returning to her retro menswear-inspired style, Stenberg attended the 2016 Black Girls Rock! BET event in orange Moschino pantsuit and chartreuse shirt look. She finished her look with a black leather lace-up shoe.

Photo by Gilbert Carrasquillo/FilmMagic
May 2016: At the 2016 Met Ball, the starlet stunned in a 70's-inspired merlot Calvin Klein satin wide-leg pantsuit. This three piece suit featured a bandeau styled top under the blazer and exuded power as it read playful conservative.

Photo by Larry Busacca/Getty Images
August 2016: Stenberg went for a bohemian-inspired brown suede tank and skirt with red leather ankle booties at the"'Morris From America" premiere and youth talent show. She accessorized with long box braids.

Photo by Alberto E. Rodriguez/WireImage
These Women Are About to Make History as the Organizers of the Women's March on Washington
These Women Are About to Make History as the Organizers of the Women's March on Washington