It Trend, It Girl: Amber Le Bon
Model and rock star progeny Amber Le Bon embraces flirty fifties shapes.
---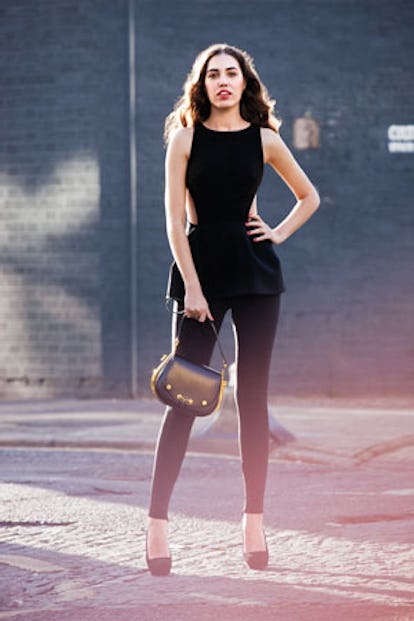 Like many little girls, Amber Le Bon, daughter of the Duran Duran singer Simon Le Bon and the model Yasmin Le Bon, played dress-up in her mom's closet—though her experiences may have been a bit more extravagant than she realized at the time. Her earliest such memory is of (unsuccessfully) trying to walk in her mother's towering pink Vivienne Westwood platforms.
Le Bon, 22, still raids Yasmin's wardrobe, occasionally taking the chiffon blouses, vintage tea dresses, and Azzedine Alaïa pieces for a spin. And considering Le Bon's stylish DNA, it's no surprise that she's unafraid of fifties-inspired, curvaceous lines. This waist-­cinching peplum outfit by Stella McCartney (left) could work for a night out at the pub or a concert at Royal Albert Hall with the family. "I like the era when people used to really dress up to go out," Le Bon says. "I think it's respectful to try to look your best."
Though her first modeling gig was in a Chanel show with her mom while still in a baby romper (above), Le Bon didn't begin working in earnest until after she'd finished boarding school. Since then, she's been the face of Pantene and shot a swimwear campaign; recently, she and her mother walked (separately) in Chanel's Paris-Bombay show. "Doing it as an adult was a big thing. I was so excited, I was bouncing like a child who had eaten too much sugar," Le Bon recalls. "My mother was just laughing at me, saying, 'Oh, my God, my daughter's crazy.' "
Peter Pilotto's cotton corset top.

Stylist: Lori Goldstein
John Hardy 18k yellow gold ring.

Stylist: Lori Goldstein
Jason Wu's silk gazar peplum dress.

Stylist: Lori Goldstein
Stella McCartney faux-leather belt.

Stylist: Lori Goldstein
Preen by Thornton Bregazzi's cashmere jacket.

Stylist: Lori Goldstein
Honor's silk organza peplum top.

Stylist: Lori Goldstein
Charlotte Olympia silk satin platform shoes.

Stylist: Lori Goldstein
Jack Vartanian 18k gold earrings.

Stylist: Lori Goldstein
Hair by Kenichi At Caren; makeup by Natsumi at Caren; still lifes: Marko Metzinger; still lifes styled by Paul Petzy; Chanel Runway: Solo Syndication