Amber Valletta On Her Whirlwind Runway Season: "I Missed Fashion"
The fashion legend of the late '90s and early '00s discusses her incredible Fall 2017 season, making friends with Joan Smalls and Bella Hadid, and her ongoing commitment to the environment.
---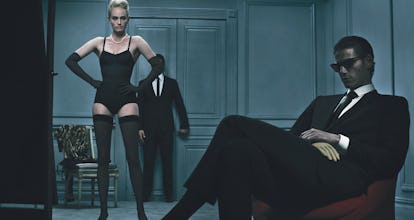 During the Fall 2017 season, the legendary '90s supermodel Amber Valletta walked for Isabel Marant, Versace, Dries Van Noten, H&M, and Michael Kors, hopping from New York to Paris to Milan; she appeared in campaigns for Theory and John Galliano; and then, when she returned home to Los Angeles, she moved house. All this is to say, she had been on the move for much of 2017 when we connected over the phone on a recent March afternoon to discuss her recent stellar season—"It's not like I haven't done shows in 15 years, but really being more in it is different," she said, just more than a week after returning from her European marathon tour. "This is the most I've done in a long, long time."
Valletta pivoted towards filmmaking with a starring role in 2005's Hitch with Will Smith — but in the past year and a half, she's had something of a Renaissance in fashion. She reunited with fellow late-'90s favorites like Carolyn Murphy and Malgosia Bela at Dries Van Noten, who recruited some of his favorite faces of then and now—including everyone from Julia Nobis to Guinevere Van Seenus—to walk his 100th runway show. Michael Kors, too, offered an appreciation of models of all ages during his Fall 2017 show, from the trifecta of Murphy, Bela, and Valletta to next-generation supermodels like Joan Smalls and Bella Hadid (both of whom Valletta has befriended backstage in the past few seasons—"I saw these kids at the clubs and then at the shows, so it was fun," she said). Fashion has fixed its attention on the '90s and early '00s lately, right down to its biggest runway stars, propelling models like Valletta and Murphy, as well as their contemporaries like Karen Elson, to the fore.
Amber Valletta, Carolyn Murphy Lead the Supermodel Parade That Was Dries Van Noten's 100th Runway Show
"I love modeling, and I missed fashion and my friends and family in fashion and the creativity that I'm able to express through it," she explained. "I didn't feel I was getting enough of that through my acting." (She's still looking for the perfect next screen project, but modeling has been a renewed priority lately.) She ran down the list of designers she has an eye on right now — Saint Laurent ("I love Anthony"), Alexandre Vauthier ("His clothes are badass"), Alexander Wang, Rag & Bone, Maison Margiela by John Galliano. But it wasn't just her creative impulses that brought her back—Valletta has also doubled down on her commitment to sustainability in fashion, and she said she felt she could better tackle projects related to ethical manufacturing and labor practices from inside the industry. In 2013, she launched Master and Muse, an e-commerce line in collaboration with Yoox that highlights ethical manufacturers who don't skimp on design, like Svilu and A Peace Treaty.
"I started incubating this idea that we need to do more and we need to take it out broader to the masses and make it sexy and cool and not just, like, treehugger," she said. "The way you make it sexy is you make it lucrative — and it's lucrative when businesses are saving money because of the way they make things."
Valletta was also vocal in her opposition to Scott Pruitt's nomination to head up the Environmental Protection Agency. She penned an open letter in Glamour earlier this year voicing her concerns about the then-Oklahoma attorney general's track record with environmental issues in her home state — she grew up in Tulsa — and with the EPA specifically. (He sued the agency 14 times during his tenure.) Her mother was an environmental activist who was part of a group that successfully protested plans for a nuclear power plant in Oklahoma when Valletta was a child; as a teenager and up-and-coming model, Valletta observed the "excess" of the fashion industry just as climate change was emerging into the public conversation.
"Clothing isn't disposable," she said, though garments are often treated as such. Scientific and technological developments in the two decades since Valletta first burst onto the fashion scene mean that "design shouldn't have to take a backseat to sustainability and making things responsibly," she added.
Valletta has observed firsthand the evolution of fashion week over the past twenty years, too: "There was a lot more, I would say, shenanigans," she said. "There was a little more of a party scene backstage." She estimated that the number of models at a given show has increased nearly threefold. Plus, "it's a lot more corporate now," she said—and then there's the matter of Instagram. "I was kind of a late starter on it and kind of a little resistant," she said. "It's kind of the last thing I think about, usually." Still, Valletta has continued to thrive amid the paradigm shifts in fashion since the late '90s, crediting her longevity to a cocktail of professionalism, self-care (spinning, boxing, yoga, dance, meditation), and a genuine affection for her work.
But her priority, at the moment, seems to be the environment: She hinted at a yet-to-be-disclosed project ("it's cool and sexy and fun, but that's all I can say," she said) related to sustainability. Until then, and after the endurance test of Fall 2017, she was looking forward to settling into her new home—and then, maybe, a vacation to the South of France.
See Amber Valletta in Steven Klein's time capsule:
Amber Valletta, Karen Elson and More Wear Spring 2017's Dreamiest Designs
Marc Jacobs sweater; Prada cardigan and shirt.

Photographs by Jamie Hawkesworth, Styled by Benjamin Bruno
Photographs by Jamie Hawkesworth, Styled by Benjamin Bruno
Chloe dress; (from top) Swarovski necklace, Ben-Amun by Isaac Manevitz necklace; Lagos bracelets; Mark Cross bag; Emilio Cavallini socks; Mansur Gavriel shoes.

Photographs by Jamie Hawkesworth, Styled by Benjamin Bruno
Hermes blouse, pants, and belt; (from top) Jean Schlumberger for Tiffany & Co. necklace, Ben-Amun by Isaac Manevitz necklace; Loewe bag; Falke socks; Miu Miu shoes. Beauty note: A major mane takes shape 
with Philip Kingsley PK Prep Polishing Balm.

Photographs by Jamie Hawkesworth, Styled by Benjamin Bruno
Giorgio Armani jacket and dress; R.J. Graziano brooch; (right wrist, from top) Elsa Peretti for Tiffany & Co. cuff, Ben-Amun by Isaac Manevitz bracelet; (left wrist, from top) Elsa Peretti for Tiffany & Co. cuff, Lagos bracelets; Jimmy Choo shoes; stylist's own vintage necklace.

Photographs by Jamie Hawkesworth, Styled by Benjamin Bruno
Photographs by Jamie Hawkesworth, Styled by Benjamin Bruno
Photographs by Jamie Hawkesworth, Styled by Benjamin Bruno
Photographs by Jamie Hawkesworth, Styled by Benjamin Bruno
Photographs by Jamie Hawkesworth, Styled by Benjamin Bruno
From left: Costume from Halloween Adventure, New York; costume from Abracadabra NYC, New York.

Hair by Tomo Jidai for Oribe Hair Care at Streeters; makeup by Peter Philips for Dior; manicures by Yuko Tsuchihashi for Chanel. Set design by Noemi Bonazzi at Art Department. Models: Julia Nobis at DNA Model Management; Lexi Boling and Amber Valletta at IMG Models; Karen Elson at the Lions; Natalie Westling 
at the Society Management.

Produced by Leone Ioannou at Ponyprojects.com; Photography assistants: Cecilia Byrne, Jon Ervin; Fashion assistants: Taylor McNeil, Ellen Purtill, Laura Henry; Hair assistants: Yusuke Miura, Kayo Fujita, Sean Bennett; Makeup Assistants: Grace Ahn, Miguel Ramos.

Photographs by Jamie Hawkesworth, Styled by Benjamin Bruno