American Crime Story Will Tackle Gianni Versace's Murder in Season 3
Ryan Murphy's American Crime Story will serialize one of fashion's greatest tragedies, according to reports.
---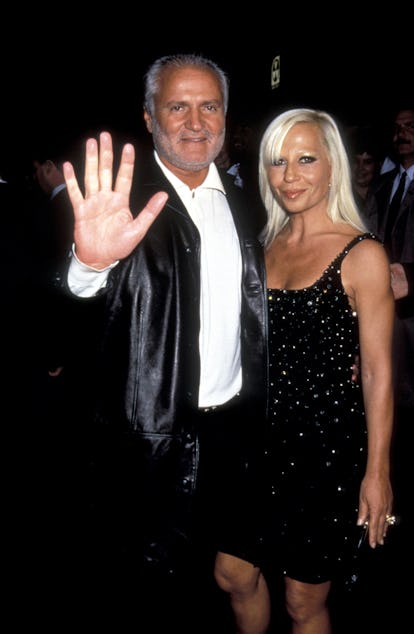 WireImage
It was a murder so tragic that it still casts a solemn shadow over the world of fashion writ large. Gianni Versace, then in the prime of his career, was fatally shot on the steps of his Miami Beach compound while on the way to retrieve the morning's papers. The murderer was later found to be Andrew Cunanan, a serial killer whose grizzly trail and success in alluding capture had already captivated the news media and the American public.
Fresh off the critically lauded success of its handling of the OJ Simpson trial, Ryan Murphy's American Crime Story is set to fictionalize the tragedy for its third season. Hopefully with the same gravitas.
According to The Hollywood Reporter, the installment won't run until 2018. A series that will handle Hurricane Katrina has already been on the show's second installment and will premiere in 2017. However, FX execs were so impressed with the concept that they green-lit the third series early. It will be filmed almost concurrently with season two, albeit in different locations. Deadline reports filming will take place in Los Angeles and Miami Beach. The working subtitle of the seasons is Versace/Cunanan.
Vanity Fair special contributor Maureen Orth's 1999 book Vulgar Favors will serve as the basis of the story. Orth paints Cunanan as a bright but increasingly pathological young man caught up in the underbelly of gay life while striving for status. She theorizes that his inability to crack into the high life combined with weight gain and aging contributed to his murders of elderly gay men. Orth also claimed that Cunanan had once met Versace years before at an opera in San Diego, and targeted him because he represented the social status he could never achieve. Though the book's claims about Versace himself were said to rankle his family.
High profile actors are already in talks to play both Gianni and Donatella Versace.
The story certainly has all the making of a Ryan Murphy production. There's fashion, gay subplots, murder, intrigue, and mystery. It will also be the first time Murphy points his cameras back on Miami, a town where he lived while working as a reporter for the Miami Herald for some time in the '90s, since his first big success, Nip/Tuck.
It is not the first time Versace's life and murder have been fictionalized. The story has also been included in low-budget and TV films like The Versace Murder, Fashion Victim, and Lifetime's immortal House of Versace, with Gina Gershon in the role of Donatella. American Crime Story's take, however, will be the first time however that the story will get serious attention from A-list talent (many of whom will likely be looking to repeat the Emmy glory reaped by the anthology series' first season).
In addition to Murphy and his revolving cadre of actors, the season has also attracted the talents of Tom Rob Smith, creator and writer of London Spy, a critically acclaimed British series. Smith is attached to write at least the first two episodes.
Alas, it will likely be at least 15 months until the season debuts.