The First American Horror Story: Apocalypse Trailer Is Real Creepy, Not Highly Informative
The first trailer for the new season of American Horror Story is both totally ambiguous and utterly creepy.
---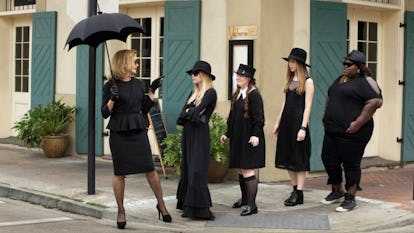 FX
On Monday, amid teasers and trailers for the likes of Once Upon a Time in Hollywood, Maniac, The Deuce, and probably others we're missing, as well as a cover reveal for Beyoncé in Vogue, your average drop might go overlooked. But the new trailer for the upcoming season of American Horror Story, titled "Apocalypse," which was unveiled on Twitter and Instagram on Monday, is too weird to ignore.
The computer-animated clip features a lot of satanic iconography—the upside-down pentagram, for one; a black skull; an hourglass filled with sand that, on closer examination, turns out to be tiny, tiny human skulls—and references to the end of days. Fitting, for an installment of the anthology that is called "Apocalypse." There's a mushroom cloud and a gas mask that melts down to bone, a fetus attached to a blackened heart by an umbilical cord (which some have speculated represents the devil child of Tate Langdon, played by Evan Peters, and Vivien Harmon, played by Connie Britton, in the first season), and a putrefying purple fig that, when slit open, reveals two scorpions inside. It's all pretty ambiguous, but nevertheless sufficiently creepy to convey the general vibe, at least as far as the aesthetic is concerned.
Still, the trailer offers very little in the way of plot insight; all we know so far is that the show will be, at least in part, a crossover of two of the series' most beloved installments, the first season ("Murder House") and the third ("Coven"). Jessica Lange is going to make a long-awaited return (she departed after the fourth season, though she's remained a close collaborator of showrunner Ryan Murphy), and Sarah Paulson, Kathy Bates, and Emma Roberts are all back. And, according to a panel discussion during the Television Critics' Association press tour, Murphy said the show will be set in the "near future." Near enough that the end is nigh, judging by all the infernal references in the new trailer. See for yourself, below.