American Hustle: Behind the Scenes
Director David O. Russell's latest is a period caper with emotional payback.
---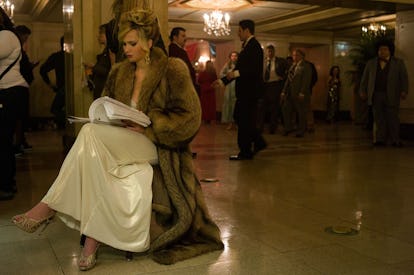 Photographer: François Duhamel
When the characters at the center of David O. Russell's frenzied films begin to shout or throw punches at their loved ones, as they inevitably do, it's usually because they can't help themselves. "I'm attracted to emotional people who are also funny," the director says. "But not because they're trying to be—they're funny because of who they are." Like the broken misfits in 2012's Silver Linings Playbook, men and women teetering on the verge of meltdown set the emotional needle for American Hustle, Russell's new caper, which takes place during the freewheeling '70s. Irving Rosenfeld (Christian Bale), a con artist, and Richie DiMaso (Bradley Cooper), an FBI agent with a wild streak, team up to expose public officials suspected of taking bribes. The film was inspired by the Abscam sting of 1978, but the characters—including Rosenfeld's mistress (Amy Adams) and his reckless wife (Jennifer Lawrence)—seem tailor-made for the director's high-stakes style. "These people are scrapping in order to reinvent their lives," says Russell, who may have some insight into the notion of second acts. After his early promise stalled in a series of ambitious misfires, Russell regained his directorial stride in 2010 with The Fighter. Filmmaking, he found, was not so different from the hustler's game. "Sometimes you lose that confidence—and then an actor gives it back to you. Or a producer reminds you where you were headed before you got a little wobbly," Russell says. "You just can't get too wobbly."
Photos: American Hustle: Behind the Scenes
Photographer: François Duhamel
Christian Bale and Jeremy Renner.

Photographer: François Duhamel
Christian Bale and Bradley Cooper.
"This film is the largest canvas I've ever worked on. It's lush and romantic, with very emotional relationships. The scene I'm framing is a moment of truth between Bradley [Cooper] and Amy [Adams]. I love that she plays it in curlers."

Photographer: François Duhamel