After Hours at amfAR
The foundation's gala was so star studded it could be confused for an award show
---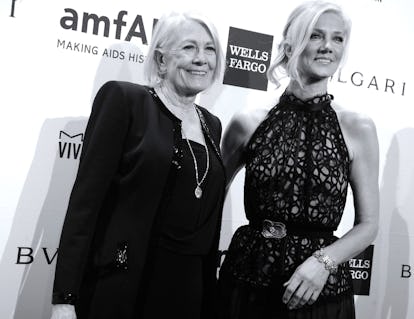 The weather outside was frightful, but inside it was so delightful… Okay, yes, the holidays are over. But there is perhaps no more apt phrase to describe the amfAR annual gala, held Wednesday night. The sidewalks were slick with black ice and slush—hardly ideal stiletto conditions. But Cipriani Wall Street sparkled from the abstract, snowball-like dots projected across the walls and domed ceiling and the flickering candelabras on the rows of tables. The fleet of servers bearing trays of bellinis didn't hurt, either.
During cocktails, Ethan Hawke posed for a photo with a fan on the mezzanine while Alan Cumming parked himself in front of a back bar with friends. Dinner kicked off with a performance—apropos of what, it was unclear—by Jane Krakowski who sang "Thirteen Men" by Ann Margret and segued into a modern take on "Zipped" from "My Pal Joey." "I never thought I'd be on the same bill as Grace Jones," quipped Krakowski of one of the night's other performers.
Kenneth Cole, the chair of amfAR's board, introduced Robin Wright, who in turn introduced the evening's honoree, photographer Peter Lindbergh. "He allows the artist within us to emerge and be free," said the actress before telling him "You're a lovely person" in questionable German (my tablemate grew up in East Berlin). Speaking to the power of compassion, Lindbergh offered (in English), "It may make you stronger even than Goldman Sachs."
Soon, the evening started to feel like a slightly attenuated Golden Globes ceremony, with so many high-profile speakers it was hard to keep up. (Adding to the awards-show-feel was a table headed by the actress Michelle Rodriguez that was on its second round of double shots before the main courses were served).
Longtime amfAR supporter Harry Belafonte spoke about obliterating AIDS. So, too, did an eloquent Chelsea Clinton, specifically calling out the organization's planned initiative to find a cure by 2020. Bravo's Andy Cohen thanked the sponsors. And Liam Neeson took to the stage to introduce the other honorees, actresses Vanessa Redgrave and her daughter Joely Richardson. "Compassion is a trait that runs deep in their family," he noted (his late wife Natasha Richardson was devoted to amfAR).
"It's her voice I hear tonight and it's wonderful. Because it's her generation and Liam's that we talk about tonight," said Redgrave of her late daughter.
"It's always nice to speak after Vanessa Redgrave. It's quite bolstering for one's self esteem," said Richardson to much laughter before tearfully evoking her sister and her director father, who died of AIDS in 1991.
Paddle 8's Alexander Gilkes switched gears, leading the first half of a rousing auction that saw a pair of Warhol portraits of Giorgio Armani and Gianni Versace go for $26,000 and a photo of Helena Christensen from Lindbergh's personal collection sell for $50,000. And then came a performance by Nile Rodgers & Chic—including "Le Freak"—an appearance by Padma Lakshmi who offered "I think I had my first sexual experience to 'Le Freak,'" the second half of the auction and finally Grace Jones, who kept the black tie crowd from their Town cars with hits like "Slave to the Rhythm." Indeed, but not to the weather.
Photos: After Hours at amfAR
Vanessa Redgrave and Joely Richardson.
James Marshall and Elettra Rossellini Wiedemann.
Peter Lindbergh, Joseph Lindbergh, Benjamin Lindbergh, and Simon Lindbergh.
ASAP Rocky and Chanel Iman.